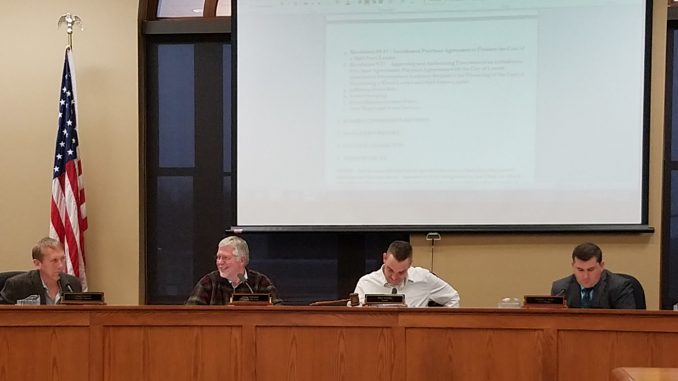 Before the meeting started, the City Council held a joint session with the Lowell Area Recreation Authority (LARA) on the subject of trails. The session was scheduled in response to concerns the Fred Meijer Trail system may bypass the city.  
Followed by another tidy City Council meeting, action items included allowing King Milling the ability to make a compensation cut, resolutions were adopted for the purchase and financing of equipment items, a bid for the Jefferson Street project was selected, spring street sweeping was approved.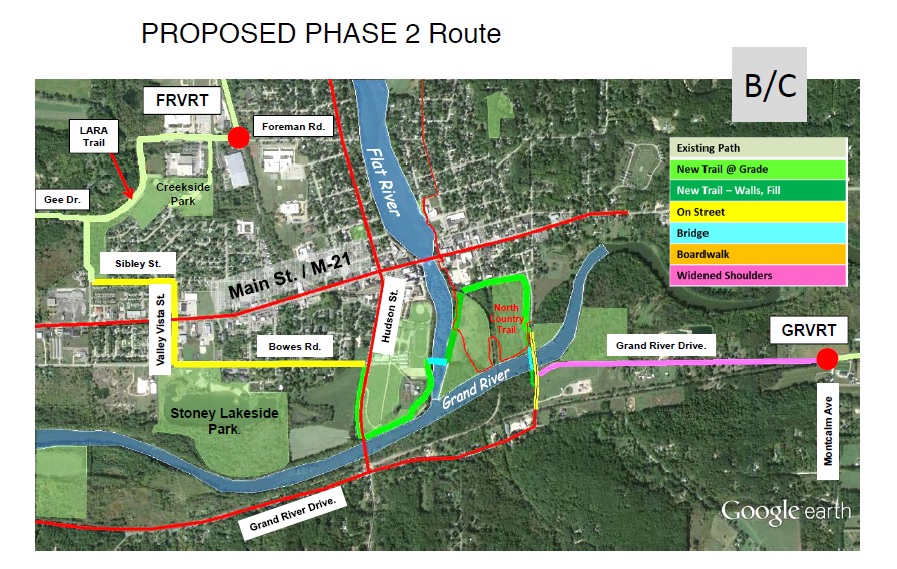 Joint Session with LARA Starts Meeting
Dave Austin from the engineering firm Williams & Works started off with an update. In talking to property owners, the biggest issue raised was who would be responsible for maintaining the trail and who holds liability if someone is injured on the trail. After some discussion, it was determined that sidewalks are to be the responsibility of property owners, but they should not have to maintain trails.
As for the route, LARA has identified a path they believe is the best option. Based upon the recommendation of a 2015 DNR-funded study, the proposed route would connect the trail from Gee Drive to Sibley Street using an existing connector. Then, the trail would convert to use existing sidewalks when going from Valley Vista to Bowes Road and then east to Hudson. Trail traffic could avoid crossing Hudson by taking the underpass along the river by Recreation Park (the fairgrounds). Then, the trail would head up to King Street and over to Jackson. Finally, it would head south out of town and meet up with Fred Meijer trail along Grand River Ave.
The proposed route would take trail hikers and bikers just south of the downtown district, but signs could be posted to direct people to the restaurants and shops just a few blocks away. The hope is MDOT will cover 60 percent of the costs, and DNR Trust Fund dollars could pay for most of the rest. It's expected only about $100,000 would need to be raised locally to complete the route. Once completed, the Friends of the Fred Meijer River Valley Rail Trails may be able to help with maintenance.
At the end of the session,
LARA was asked to submit proposed language that could be added to the existing ordinance to differentiate between sidewalks and trails in the city. While the
City Council didn't authorize any specific work on the B/C route, it did say Austin could move forward in drawing up language to gain permanent easements from three property owners along Alden Nash to connect the existing trail on Gee Drive to Main Street. A handful of temporary easements will also be needed to complete grade work, but the trail would not actually sit on these properties.

King Milling Seeks Compensation Cut
King Milling is working on adding additional grain bins to their site.  In doing this the floodplain would be changed.  They are seeking floodplain mitigation via a compensation cut.  The Michigan Department of Environmental Quality (DEQ) will require a compensation cut to remain in compliance with floodplain regulations.  The compensation cut is being proposed along a ridge at Stoney Lakeside Park, a location which was used in a prior project.   
Soil borings will be taken and sampled to ensure the material being removed does not have any issues.  Should the soil need to be disposed of in a special way there will be an additional cost to the project.  King Milling will incur the cost of this project.  
Formalizing Equipment Purchases
During previous meetings City Council directed City Manager Mike Burns to looking for competitive financing information in order to purchase three pieces of equipment.  After receiving information from financial institutions on installment loans, City Council approved the use of Mercantile Bank.  A resolution was passed approving the execution of financing funds used purchase of each item with an additional resolution for each piece of equipment establishing an installment purchase agreement.  A natural gas compressor to be used by Lowell Light & Power (LL&P) to run two turbines at the cost of $603,000.00, a front end loader and skid steer loader in the amount of $177,070.00 and $45,467.38 respectively will be purchased.  An interest rate of 1.8% over five years has been established.
While Lowell Light & Power is able to make purchases on their own when an item is paid for in full, the city must apply for a loan on their behalf.  The installment purchase agreement for the compressor indicates LL&P will repay the debt.  LL&P General Manager Steve Donkersloot indicated his five-year budget plan already has installment payments figured in.  The installment purchase agreement for the front end loader and skid steer states the DDA will pay 40% of the debt and the remaining 60% will be taken care of by the city.  
Jefferson Street Project
North Jefferson Street from Avery to Fremont is scheduled to begin in mid-April.  During the meeting City Council approved the use of CL Trucking & Excavating to do the work needed.  The project includes resurfacing the street with some sewer, water main, curb, and sidewalk replacement along the route.  
Residents who will experience disturbances due to the construction will be notified with details about the project.  The contract with CL Trucking & Excavating has a duration of 60 days.  
Street Sweeping
Twice a year streets within city limits are cleared of debris.  April is one of the times this sweeping takes place.  The city was under a two-year contract with Sanisweep which expired December 2016.  Due to an additional cost to dispose of debris imposed by new DEQ regulations Sanisweep must increase their prices.  With this unexpected cost spring sweeping will come at a price of $15,500.00 compared to the $7,265 charged during the recently expired contract.  
All sweeping companies are faced with the additional disposal cost.  This will be a one-time cost for the month of April.  Lowell's Department of Public Works will then seek bids for future removal of debris.
Police Patrol Fees Waived for Parades
Additional police services are needed during events such as the Kent County Youth Fair and Riverwalk.  Organizations with large multi-day events are charged a fee to help offset the cost of having extra police presence.  City Manager Mike Burns requested City Council waive this fee for parades.
Burns indicated the cost to patrol parades is typically $66.00 to $200.00 depending on the duration of the event.  He felt the cost and time was not great enough to charge a fee.  Members of council agreed.  Future fees for foot patrols during parades will be waived.
Water and Sewer Services
City Council approved work to be done by Lee's Trenching out of Byron Center not to exceed $20,500.  Mi Hometown Furnishings, Big Boiler Brewing, and Rhonda Tire (which is moving to Bowes Road) require water and sewer service at their locations.  The city will pay for these services to be run to each business upon which a hook up fee will be imposed when a meter is installed.
Meeting Information
The next City Council meeting will take place in Council Chambers on the second floor of City Hall on Monday, April 17 at 7pm.  Meeting minutes and agendas can be found on the city's website.  And meetings can be viewed on the city's YouTube channel.  Or check in with Lowell's First Look after each meeting for a recap of what happened.
Note: This article has been updated to more accurately represent the trail easements currently being considered by City Council.
Save