The following animals are available for adoption.  If you find an animal you'd like to adopt please contact the organization directly.  Lowell's First Look does not assist with the adoption process. And if you're looking to add to your family and don't see an animal below, each organization has additional cats and dogs looking for new homes.   Pet profiles and photos are provided by each organization.
For additional information about each organization visit their websites or read our intro article to Furry Friday!  The following pet profiles are provided by each rescue.
Mackenzie's Animal Sanctuary
Those involved with Mackenzie's Animal Sanctuary take pride in finding the right home for dogs in their care. Here are their pets of the week. 
My name is Olivia! I was found out and about with my pal Elliot. We fortunately found our way to Mackenzie's, and now that we're healthy, we're all ready to find ourselves forever home!
I've done well with the dogs, cats and kids I've met so far – I really just like spending time with my people or other four legged friends. Actually, I haven't found any things here that I don't like! Sometimes I like to play a little fetch, but other than that, I'm a pretty laid back gal. I'm happy to take some walks, but I'd also be happy to hang out with my family while they work out in a garden, and just enjoy this Michigan summer. Fill out an application, and mention me!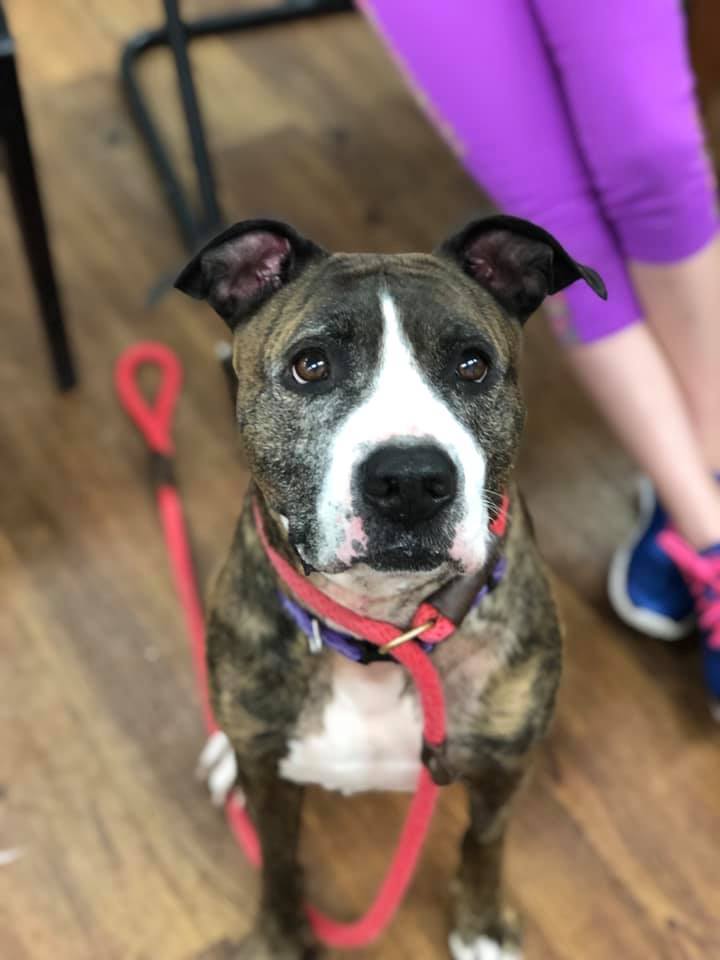 Hi there! My name is Cheech. I'm a Great Dane mix and I'm about one and a half years old. Even though I'm such a youngster, I'm a real laid back kinda guy. I'll get wiggly and play if I feel like it, but if there's room next to someone on the couch, I'm happy to settle on in for some pets and love. I've done well with the dogs I've met so far, but would prefer a home without cats. I'm a little shy at first, so between that and my size, I would be most comfortable around older kids right now. If you've got room for a sweet goofball on your couch and in your home, fill out an application and mention me!
Vicky's Pet Connection
Vicky's Pet Connection works with the Kent County Animal Shelter to rescue cats and kittens.  They also take in dogs older in age and those needing special care. Here are their pets of the week.
If you don't think that Mother Nature has a sense of humor…just LOOK at the markings on THIS adorable face! This is Elsie (like the black and white cow!) and she came to us with a litter of 3 kittens. She was a great mom and worked tirelessly to care for them. Now, though, it's HER time to shine! She's a social, happy girl who would love a human family to care for now! Hurry to meet her and fall in love!
Carol's Ferals
Carol's Ferals specializes in trap, neuter, return (TNR), but they come across "friendlies" who are available for adoption. Here are their pets of the week. 
My name is Buttons, and I have been at Carol's Ferals since October 2017. When I was found I was very thin, had a bad URI and fleas. Lucky for me, I was brought back to good health and I am now looking for my forever home. I am a very sweet girl who may be a bit shy at first, but I love pets and will warm right up.
Hi, I'm Melina. I'm approximately four years' old, and came to Carol's in October 2017 after being rescued by a TNR volunteer here in Grand Rapids. I'm a little shy, but if you're patient. I will come for some pets and scritches. . I'd love to have a home of my own, but I would probably be okay with one other cat and possibly a dog. I haven't met other animals yet, but if I were introduced slowly I may be okay.
Hi, I'm Niles. I'm about two years old, and came to Carol's Ferals in March 2018. I'm a shy guy, but I'm getting more and more comfortable here every day. I would do well with a family that will be patient with me and give me my own space to own and lounge around in. I love to look out windows and bird watch too!
Hearts of Hope Dog Rescue
Hearts of Hope Dog Rescue look to find dogs and sometimes cats in their care forever homes with the help of foster homes.  Here are their pets of the week.
Audrey is a 70 pound, 3-5 year old GSD with great big ears and a great big heart. She is one of the sweetest dogs we have ever had. She was Mama to our puppy alum, Luca who recently went to his forever home. Audrey is house trained, crate trained and she loves dogs and humans of all ages. She also knows how to recite Edgar Allen Poe's 'The Raven' in 4 languages, smart girl !! Audrey is incredibly affectionate and she loves snuggles more than anything, even her bones. This sweetheart is spayed, microchipped, and up to date on her shots. In her past, she was neglected and as a result has a lot of missing fur and some skin trouble that may be long-term. We think she is beautiful and has the kindest most soulful eyes. Her adoption fee is $200. To adopt Audrey apply at www.rescueofhope.com/adoption-application
Ryder is a 12 pound, 2 year old Rat Terrier Mix with amazing ears and a cute tiny munchkin face. Ryder is crate trained, house trained and he adores humans of all ages. He would prefer to be the only furry friend in the family. This fun sized sweetheart has beautiful markings and a calming personality. He is very eager to please his humans and always up for a cuddle. Ryder is neutered, microchipped, and up to date on shots and his adoption fee is $200.  To adopt this munchkin apply at www.rescueofhope.com/adoption-application