The following animals are available for adoption.  If you find an animal you'd like to adopt please contact the organization directly.  Lowell's First Look does not assist with the adoption process. And if you're looking to add to your family and don't see an animal below, each organization has additional cats and dogs looking for new homes.   Pet profiles and photos are provided by each organization.
For additional information about each organization visit their websites or read our intro article to Furry Friday!  The following pet profiles are provided by each rescue.
Mackenzie's Animal Sanctuary
Those involved with Mackenzie's Animal Sanctuary take pride in finding the right home for dogs in their care. Here are their pets of the week. 
Hi everyone! I'm Jessie! At two years old (DOB of 8/13/17), I'm still full of energy, and am happiest when I'm on the go with one of my human friends. I've also got something of an adventurous spirit – I ride in the car like a pro and was a fearless co-captain for my first boat ride (if I say so myself)!
I'm still pretty new to Mackenzie's, so as the staff gets to know me better, they'll update my information a bit more. In the meantime, fill out an application and mention me!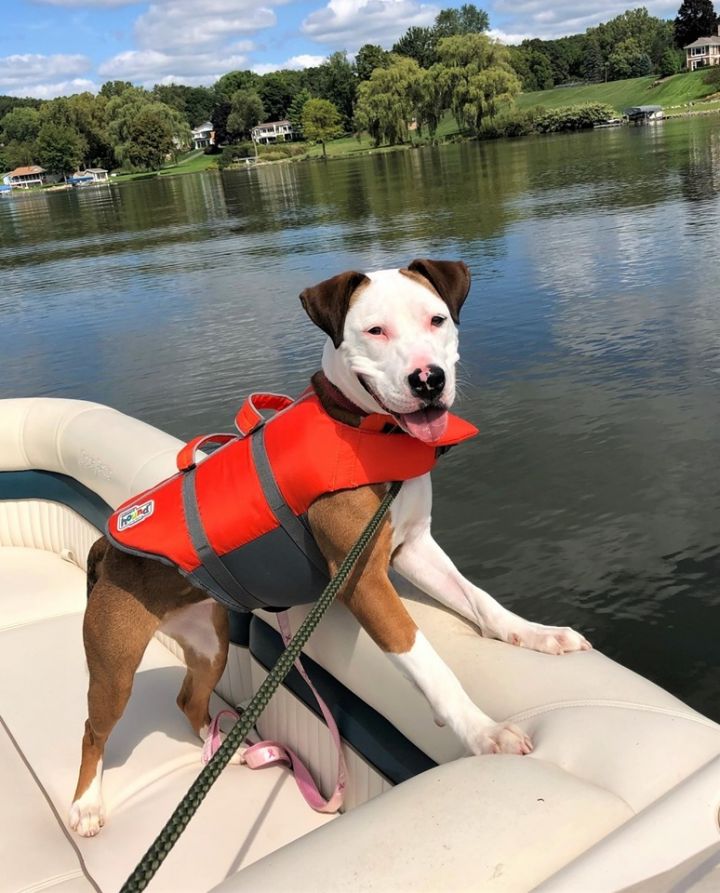 Hi there, I'm Pistol! I'm a five year old hound mix. I'm a high energy, adventurous sorta dude. If you're looking for a running partner or hiking buddy, I could be just the fit! Because of my size and energy level, I would be best with older kids for now. Considering my breed, I definitely have some hound traits! I love exploring and sniffing out all sorts of new things.
I'm still pretty new to Mackenzie's, so as the staff gets to know me better, they'll update my information a bit more. In the meantime, fill out an application and mention me!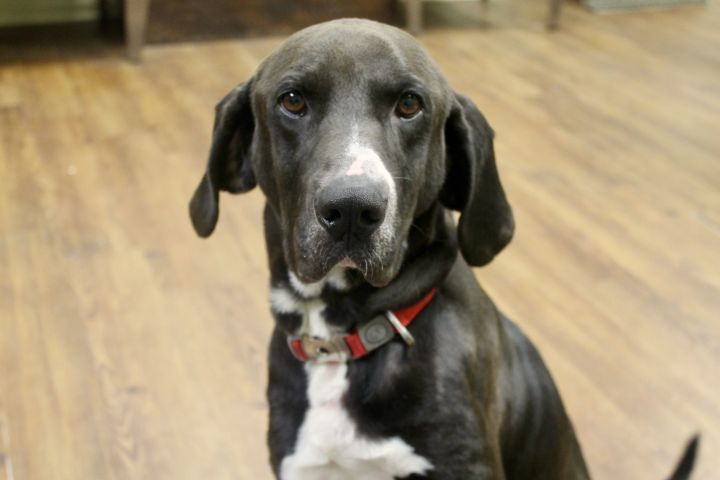 Vicky's Pet Connection
Vicky's Pet Connection works with the Kent County Animal Shelter to rescue cats and kittens.  They also take in dogs older in age and those needing special care. Here are their pets of the week.
Meet "Sherlock" and "Holmes" a pair of adorable brothers looking for their family!  These two pumpkins are just 10-12 weeks old and busy learning about the world.  They are active, busy brothers who LOVE to play together.  Their running, wrestling shenanigans are more fun then binge-watching Netflix!  If you have room in your home and heart for two cuties, be sure to check them out!
Carol's Ferals
Carol's Ferals specializes in trap, neuter, return (TNR), but they come across "friendlies" who are available for adoption. Here are their pets of the week. 
Hi, I'm Margarita, It may take me a minute to warm up, but when I do I am super sweet. I am on the quiet side and love sitting on laps. I recently had my teeth extracted so for now I am eating soft food twice a day.
Hi, I'm Monteray! I came to Carol's in June 2018 with my littermates after we were rescued in the Grand Rapids area. I'm a shy boy like my siblings but when I think no one is looking I love to play and be social with my cat friends. I'll need a family that will be patient with me and help me come out of my shell!
Hi, I'm Coraline! I was brought to Carol's Ferals in May 2018 when I was 6 months old and already had a litter of kittens I'm a beautiful girl, aren't I?! I am a shy sweet girl who would do best in a quiet home.
Hearts of Hope Dog Rescue
Hearts of Hope Dog Rescue look to find dogs and sometimes cats in their care forever homes with the help of foster homes.  Here are their pets of the week. 
Chica is a 5 year old Min Pin who looks like a tiny Rottweiler and is just as goofy and lovable. Chica loves her humans; she is the supreme cuddle monster !! She loves dogs and humans of all ages, and she is known worldwide for her poetry slam readings. Chica is house trained, crate trained and she is getting ready to fill her forever home with hugs, kisses and tiny dog toots. Chica is spayed, microchipped, and up to date on shots. Her adoption fee is $200.To adopt Chica apply at www.rescueofhope.com/adoption-application
Betty is a lab mix who is approximately 1 year old. She has the heart of a puppy and the sweetest soul you'll ever meet. Unfortunately Betty didn't have the best start to life. She came to us from Lousiana and was mostly healthy and happy with a slight limp. Once she was in our care we had some xrays done and discovered that she had some, possibly genetic, issues with her front right leg and rear hips. We are currently keeping her comfortable as we search for the family who will love her and work with her to find the best route of action of care. She absolutely adores every dog she meets and couldn't be more excited to meet all the people! Betty doesn't let her legs slow her down or dampen her joy for life! She would do well in a home with dogs and people of all ages but should be kept calm, so the best fursiblings for her would ideally be calmer dogs. Her ideal home would be happy to snuggle on the couch and keep her activity to a minimum for the sake of her legs. We will be recommending that she visit with a specialist to offer the best options available. If you are looking for the kindest dog out there, and are able to provide the special care Betty deserves, please apply and her foster family will be happy to discuss Betty further with you! Her adoption fee is $200.