The following animals are available for adoption.  If you find an animal you'd like to adopt please contact the organization directly.  Lowell's First Look does not assist with the adoption process. And if you're looking to add to your family and don't see an animal below, each organization has additional cats and dogs looking for new homes.   Pet profiles and photos are provided by each organization.
For additional information about each organization visit their websites or read our intro article to Furry Friday!  The following pet profiles are provided by each rescue.
Mackenzie's Animal Sanctuary
Those involved with Mackenzie's Animal Sanctuary take pride in finding the right home for dogs in their care. Here are their pets of the week. 
Higbee's most endearing feature is how he must bring you something every time you go to his kennel. Be it his toy, his bone, or a treat that he's been saving, you can count on this happy guy to try and share it with you! Higbee's hobbies include going for boat rides, sight seeing, and cuddling. But really, he will do anything as long as he's hanging out with his people! Higbee is a social butterfly and loves meeting new people! Send in an application today to set up a meeting with this happy-go-lucky guy!
Birthday: 11-08-2011
Hello, I'm Gilbert! As you can see from my pictures, I'm pretty handsome. I'm learning new things everyday from the staff and volunteers here at Mackenzie's. I was picked up as a stray as a youngster, so the staff and volunteers here have really helped me buckle down on my training and learning manners. In a quiet and patient home, I'm pretty confident that if I was in a home with one-on-one attention, I could really blossom with my training.
Birthday: 12-22-2018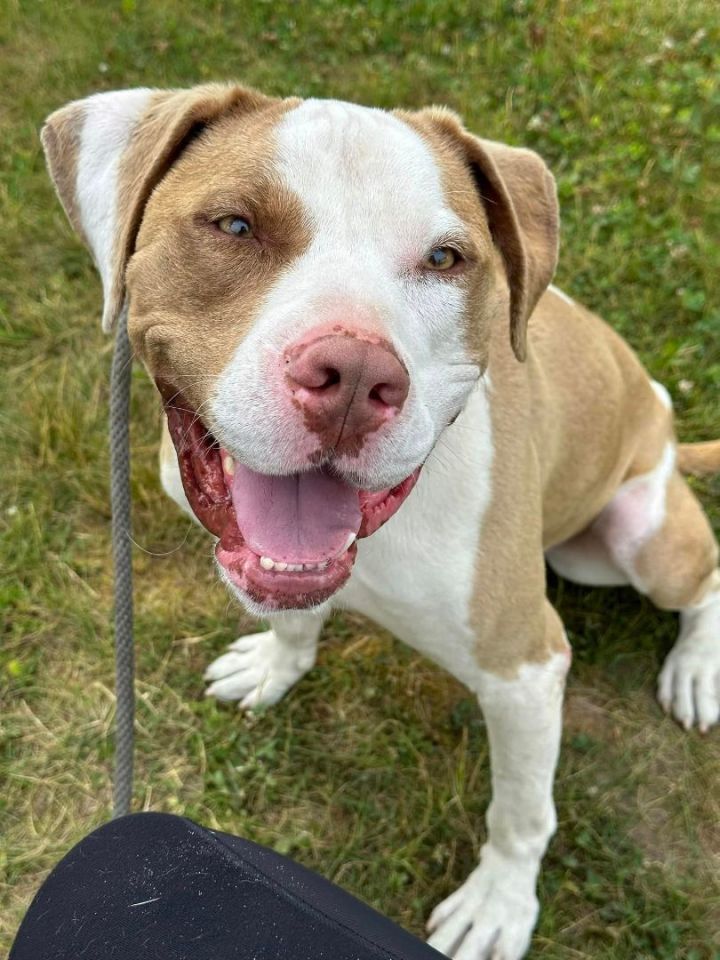 Vicky's Pet Connection
Vicky's Pet Connection works with the Kent County Animal Shelter to rescue cats and kittens.  They also take in dogs older in age and those needing special care. Here are their pets of the week.
ROADSTER has his name for a particular reason. He was found in a snowbank on a very busy ROAD. He can't tell us how he got there but we can tell he was an indoor cat–his paw pads are soft and smooth. Roadster is approximately 10+ months old. His purrsonality is seemingly shy but he's sweet and warms up quickly.
Carol's Ferals
Carol's Ferals specializes in trap, neuter, return (TNR), but they come across "friendlies" who are available for adoption. Here are their pets of the week. 
Hi, I'm Wendell. I am just a sweet, all around nice guy! I am often the first one to meet you at the door and love it when you give me pets and lots of attention. As much as I love my friends here, I would love even more to find my forever home.
Hi, I'm Milco. I was found in someone's backyard. I had an infected bite wound that was causing a lot of pain and swelling. After months of rehab with my kind foster mom, I am ready to find my forever home. I am a super sweet boy who loves attention, head scratches, and likes to be held. I will stretch my front paws up your legs to get your attention if I think you're not noticing me!
Hi, I'm Bubba. I'm kind of a big fella, but don't let my size fool you – I am just one big hunk of love! Most days you can find me lounging around, enjoying the good life. I am most happy when I get a good head scratch.
Hearts of Hope Dog Rescue
Hearts of Hope Dog Rescue look to find dogs and sometimes cats in their care forever homes with the help of foster homes.  Here are their pets of the week. 
Meet our Zoie!  She is a 10 year old little blond lab who came to us all the way from Louisiana.  She is the most quiet, gentle dog I have ever met, and so sweet.  She has not had the best start in life, but isn't afraid of new things, and seems willing to try anything if you give her encouragement.  Her crate is her safe place and we are slowly weaning her away during the day.  But she is happy to be in her crate for the night.  She has some arthritis, so prefers more frequent, short walks instead of long ones, although that might improve with time and warmer weather.  She would be the perfect dog for a senior, or anyone who prefers short walks and has the time, patience and love to teach her what it's like to have her own person.  And she will reward you with the softest, sweet kisses, and also by stealing a random sock or glove to carry into her crate for the night!  She is spayed, house trained, good with our own senior quiet dog, but might be overwhelmed by bigger or really active dogs.  She would be fine with older respectful kids, but we have not yet had younger kids around her.  She will need more training to walk nicely on a leash and doesn't seem to understand commands, but is motivated by treats and willing to learn.  Up to date on vaccines and in treatment for heartworm and hookworms. Her adoption fee is $150.
Fern is a four month old energetic puppy.  With her chocolate brown nose, beautiful amber eyes, and squishy forehead, it's impossible to not fall in love with Fern! She is an active, playful puppy who is very curious and loves to go on adventures. She wants to be friends with everyone, including kids, cats, and other dogs. Her favorite hobbies include playing with her toys, checking out new things, and cuddling up on your lap after she wears herself out.  She is up to date on vaccines and will be spayed and microchipped. Her adoption fee is $300.