The following animals are available for adoption.  If you find an animal you'd like to adopt please contact the organization directly.  Lowell's First Look does not assist with the adoption process. And if you're looking to add to your family and don't see an animal below, each organization has additional cats and dogs looking for new homes.   Pet profiles and photos are provided by each organization.
For additional information about each organization visit their websites or read our intro article to Furry Friday!  The following pet profiles are provided by each rescue.
Mackenzie's Animal Sanctuary
Those involved with Mackenzie's Animal Sanctuary take pride in finding the right home for dogs in their care. Here are their pets of the week. 
We are accepting applications for Candy and Buddha and their seven other siblings.
Since Candy is still a youngster, she is looking for a home that can teach him commands and manners, and introduce her to new things.
If you're interested in adopting, please go to www.mackenzies.info and read about our adoption criteria. Our adoption survey and application is on our website as well.
For safety's sake, we are looking for homes with physical fenced in areas.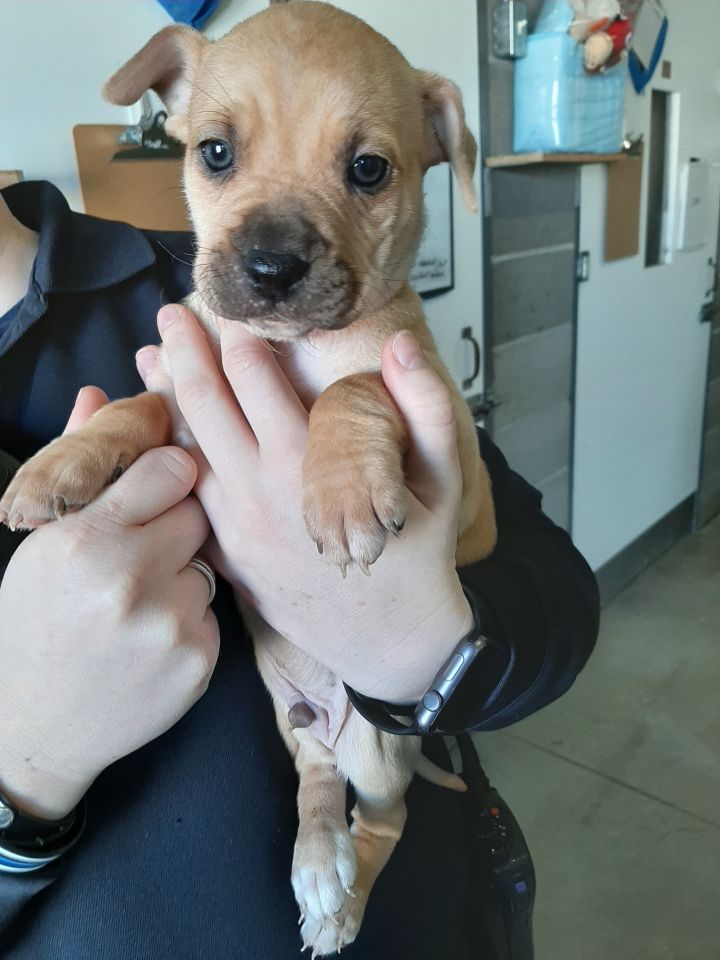 Vicky's Pet Connection
Vicky's Pet Connection works with the Kent County Animal Shelter to rescue cats and kittens.  They also take in dogs older in age and those needing special care. Here are their pets of the week.
Mercedes is my name and I'm around 8 months old! I am ridiculously gorgeous (or at least that is what they tell me) and my long coat is silky soft! I am a bit shy at first, though. It just takes me a little time to get to know people and new situations. Once I do, I am very friendly and loving.
Carol's Ferals
Carol's Ferals specializes in trap, neuter, return (TNR), but they come across "friendlies" who are available for adoption. Here are their pets of the week. 
Hi, I'm Dottie. One of the volunteers here was driving around when she spotted a sign that said free kittens. She stopped to try and educate the person on "free kittens". She found an apartment full of cats and kittens. She was able to remove 14 kittens and 3 females. I was one of the females. I am a bit shy and on the quiet side and have the softest little meow! If you sit and talk quietly to me I am happy to approach you and love to be pet – on the head, behind the ears, on the belly, I am not particular!
Hi, I'm Tuna. I was found in a shed with my mom and siblings. We were threatened to be killed if someone didn't get us out of that shed. Fortunately, we were brought to Carols Ferals. I am shy at first, but all I want is love and affection. I like to cuddle and am very curious. My weakness is wet food! I am such a loving boy – I will always be at your side. I love naps in the sun and bird watching out a window.
Hi, I'm Margarita, It may take me a minute to warm up, but when I do I am super sweet. I am on the quiet side and love sitting on laps. I recently had my teeth extracted so for now I am eating soft food twice a day.
Come see me this Sunday.
Hearts of Hope Dog Rescue
Hearts of Hope Dog Rescue look to find dogs and sometimes cats in their care forever homes with the help of foster homes.  Here are their pets of the week. 
Meet Bernice! Bernice is a beautiful mixed breed puppy who loves nothing more than to snuggle. She was born around the first of the year, so she's about two months old already!  She's laid back and easy going, and loves meeting new people and pets. Her favorite things to do are eat, chew on her toys, chase her sisters around, and then crash on your lap for a nap.  She will be spayed, chipped and up to date on vaccines. Her adoption fee is $300.
Sammi is a sweet, adorable adult female dog who traveled here from a noisy shelter in Louisiana to find a better life. She is supposedly a Cocker spaniel mix, but whatever she is she's cute! She is approximately 5 years old and weighs 32 lbs. Sammi is eager to learn new things. She never learned to sit, but she's got that down now and would love to learn more commands. Anything for another treat! She is a lover of people and food! Hanging out on the couch and snuggling is her favorite activity aside from walks. And, she LOVES her walks and all the new smells. She prefers to be the queen and the only dog in the house and the apple of her owner's eye. Sammi will do well in a home with no other pets and a fenced-in yard. She is crate trained, house trained and will be spayed soon. We are treating her for heartworms and she'll be completely vaccinated, spayed and microchipped. Her adoption fee is $200.