The following animals are available for adoption.  If you find an animal you'd like to adopt please contact the organization directly.  Lowell's First Look does not assist with the adoption process.  And if you're looking to add to your family and don't see an animal below, each organization has additional cats and dogs looking for new homes.   Pet profiles and photos are provided by each organization.
For additional information about each organization visit their websites or read our intro article to Furry Friday!  The following pet profiles are provided by each rescue.
Mackenzie's Animal Sanctuary
Those involved with Mackenzie's Animal Sanctuary take pride in finding the right home for dogs in their care. Here are their pets of the week. 
Mickey and Minnie (who was featured last week) came in together. They are both quite shy and can be nervous until they warm up to you. It would be great if they could be adopted as a bonded pair. They are getting used to new things like a couch, or bathtubs in houses etc. They may have been outside dogs. They are very social with other dogs, and both seem fine with kitty cats. They need lots of special care, in just going slow and steady with new life experiences. They are both truly loving and sweet. They would benefit from a quiet and structured environment with a very patient and loving human.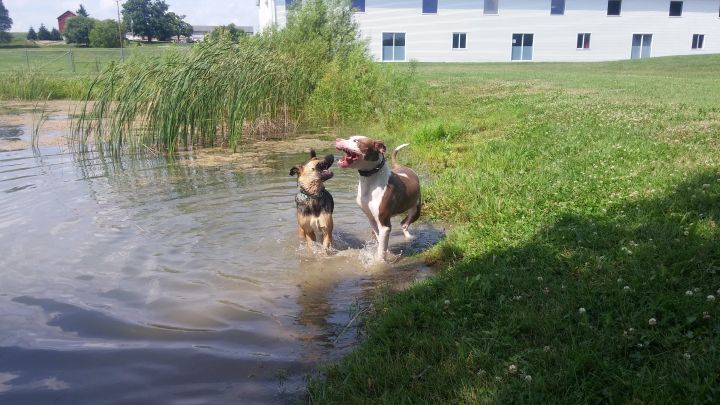 Aurora is a super sweet and slightly nervous girl. She was found running the roads. Toys are her favorite things, as well as really good treats. She may be a little nervous at first, and possibly not the best fit for a home with small children. Over 8 would be best. She seems to like other dogs, but can be super nervous with them. She needs slow baby steps in socializing with other dogs. She was not interested in cats and did fine on her cat introduction.
DOB 3/2/19
Hearts of Hope Dog Rescue
Hearts of Hope Dog Rescue look to find dogs and sometimes cats in their care forever homes with the help of foster homes.  Here are their pets of the week. 
Sawyer is as sweet and cuddly as they come and this lanky boy has all the qualities we love about puppies.  He has learned all about "sit" and is very attention and treat focused so I am fully confident he will excel greatly in basic obedience classes. The main focus for Sawyer is finding someone who is able to build his confidence, right now he is very clingy and gets stressed and upset if you leave the room. We assume this is based on his time at the outdoor shelter. Once he gets you in his sight, he doesn't want you out of it! When he looks at you, you can see the adoration in his eyes. Regardless of his previous experiences, he has nothing but love for anyone and everyone he meets.
Sawyer would do best with someone who does not leave the home for long periods of time. He also loves playing with other dogs/kids and would love an active family who wants to make him a part of your adventures. Sawyer will be much too large for an apartment and will need significant room for him to grow (you'll understand when you see his paws).
His adoption fee is $300.