The following animals are available for adoption.  If you find an animal you'd like to adopt please contact the organization directly.  Lowell's First Look does not assist with the adoption process.  And if you're looking to add to your family and don't see an animal below, each organization has additional animals looking for new homes.   Pet profiles and photos are provided by each organization.
Mackenzie's Animal Sanctuary
Those involved with Mackenzie's Animal Sanctuary take pride in finding the right home for dogs in their care. Here are their pets of the week. 
Hi! I'm Hayden! Are you in need of a good laugh, I mean a really good belly laugh…because I am a complete doofus! A real "derp dog" if you will. Thank goodness I am a very floppy boy. For real, I still have my loose puppy skin that is about 3 sizes too big for me.
Like being the host? Me too! I love people of all ages! Imagine this handsome mug being your official guest greeter at any social event! The MAS staff and volunteers have been helping me practice my social skills with furry friends too. I love playing with other dogs, and I am still young enough to adjust to sharing a home with cats.
Even though I am a bit clumsy, I like to practice my parkour skills at the MAS gym. But after a good agility run, I am pretty ready for a nap. My extra skin means I am super squishy as a snuggle buddy.
Oh, you might be wondering what is going on with my right eye (the one that looks a bit red). When I first came to MAS, I had what is called cherry eye. It was bothering me a lot, so the medical team at MAS helped me out and surgically removed the cherry. What you see now, that redness, is my third eye lid that has scared a bit. It does not cause me any issues now, doc said my third eye lid will always be a bit visible, but I am still obviously adorable. It is part of me, and my story, and it makes me unique.
If you would like to meet me, submit your application today!
DOB: 2/23/2022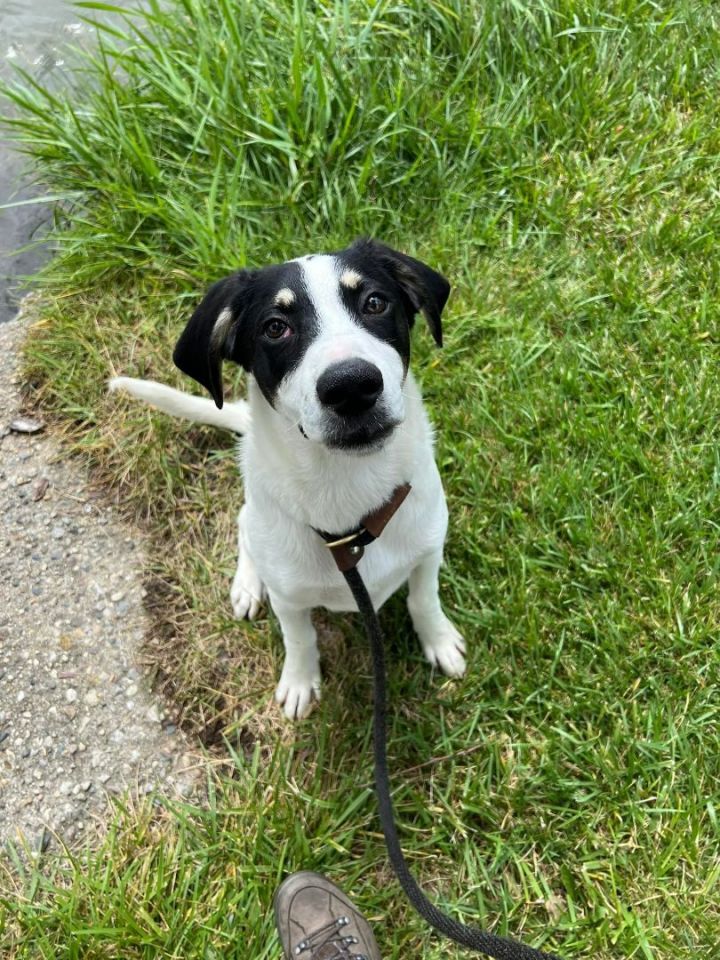 Are looking for a special soul to be your best friend and companion? Hey! Me too! I'm Trinity.
As with anyone, I am not for everyone. My social circle consists of adult humans. I am not the kind of girl that really wants to expand my friendships with other dogs or cats. However, with that being said, on occasion I don't mind being a little social and going for walks with other dogs…as long as they're not too close in my personal space. But at home with you, I have all I could possibly want just being with my people. I have all the attention, snacks, car ride adventures, and most importantly…love.
Being a foodie, I wouldn't mind having midnight snacks together. My food motivation also comes in handy for practicing my training. You can always teach an old dog new tricks as the saying goes, but I am already a pretty smart girl. I know sit, down, and stay, and I'm currently working on practicing leave it.
Hanging at home with me means always having a listening ear, a warm cuddle, and a good laugh. My friends always get a good laugh when I get the zoomies, they say I'm a very goofy lady! I also really love to explore and take in all the smells around the fenced yards at MAS. I love going for car rides and catching a good breeze, as you can see from my pictures.
If your a special someone, in search of a loving companion, I would love to meet you! So submit your adoption application, this could be the start of a beautiful friendship!
DOB 2/26/17
Hearts of Hope Dog Rescue
Hearts of Hope Dog Rescue looks to find dogs and sometimes cats in their care forever homes with the help of foster homes.  Here are their pets of the week. 
Meet Chickadee, a one year old Staffordshire Terrier/Cattle Dog mix (our best guess) who is as friendly as she is pretty! Chickadee will walk up to every person in her path to introduce herself- giving kisses with reckless abandon. She is a very happy social girl, who wants nothing more than to be by your side every waking moment (and will happily sleep right up against you at night too!). She is the very definition of a Velcro-dog, your personal space just so happens to be her personal space as well! She will be your number one snuggle buddy; so long as she gets her morning and evening exercise in. At least one mile for each walk, please! At a year old, she is still very much a puppy and learning what is (and what is not) appropriate to chew on, but is potty trained and crate trained. She is still working on not jumping up on people and keeping her mouth to herself (tends to be mouthy when excited), so even though she loves them, no little children for Chickadee. She will absolutely knock them down and nibble on them (with exuberant love). Because of rental breed discrimination, she does require a family who owns their own home and does not utilize an electric fence. She chews on any tie out or tether, so a physically fenced-in yard is needed. A consideration for potential adoptive families; she has been diagnosed with a lifelong virus that makes her more susceptible to illness, specifically upper respiratory infections, and will need immune support (and potentially extra veterinary care) to keep her at her healthiest self. Chickadee rides well in the car, has nice leash manners out in public and is very food motivated- she would love to further her learning in training classes! She currently lives with a cat who she plays fairly rough with, and would thrive as a only dog so she doesn't have to share any of her people's attention! But the right dog (who is mellow and lets her be the boss) might work too- meet and greet required. Chickadee is spayed, microchipped, current on all vaccines & preventatives, and her adoption fee is $250.
Meet Norma, a spry "senior" Setter at 10 years old who says age is just a number! She loves to explore wherever she is, and certainly uses those Setter traits to hunt for critters; her favorite activity is sniffing out mice in the woodpile at her foster home and is happy doing so for hours! Norma loves walks and does pretty well on-leash, and loves spending time outside. She is social; loves everyone of all ages and does great with kids. She is crate trained and not destructive, but her one bad habit is she will counter surf when the opportunity presents itself! She is ok with cats and would thrive as the only dog in the home so she can soak up all of the attention, but could probably coexist with another laid back dog friend that doesn't expect her to play with them. Norma still has some good years left in her, and would love a retirement home to be treasured as the lovely girl that she is. Norma is current on vaccines and preventatives, is spayed and microchipped and her adoption fee is $175.