The following animals are available for adoption.  If you find an animal you'd like to adopt please contact the organization directly.  Lowell's First Look does not assist with the adoption process. And if you're looking to add to your family and don't see an animal below, each organization has additional cats, dogs, or farm animals looking for new homes.   Pet profiles and photos are provided by each organization.
For additional information about each organization visit their websites or read our intro article to Furry Friday!  The following pet profiles are provided by each rescue.
Mackenzie's Animal Sanctuary
Those involved with Mackenzie's Animal Sanctuary take pride in finding the right home for dogs in their care. Here are their pets of the week.
I'm Hennessee! I'm a two year old husky mix. I'm always on the go, and would love a super active family that will get me out for walks, hikes, and runs. I can be a bit particular about certain things, and the staff here at MAS is helping me to work on my manners. Since I can be a bit fussy, I'd be best with adults or older kids for now. I've done well with other dogs since I've been here, and I did pretty well on my cat intro. If you're looking for a buddy and are up for runs and hikes regardless of the weather, fill out an app and ask about me!
Faro, is a regal soul. He is quite the ladies dog. His D.O.B. is 10/10/15. He likes to be with his people. He is learning new things, like walking up the steps, and working on his commands. He loves treats even better when he has to earn them. He lived with a small dog in his past home, and seemed to not mind the cat in our cat introduction.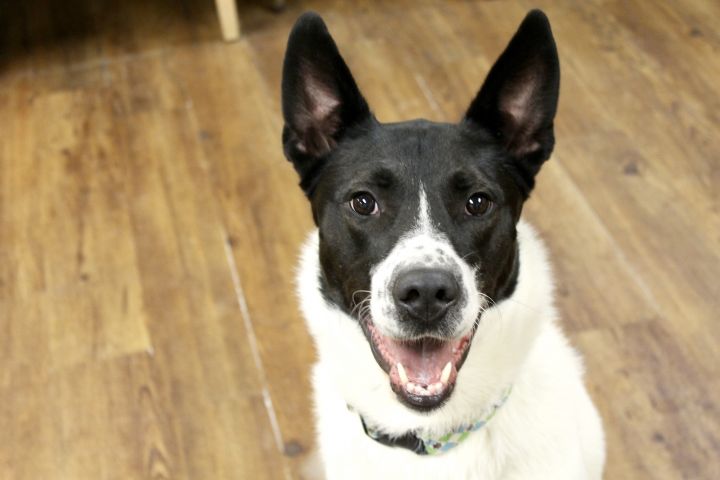 Vicky's Pet Connection
Vicky's Pet Connection works with the Kent County Animal Shelter to rescue cats and kittens.  They also take in dogs older in age and those needing special care. Here are their pets of the week.
Drift is a lovely young kitty looking for a home. She's about 5 months old, loving, soft, snuggly and playful. Aren't those the best kitten qualities ever? Drift is at a wonderful age–not  an itty bitty kitten stage but still just a fun teenager! Wouldn't it be the perfect spring gift to yourself to add this beauty to your household?
Carol's Ferals
Carol's Ferals specializes in trap, neuter, return (TNR), but they come across "friendlies" who are available for adoption. Here are their pets of the week.
Hi, I'm Rhaegal. I am a shy boy but do I ever like my belly rubbed! I won't be the first one to approach you, but don't mind if you come to me and give me some pets!
Hi, I'm El. A kind lady was taking care of me while I was outside but had 5 cats of her own that were inside and did not have room for me. My right eye is cloudy, most likely due to an eye injury. I also have a head tilt that may have been due to an ear infection. However, it does not bother me in the least. I am a very sweet girl who would love a chance at a forever home.
Hi, I'm Balon. I came to Carol's Ferals in January 2018 as part of a large TNR project in the Cherry Valley area of Grand Rapids. I was little shy, but I have discovered that I love to be petted and now I ask for pets. Come visit me and see if I'm a good fit for your family.
Hearts of Hope Dog Rescue
Hearts of Hope Dog Rescue look to find dogs and sometimes cats in their care forever homes with the help of foster homes.  Here are their pets of the week.
My name is Frankie, short for Aretha Franklin, and I'm pretty special according to basically everyone who has met me. I'm a 4 year old, deaf, mini aussie/terrier mix, and let me tell you about my perfect forever home. First of all, there will be no other animals because I am more than enough and deserve all of the attention from my humans. Secondly, I require my people to either be home a LOT, or take me with them everywhere they go. I am an easygoing traveler in the car and have been known to commandeer kayaks from time to time. Lastly, if your home has those smaller humans that make a lot of noise and leave crumbs everywhere they go then you get extra points. I ADORE those kinds of humans. I'm potty trained, fixed, and up to date on my vaccines, so if you think you're the family for me please fill out an application and I'll have my people call your people! My adoption fee is $200 and you can find the application at www.rescueofhope.com/adoption-application/
A distinguished gentleman's face in a young body? The perfect combination is the best way to describe Wallace. He was a stray wondering in Flint, but why anyone would let him go is beyond us. He loves every dog and person he meets. (He loves kitties a bit too much.) He will cuddle all day long if that is what you have planned, but he would also love to go for walks where he will wag his white tipped tail the entire time. Wallace is an easy going, happy go lucky boy who just wants to find a home to love his people and show off his "shake" skills. He is neutered, microchipped, up to date on shots, and recently had a dental cleaning! His adoption fee is $200. To adopt this handsome fella apply at 
www.rescueofhope.com/adoption-application/