The following animals are available for adoption.  If you find an animal you'd like to adopt please contact the organization directly.  Lowell's First Look does not assist with the adoption process. And if you're looking to add to your family and don't see an animal below, each organization has additional cats, dogs, or farm animals looking for new homes.   Pet profiles and photos are provided by each organization.
For additional information about each organization visit their websites or read our intro article to Furry Friday!  The following pet profiles are provided by each rescue.
Mackenzie's Animal Sanctuary
Those involved with Mackenzie's Animal Sanctuary take pride in finding the right home for dogs in their care. Here are their pets of the week.
I'm Ella! My DOB is 3/11/11. I'm still new to Mackenzie's, so as the staff learn more about me, they'll update my info. However, even though I haven't been here long, I've been busy making friends! I love attention and lounging around with people. Belly rubs and tasty treats are just a few of the things I really enjoy. As long as I have those things, I don't need much else! I've done well with the kids and dogs I've met here so far, but I'd be best in a home without cats. Ask about me!
Hi, I'm Cora! I'm a senior terrier mix – my birthday is 4/14/09. I was brought into another shelter as a stray, and found my way to Mackenzie's. When I first got here, I wasn't in the best shape, but thanks to all the amazing care I've received here, you wouldn't believe that I'm 10! I'm still plenty active – ample energy and lots of love to give! I've done well with the kids and dogs I've met so far, and did well on my cat intro too! If you're looking for a sweet older gal, fill out an adoption application and mention me!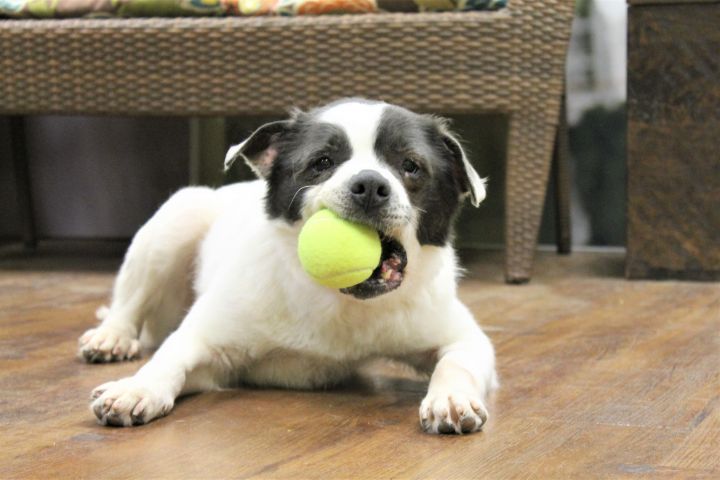 Vicky's Pet Connection
Vicky's Pet Connection works with the Kent County Animal Shelter to rescue cats and kittens.  They also take in dogs older in age and those needing special care. Here are their pets of the week.
This handsome guy is still looking for his perfect home!  His name is Valentino and he's a gorgeous, 3-4 year old kitty with a super-soft long-haired coat.  Valentino is "all boy" and a rough-and-tumble guy.  He would do best with an experienced cat owner that understands that some kitties need a lot of stimulation to be happy!  He is a SMART cat who has a real need for adventure.  He needs room to explore and has a real hunter's instincts so he'd be great at rodent control!  We think he might also eventually want some safe outdoor space where he can really be a cat!  He's such a cool character and we know a great home is out there for him!
Hearts of Hope Dog Rescue
Hearts of Hope Dog Rescue look to find dogs and sometimes cats in their care forever homes with the help of foster homes.  Here are their pets of the week.
Phil is a 4 month old Staffy Lab Mix who is 36 pounds and growing. He still needs to grow into his ginormous head, so we expect him to be a bigger pup. He is so smart; he's doing a fantastic job with his crate training and house training, and he's already learned many commands – he even rings a bell when he needs to go outside !! Phil would benefit from puppy classes with his new foster home. He is shy when meeting new people, but after a quick moment he is thrilled he made yet another new friend. Phil loves car rides, and he snuggles like a champion. He also loves walks. We think Phil would love to live with a runner ! He is neutered, microchipped, and up to date on shots. His adoption fee is $250. To adopt Phil email [email protected] for an adoption application
Hi, my name is Bailey. I am a cute 2 year old chihuahua/ Jack Russell Terrier. I am a good girl that loves to play and run zoomies. However, I can be nervous when I meet new people and animals so I would really love a home that would give me time to warm up to them. My foster dad says i am pretty perfect though as I am house and crate trained. Are you that special person that will love me forever? Bailey is spayed, microchipped and up to date on vaccines. Her adoption fee is $200. To apply to adopt Bailey email [email protected] for an adoption application.