The following animals are available for adoption.  If you find an animal you'd like to adopt please contact the organization directly.  Lowell's First Look does not assist with the adoption process. And if you're looking to add to your family and don't see an animal below, each organization has additional cats and dogs looking for new homes.   Pet profiles and photos are provided by each organization.
For additional information about each organization visit their websites or read our intro article to Furry Friday!  The following pet profiles are provided by each rescue.
Mackenzie's Animal Sanctuary
Those involved with Mackenzie's Animal Sanctuary take pride in finding the right home for dogs in their care. Here are their pets of the week. 
My name is Maui! Even though I'm technically an adult (my DOB is 10/26/16), I have tons of energy…I could be mistaken for a pup half my age! I can be shy at first, but some tasty treats help me to come out of my shell pretty quickly. Once I'm comfortable, I love to play and love attention. Tennis balls are probably my favorite toy – while I'm not a big fetch player, I love to chase after them. Now that spring's just around the corner, I'd love a family that likes to spend time outside (and maybe get a good snuggle in afterward). Fill out an application and mention me!
My name is Thea and my birthday is 5/19/15. Ask anyone here – my cuddles are legendary! They're almost like a superpower; they can make anyone's day immediately and infinitely better!
As far as humans go, I've absolutely loved everyone I've met, both kids and adults. Being around people really is my favorite thing to do. I'm up for walks or car rides, but as long as I've got a pal with me, I'm not picky at all. All I really want is to be close with my buddies and share the love. I'm not fond of cats, and would really prefer that I find a home without one. When I first arrived at Mackenzie's, I had heart worm, but now that I'm done with my treatment and am healthy, I can finally start to meet some other dogs, and hopefully find a buddy.
I'm a lap dog looking for a lap – so if you've got an open one, fill out an adoption application and mention me!
Vicky's Pet Connection
Vicky's Pet Connection works with the Kent County Animal Shelter to rescue cats and kittens.  They also take in dogs older in age and those needing special care. Here are their pets of the week.
Check out this cutie! This is Jupiter and he is SUCH a loving guy! He can't get close enough to his people and loves to snuggle. He's a tall, lanky, rough-and-tumble teenager who loves to play!  He doesn't love change, though, so it takes him a little while to adjust but, once he does, you are going to LOVE his sweet personality!  He's hanging out at the Critter Cottage in Ada so stop by and meet him.
Hearts of Hope Dog Rescue
Hearts of Hope Dog Rescue look to find dogs and sometimes cats in their care forever homes with the help of foster homes.  Here are their pets of the week. 
Barney is a very happy and laid back 7yr old Dachshund/Chihuahua Mix. He's great with cats other calm dogs or dogs of his own size, and loves older kids, but can be overwhelmed by small children. All Barney really wants is to be somebody's shadow. He bonds strongly with whoever he lives with, and loves to follow them everywhere. Including the bathroom if he can! Barney LOVES going for walks, snuggling with his people, and pretty much all food. He is potty trained and knows sit & down. Barney recently had surgery for a torn ACL, and may need surgery in the future for his other leg. He can have a hard time getting onto furniture without steps, but doesn't mind being picked up. Barney is up to date on all of his shots, neutered and microchipped. His adoption fee is $200. To adopt Barney apply at www.rescueofhope.com/adoption-application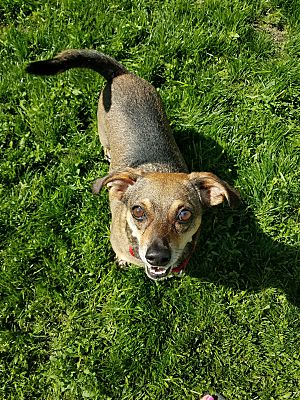 Tiny is a beagle that we think is about 4 years old. Since relocating to Michigan from Louisiana, he has been working on his leash walking, crate training, and learning some commands. He's really been focused on playing with his doggie foster siblings and taking naps in the sun. He's made amazing strides learning to trust people, working on his surgical skills by unstuffing toys, and his yard inspector skills by looking for places to sneak out. If you're looking for someone to sing you a song while you get his dinner, Tiny can't wait to meet you! Tiny is neutered, micro-chipped, and up to date on all his vet care. Tiny is currently going through Heartworm Treatment and Hearts of Hope will cover that completely. His adoption fee is $200. To adopt Tiny apply at www.rescueofhope.com/adoption-application