This article was originally published on January 14, 2021 on The Restless Viking website.
In October 2020 I took a scenic drive from Cheboygan to Lowell and came upon this exhibit on M-33 between Fairview and Comins, Michigan. I was curious about this display. I safely pulled over and strode up the hill for a closer look-see.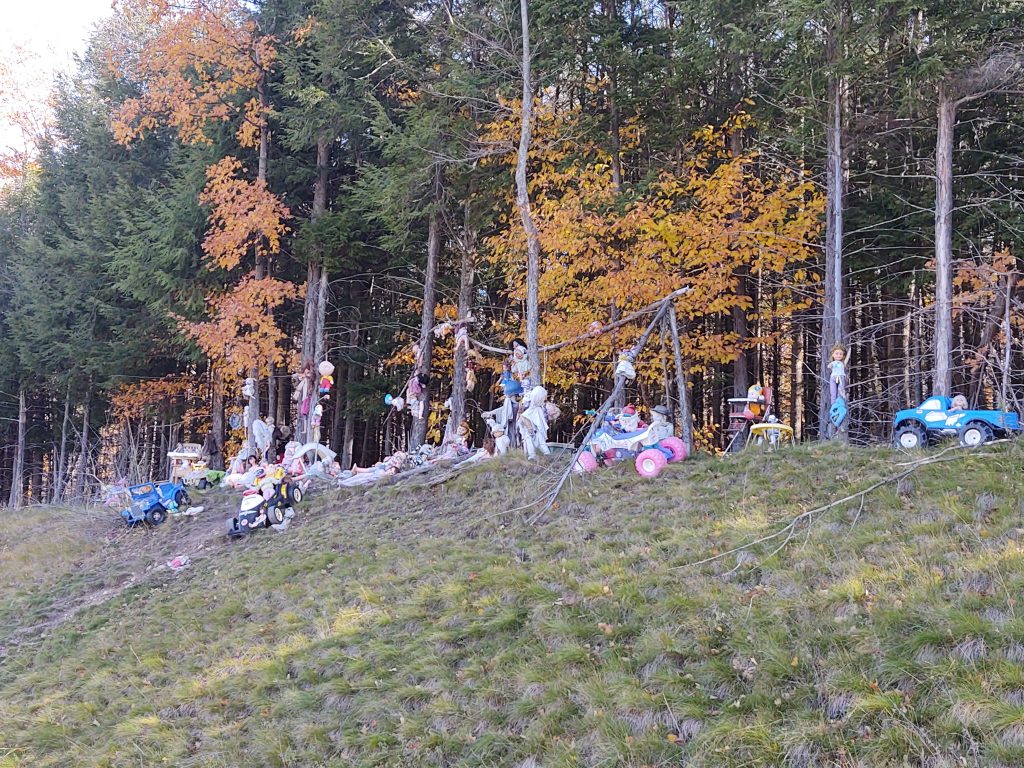 I navigated the slope carefully as I was alone and orthopedic surgeries have become a unique 'hobby' for me. I wondered who had set up this mausoleum of sorts. 'Oh dear,' I thought, 'was there a tragedy involving children?' My mind raced thinking of the children I have known who have passed away. As an elementary teacher, I have known too many youngsters who live in Heaven. Would someone do THIS to honor a child?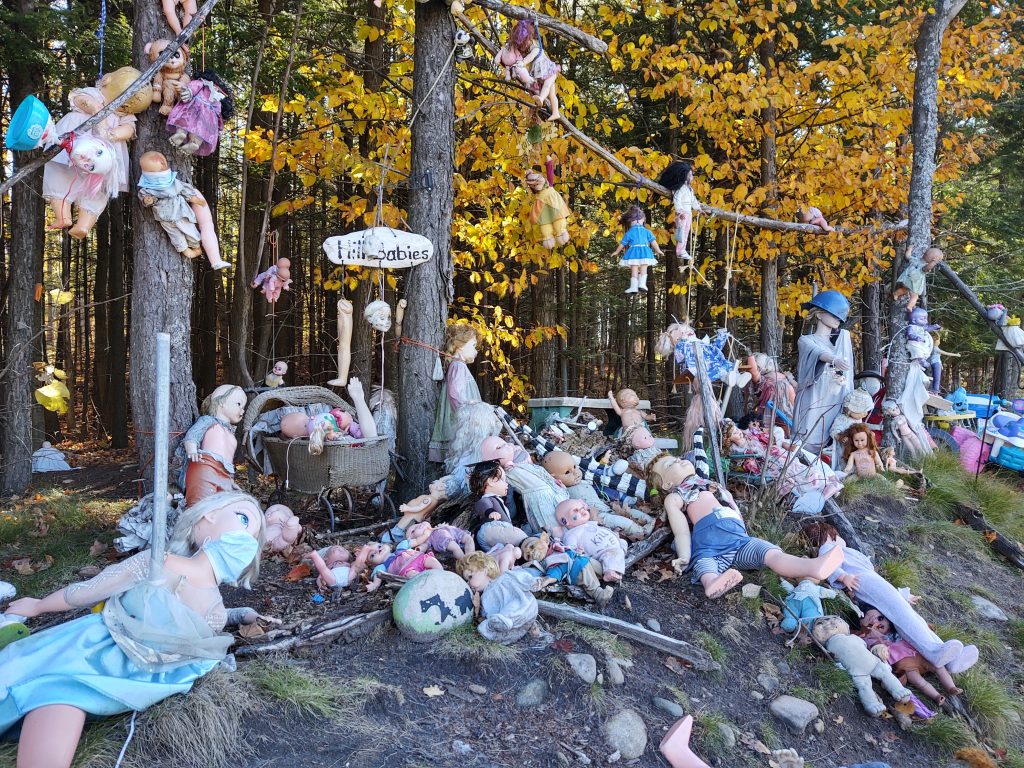 "The Hill Babies" I read the sign.
I decided this couldn't be a shrine to honor a child who had passed. Was this a prank? The horror films I'd seen with my friend Jennifer flicked through my mind. Would this be a testimonial to one of those movies? Which one?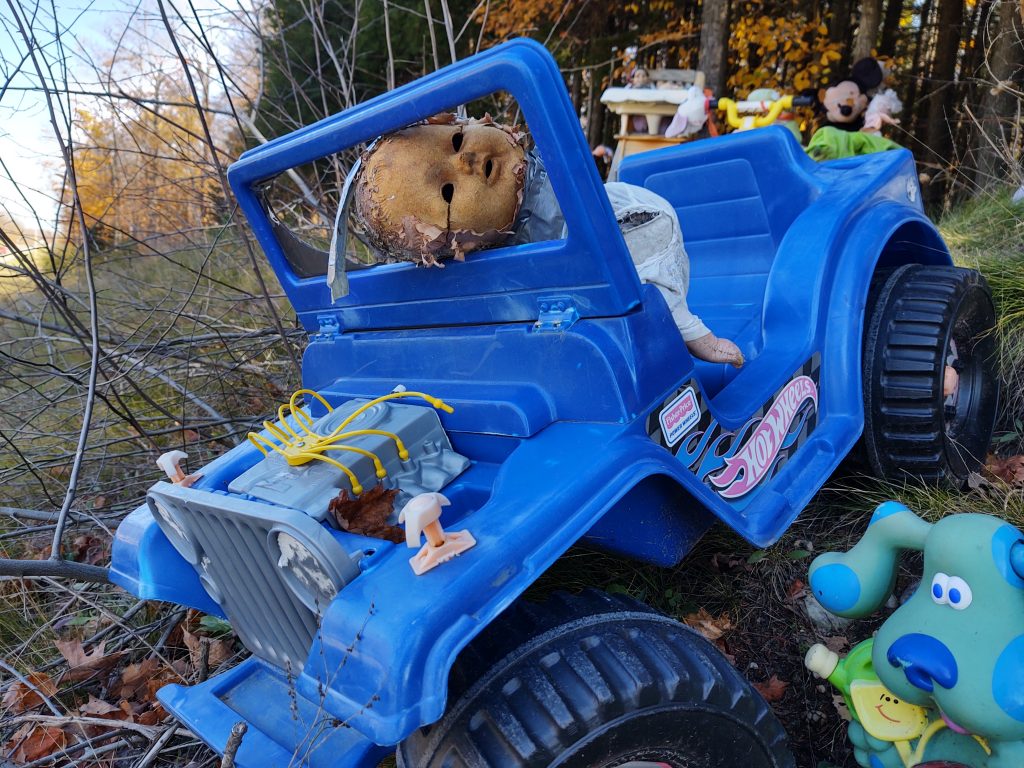 Some of the dolls' eyes were blacked out.
What's the meaning behind this array? How long had this been here?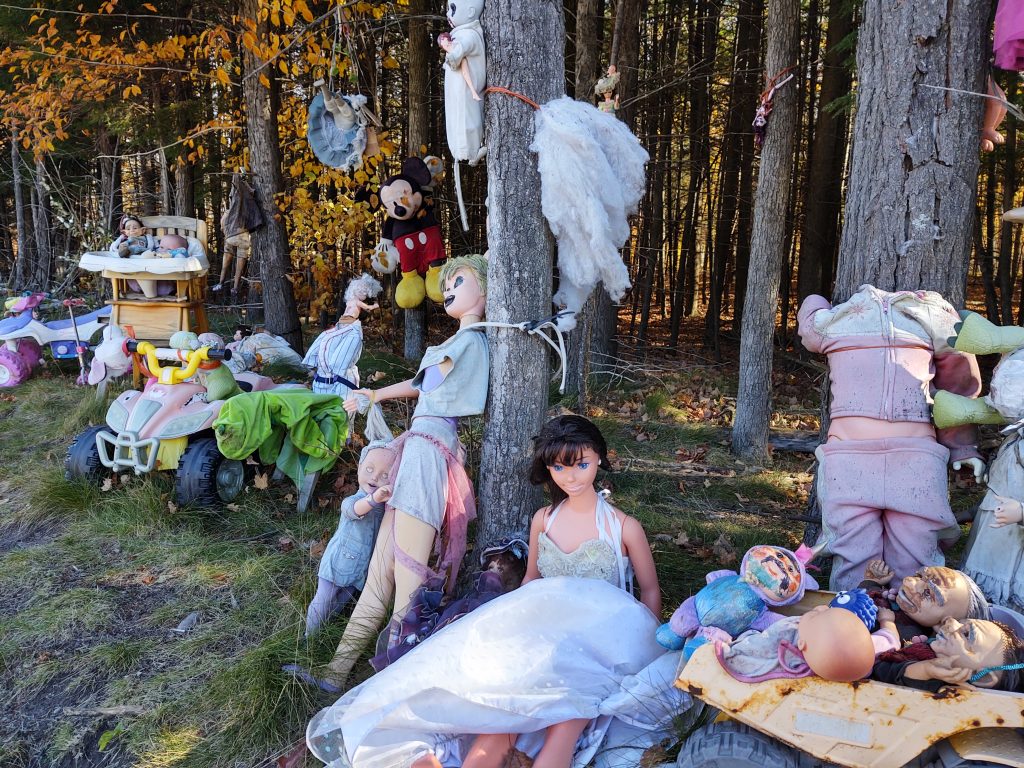 When I returned home I searched Facebook and requested to join a group from the area, "What's Up In Mio, Fairview, Luzerne, Comins" which has over 2,700 members. Surely someone would know the story behind this. I posted one photo and asked, "Can anyone tell me how the doll hill got started?"
Responses varied from eager art lovers intrigued and supportive of this cluster of figurines to 'creepy,' 'garbage' and 'sad.' Some speculated that a graduating class started this. Others recalled two desks being left in the ditch and then dolls started appearing on the hill. One man said he lived across the street and it had been there a long time. Someone else posted about there being a 'shoe tree' that had been cut down. One woman stated firmly that this wasn't the doll hill from M-33. Many people replied to other's comments. Opinions were flying throughout the 80 comments.
Finally, two individuals shared that the owner of the property started the doll display. "He even cleans it up from time to time." I was intrigued! I HAD to talk with this person and learn the true meaning of this exhibit.
I messaged both members of the page asking for the name of the property owner. One person responded and I went to work investigating contact information. I found a phone number of the 'age-experienced' gentleman. I called and left a message. As I hung up I realized that this could be the end of the road if he wasn't willing to return my call. I may never know about this curious arrangement. I sighed with disappointment and shrugged at our dog, Shackleton. (He is always at my heels.)
As I relaxed on the couch that evening, my phone rang. I didn't recognize the number and quickly assumed that it probably had to do with my car warranty. "Hello?" I answered. A solemn voice responded to my greeting. "You called about the dolls on the hill?" "Oh my gosh! Thank you for calling me back! I am so curious about dolls collection!" I rolled off the couch and hustled to my bedroom office so I could take notes.
"I stated it about ten years ago." he explained. (The gentleman asked me to keep his identity anonymous.) "I had a few dolls and people just keep adding more. Last fall someone added some nasty ones. I suppose it was for Halloween, but I took them down." We agreed that it was an interesting conversation starter. I shared that my Facebook post proved that!
"Do you know the author, Johnathan Rand?" he inquired. I did. As an elementary teacher I was familiar with his "Nightmare Nation" books. I learned that Johnathan Rand is one of Chris Wright's pen names. Chris has written the Michigan Chillers series (18 books) and the American Chillers series. "Well, he was here and based one of his books, "Village of the Dolls," on my doll hill." I could hear the smile broaden his face. "Village of the Dolls" is the first book in the Nightmare Nation series.
Surrounding Mio Michigan has other sights, too. There's an Indian head made from limestone rock.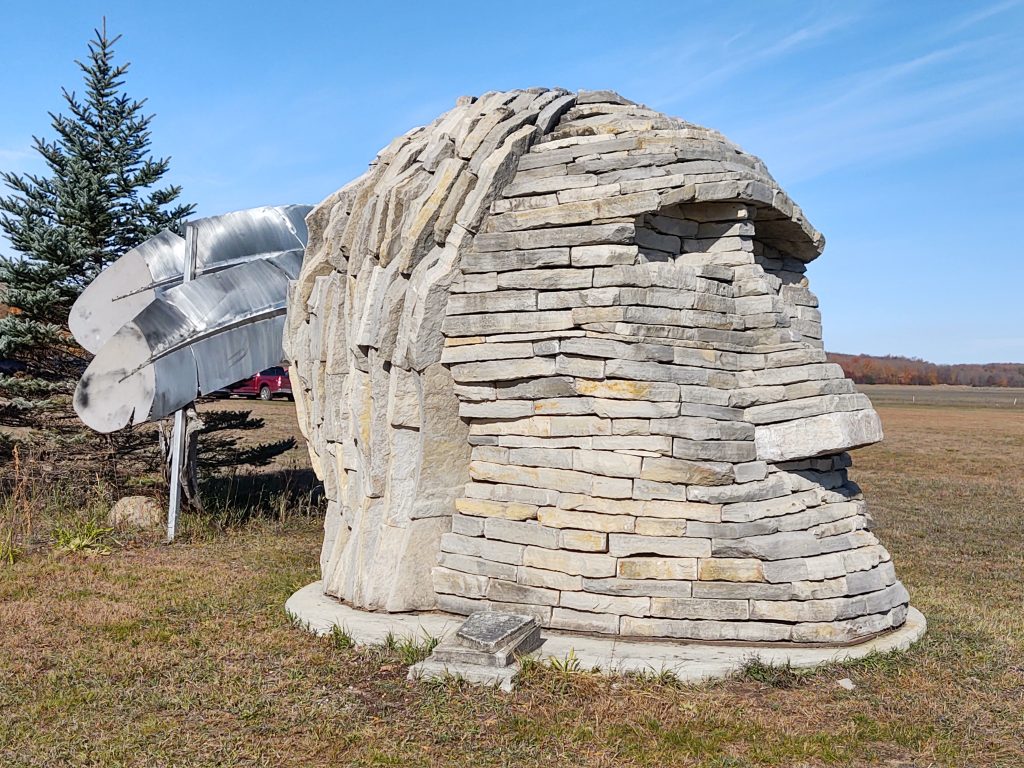 Tom Moran's sculpture was revealed on the 4th of July in 2003.
Tom Moran of Moran Iron Works usually creates sculpture using steel. This limestone Indian Head was modeled after Ohio's Chief Leatherlips statue. It now sits at the entrance of the Skyline Event Center.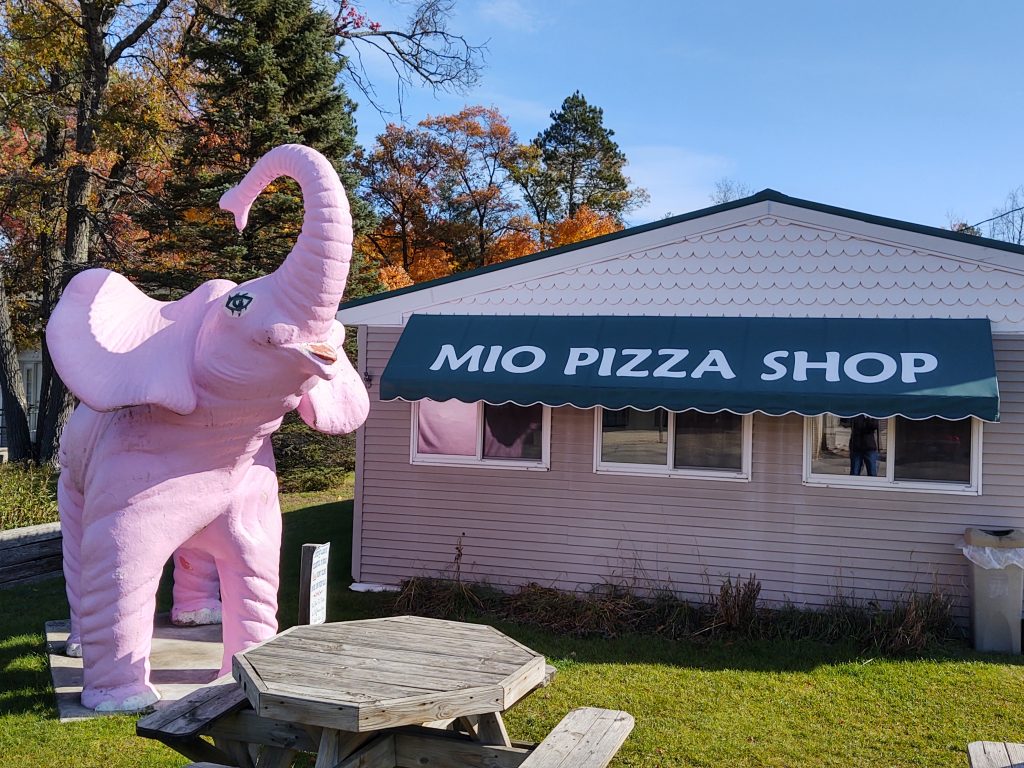 Another roadside oddity is this pink elephant.
When I asked the young gal about the pink elephant after ordering a submarine sandwich, she raised her painted on eyebrows and shrugged. It's been here a long time.
As I turned west to head home to Lowell, I was startled by this shrine next to the Catholic church. I was completely in awe. This European style shrine had candle filled grottos in remembrance of the apparitions of Mary. Below is the link to the piece I've written about this marvel.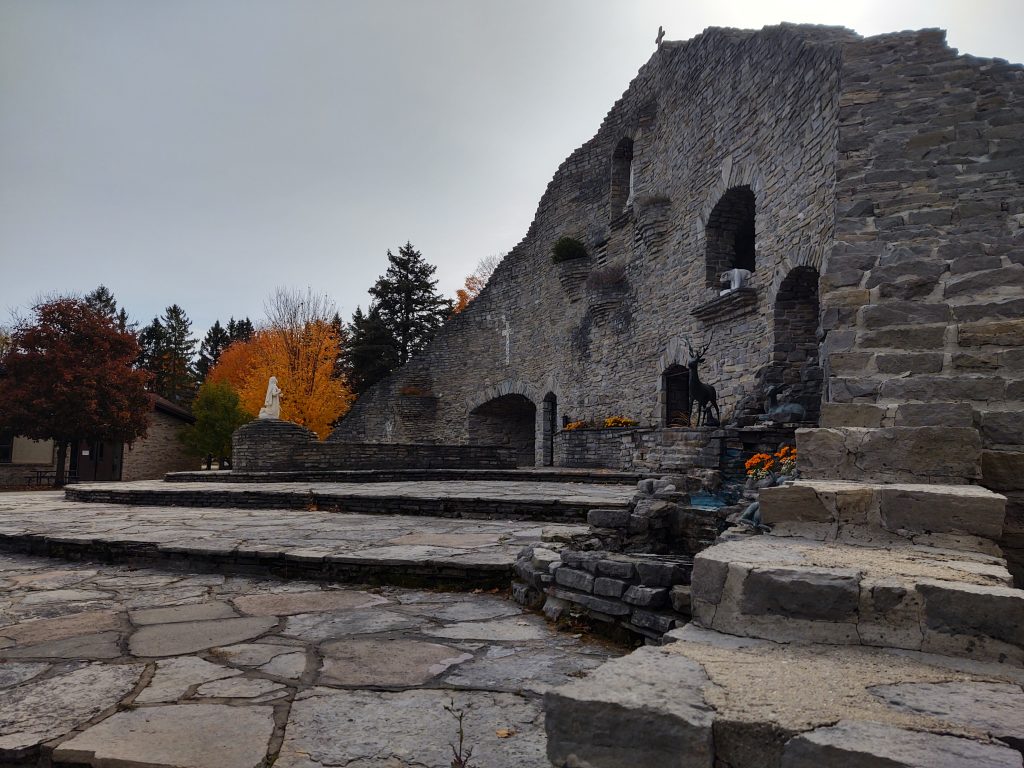 Michigan is full of small wonders located on the backroads. With a few inquisitive questions one can learn the source of these small town mysteries which have captivated many travelers. Keep your eyes open for similar findings along your routes in life. Enjoy!
Chuck and Martha Hayden, aka The Viking and Poppins, enjoy going on adventures off the beaten path. They also like to share their explorations with others. The Viking is a retired expedition leader while Poppins is a retired teacher. The two offer independent views of their journeys showcasing places, people, and cultures as they explore the world. Visit and follow them on their website and social media accounts. Website | Facebook | Instagram |YouTube