This article was originally published on November 30, 2021 on The Restless Viking website.
Water spilling over the dam brought a serenity to the crisp fall day. The only vibrations along the boardwalk were made by our own shoes. DaViking (Chuck) and I were off on another caper to 'look behind the curtain of life' by going to Fishtown during the off season. In the summer hordes of humans stroll along the planked docks in Fishtown located in Leland, Michigan. The calming cascade of water slapping against the boards gave a softness that I have never experienced in this space.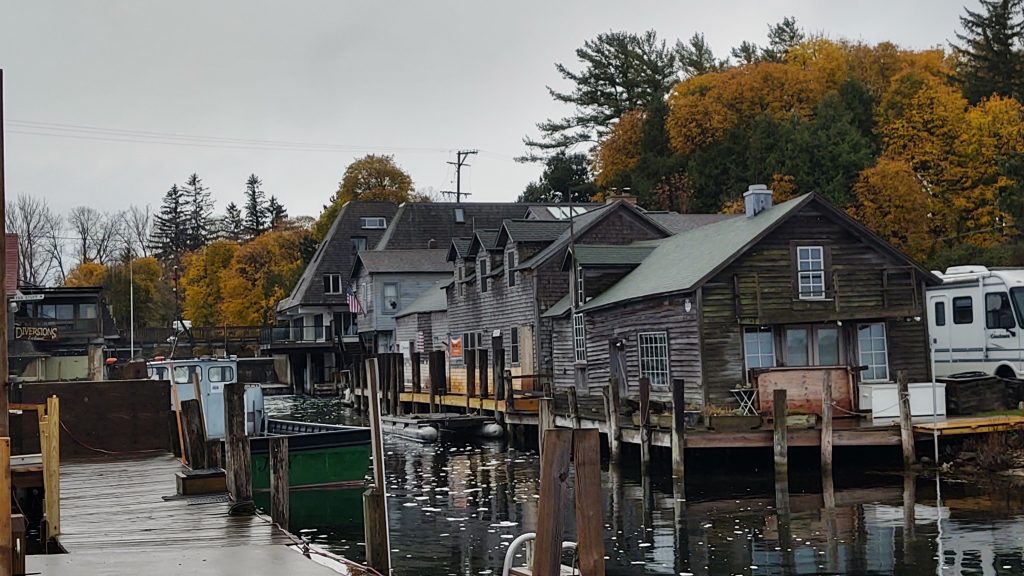 The shanties of Fishtown in Leland, Michigan have stood proud since the 1850's.
As a youngster when I visited Fishtown, it reminded me of the 1980's Robin William's movie, "Popeye." which had been filmed in far away Mellieħa, Malta. But both harbors had teamed with fish shanties and crowds of sprightly sailors. After seeing the film I always felt like I was on the movie set!
This port has hosted, smoked and processed many salmon, steelhead, lake trout and brown trout since the mid 1800's. As well as fisheries, one can charter a boat for an excursion on Lake Leelanau. A ferry to North and South Manitou Islands can be accessed in Fishtown, too.
Carlson's Fishery Remodel
As DaViking parked the Jeep, we noticed one of the two Carlson Fishery buildings had been relocated to the parking lot. The Carlson family had been in business for over 50 years and in 2006 sold their property to the Fishtown Preservation Society. We wondered "What was going on?"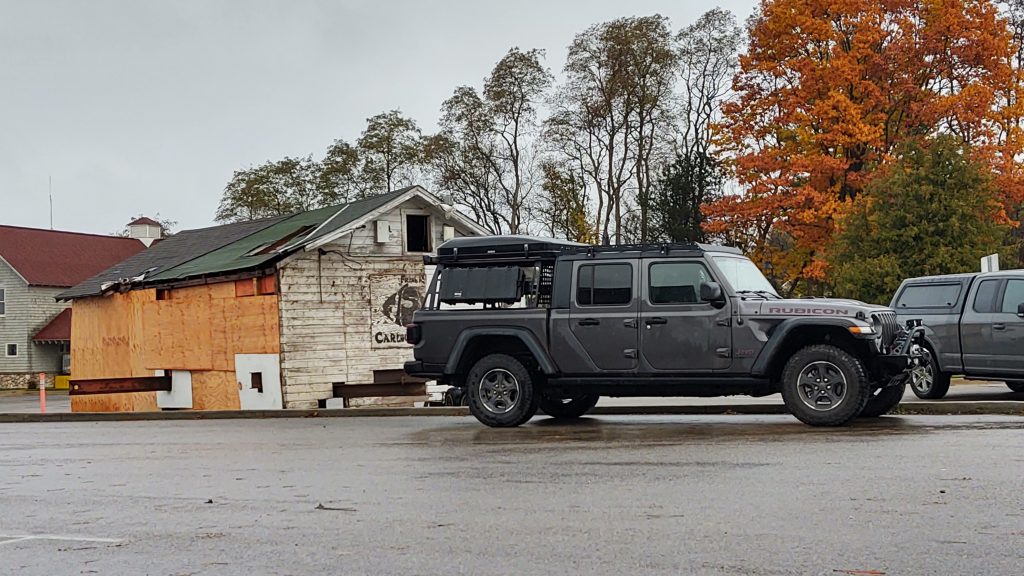 Carlson's Fishery building sat with expectation as if it was wondering about the next step in its story.
Amanda Holmes, the executive director of Fishtown Preservation Society, explained to reporter, Emily Tyra, the group's decision to rebuilt only one of the two Carlson Fishery structures. ""Operating any kind of food business requires strict adherence to handling and working with seafood has its own set of regulations. The essential issue was that the whole processing part of the building was rotted beyond repair — to the point that it could no longer be ignored by health officials."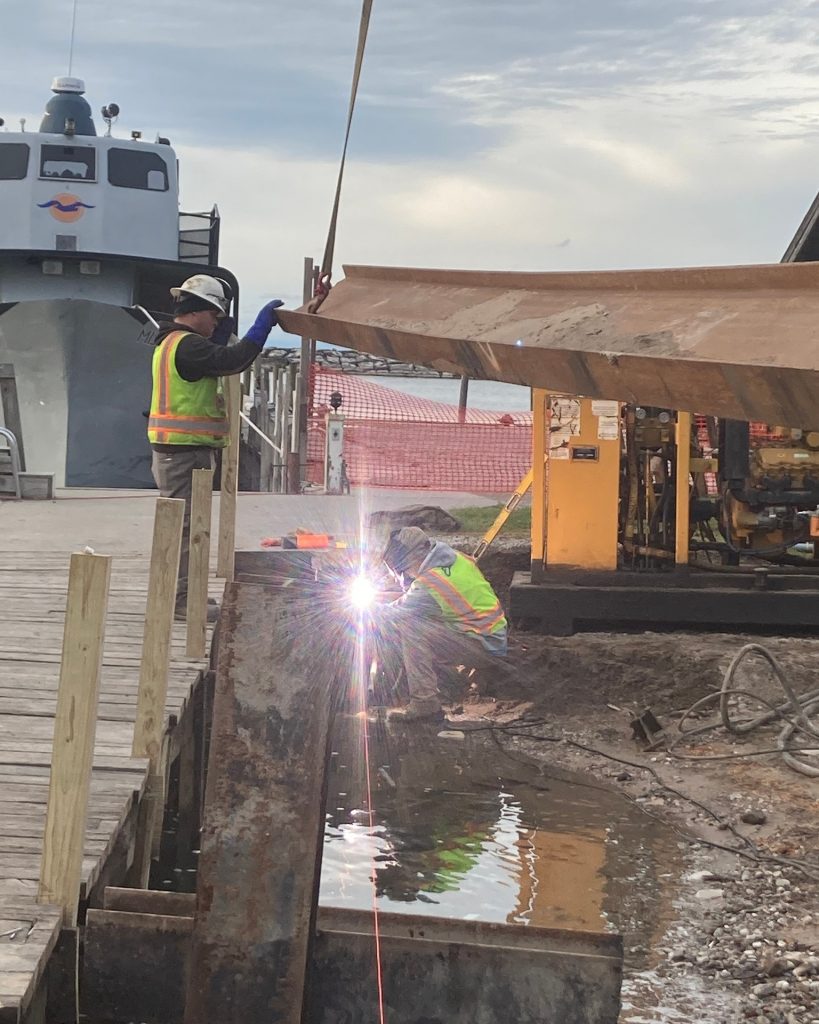 The sheet piling was being laid. It was the beginning of the new Carlson's Fishery structure.
Photo Credit: "Fishtown Leland" Facebook Page
November 17, 2021
This half million dollar construction project was underway in November 2021 with a completion date set for May 1, 2022. Fundraising had started back in 2007 and continues today.
(If interested in donating, please click here. or you may send a check to Fishtown Preservation to PO Box 721, Leland, MI 49654. )
A History Worth Saving
I found a richness and longevity to the locals' stories here in Fishtown. These tales show the grit and tenacity that I admire!
On July 16, 2021 Sandra Serra Bradshaw from The Glen Arbor Sun interviewed Bill Carlson. "There are lots of stories of the old days, some not printable," laughed Bill Carlson, who had owned the fishery. "My great-grandfather Nels moved the family from North Manitou to Leland in the winter of 1906 by oxen and sleigh over the ice. During the trip the ice started to break up and they had to board some cracks. They landed in the evening and by the next morning there was no ice in sight. We are lucky to be here. There are a lot of stories!"
Perseverance: Fred and Ross Lang
Since the late 1960's Fred Lang and his son, Ross, fished commercially using a gill net on their boat, Frances Clark. Laws changed and by 1980, they would need to use the 'new and different' trap-style netting. This would require major modifications to their existing boat or they'd need to purchase a brand new vessel. Ross was championed with the choice. In the fashion of a wise fisherman, Ross had opted to have their ship altered to meet the new requirements. He hired George Stevens, a craftsman, to create the required innovations. The fishing vessel, Joy, was born under Stevens' hands at his farm in East Leland. We spied Joy waiting patiently along the dock.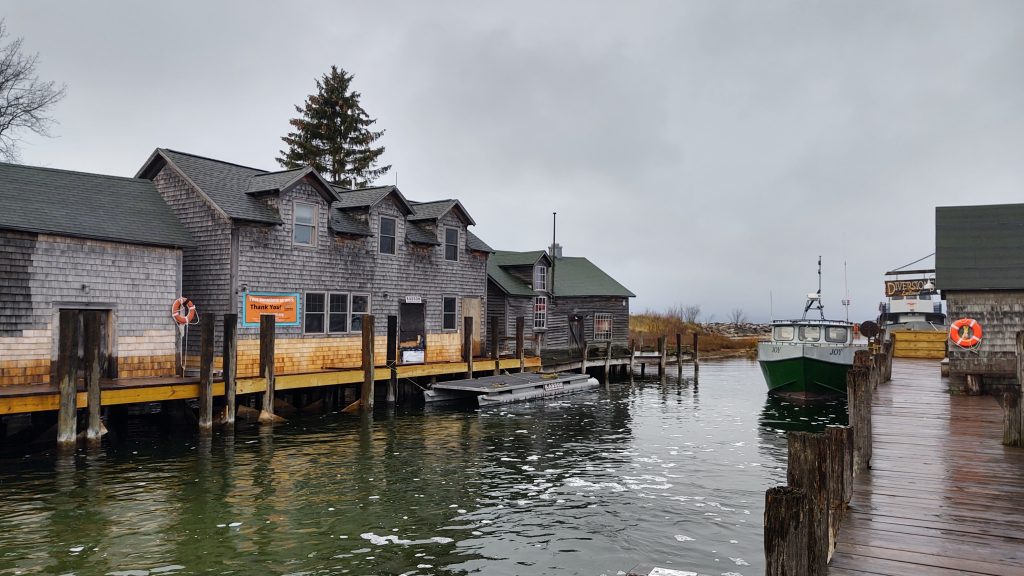 Historically accurate restorations are ongoing in Fishtown. The fishing vessel, Joy, quietly awaits her next mission.
Ross' daughter, Jane Lang, told reporter, Sandra Serra Bradshaw, her Dad's favorite saying is, "Every day is a boat ride and a picnic."
When the fishing vessels, Joy and Janice Sue, were purchased by the Fishtown Preservation Socieity in 2008, Geoff Niessink and Joel Petersen welded extra structural supports and replaced some rusted steel. According to the article, Joy of Leland, the pair knew that other remodeling would need to be done, but the opportunity didn't come until 2016.
For nearly three months, Geoff and Joel repainted, replaced the propeller and raised the sides of Joy in Nick Lederley's nearby workshop. Amanda Holmes, the executive director of FPS, stopped by the shop frequently to see the progress and wrote, "No boat, I realized, could be better loved." On February 27, 2016, with traffic stopped both ways on M-22, Joy was set back in her home waters of Fishtown. The fishing vessels, Joy and Janice Sue, are icons in the small port!
The History
Fishtown lies where Ottawa tribes had settled as early as 1200 BCE. The natural fish laddar helped to develop the name for this area, Mishi-me-go-bing, which means "the place where canoes run up into the river to land, because they have no harbor."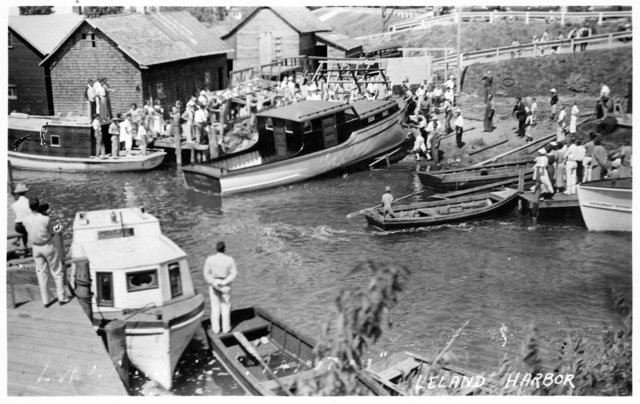 Photo Credit: John Westol
Fishtown Leland Facebook Page
In 1853 Antoine Manseau and his family traveled from North Manitou Island as the first white settlers. Antoine and John Miller built a dam the next year. This raised the water level an amazing twelve feet which created the need for boat launches to be placed on either side of the dam.
Soon a water-powered saw mill was constructed. By 1867 around 200 people made Fishtown their home.
By the turn of the century, Leelanau County's population had grown to over 10,000 individuals. Fishermen modified their fishing vessels with gasoline engines and covered their open cabs. The fishing industry quickly became more lucrative. Two breakwaters were built in 1937.
Sadly by the 1940's, the combination of sea lampreys and overfishing caused a decline in trout and whitefish. Fishtown turned toward tourism and charter boating to increase their profitability.
Fishtown Today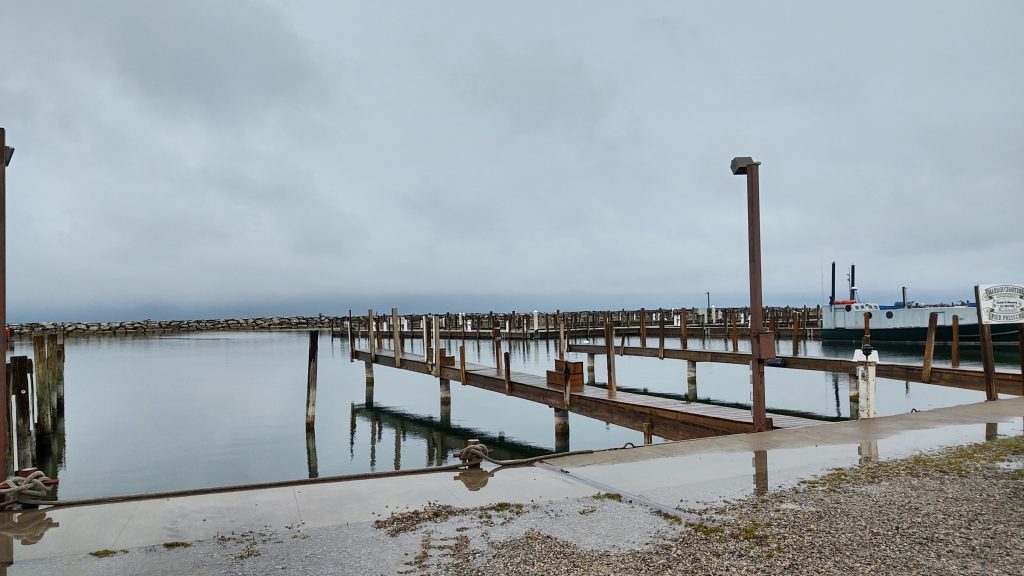 Fishtown is an enchanting place to visit! These shanties whisper the lore of long ago. Head there for a captivating mix of darling shops such as "Dam Candy." Eat at restaurants, visit several art galleries as well as witnessing the processing of fish. Or you may choose to stroll the fishing village during the off season and find a quaint peacefulness. I look forward to returning to Fishtown and hearing additional tales from long ago.
Chuck and Martha Hayden, aka The Viking and Poppins, enjoy going on adventures off the beaten path. They also like to share their explorations with others. The Viking is a retired expedition leader while Poppins is a retired teacher. The two offer independent views of their journeys showcasing places, people, and cultures as they explore the world. Visit and follow them on their website and social media accounts. Website | Facebook | Instagram |YouTube