This article was written by Martha Hayden and originally published on The Restless Viking website on June 13, 2023.
Have you ever wanted to learn how to sail? Did you know that The Great Lakes Sailing School in Traverse City has eleven instructors? Sailing certification for American Sailing Association (ASA) 101 and 103 requires four days aboard a sailboat with actual sailing, knot tying and taking two exams. Even after weeks of studying, I was doubtful that I could pass the tests, let alone sail the 31 foot vessel. Join DaViking (my husband Chuck) and I as we embrace this challenge.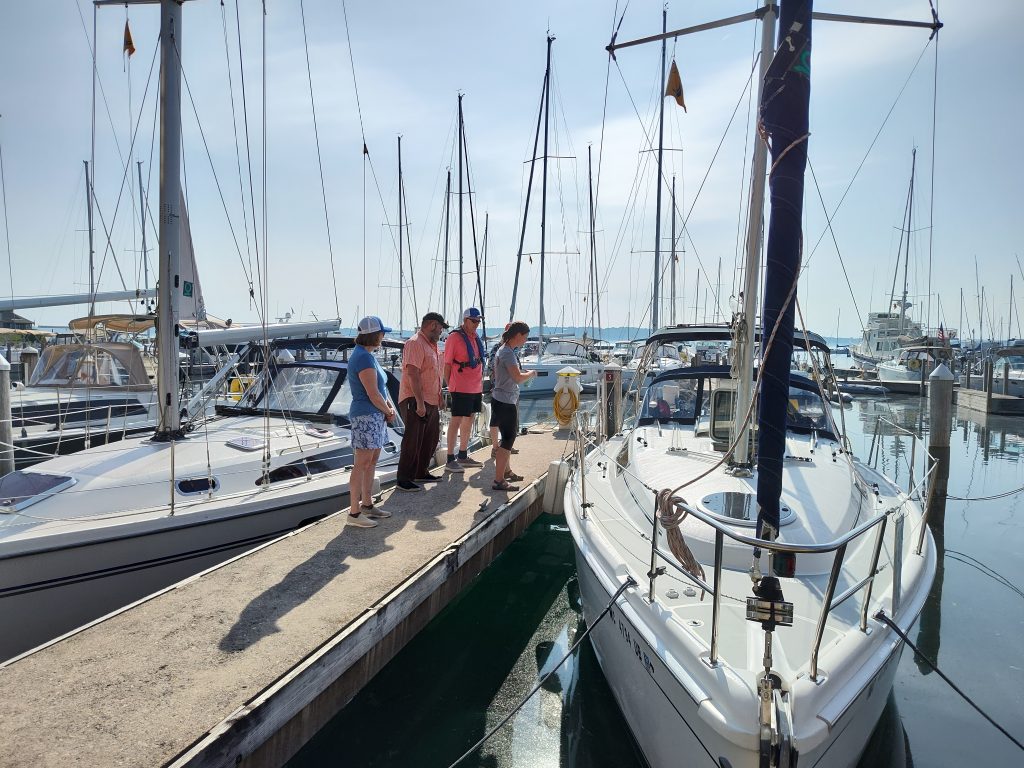 Captain Jenny led us aboard The Hippocampus, "Who's going to be the first at the helm?" she asked. DaViking had shared a look with the other couple, Charlie and Susan, who were patiently reserved. With a nod of silent confirmation DaViking said, "I'll take her out."
My husband, DaViking (Chuck), has had a few years of experience volunteering aboard an 1810 replica ship, Friends Good Will in South Haven. As he grabbed the wheel, I blew out a long exhale of relief as if I was whispering to the waves that I didn't feel ready to steer this vessel. As I glanced around the vessel, my mind raced with the terminology naming items in my sight: binnacle, stanchion, turnbuckles, shrouds, forestay, cringles, leech, luff, fenders, windlass, jib, windex, clew, rode, . . . We'd been studying for weeks to prepare for this course, but insecurity washed over me as we climbed into the cockpit.
The Helm
DaViking backed the boat out of the slip with ease. Once we had motored into Traverse Bay each of us practiced figure eights, learning how the vessel handles. Then under Captain Jenny's instruction Susan faced the bow into the wind so we could unfurl the mainsail. We were about to actually sail!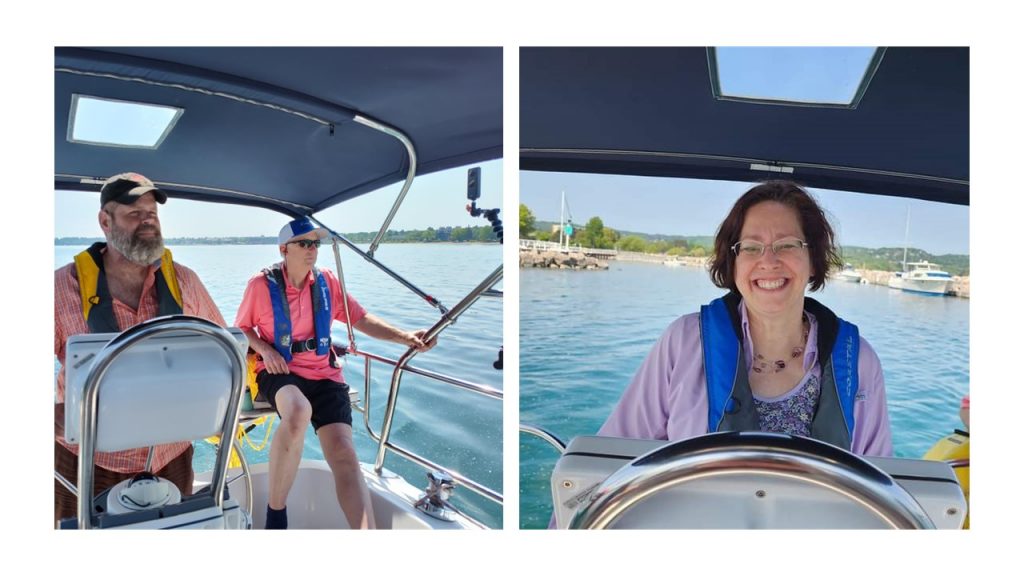 Our Sailing Team
Our sailing team included Captain Jenny and Captain Dee, who was shadowing for the day. The other couple, Charlie and Susan, had hailed from Petoskey where they'd sailed regularly with their six children. Charlie and Susan were a joy! Charlie quietly gave me instruction when I needed it. Susan was encouraging, too, and asked a lot of questions. I listened carefully trying to grasp the concepts of sailing.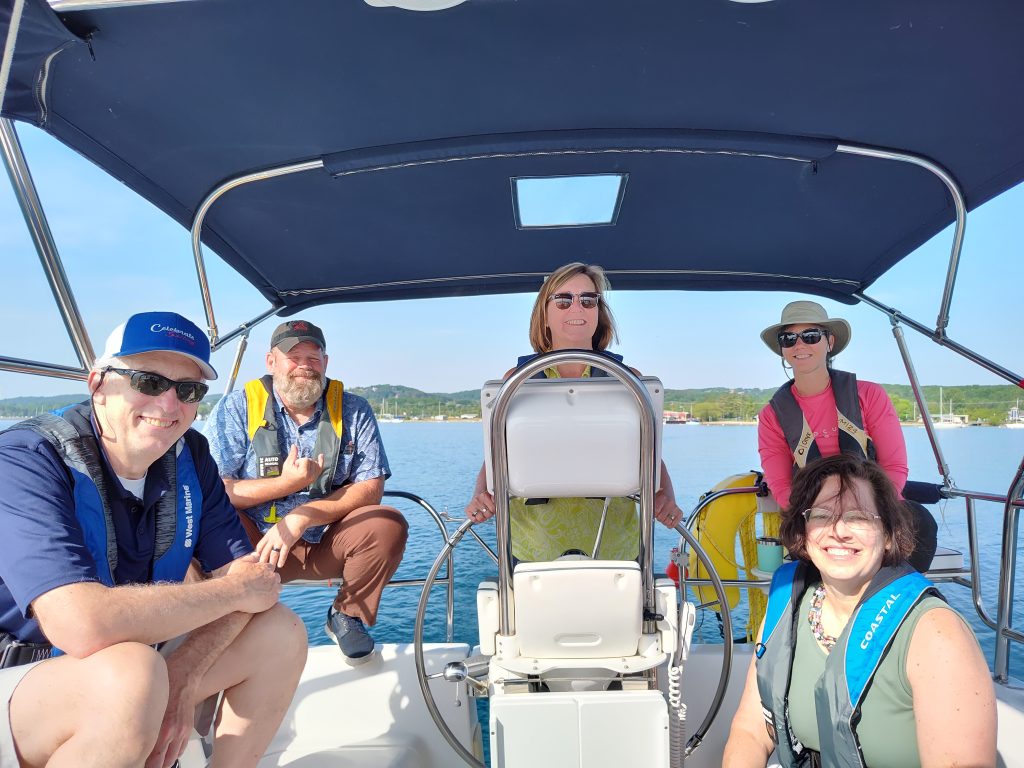 We enjoyed getting to know the pair and learning about their family. Charlie and Susan graciously asked us questions about our kids and our capers as we ate together each night. Finding friends is a treasure I will always cherish!
Loosening the Jib Sheet
"Chuck, untie the jib sheet." Captain Jenny directed DaViking once the main sail had been drawn taunt in the wind. Susan was now at the helm.
Inside the Cabin
The cozy cabin provided space for discussions, meal prep and eating. Two snug berths gave us a place to sleep. The cabin benches could be used for sleeping as well.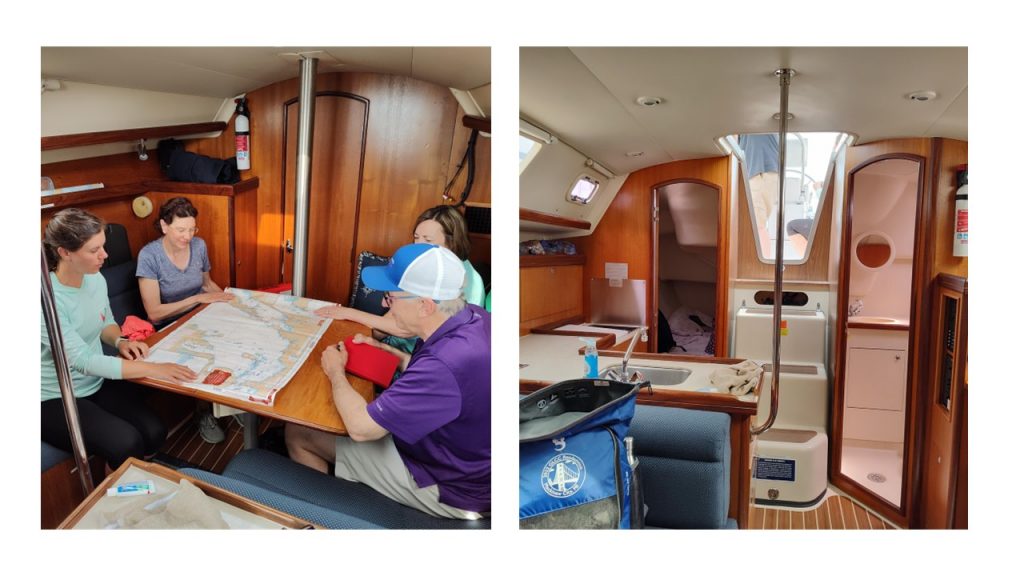 Maritime Charts
Maritime charts show depths and placements of navigational aids. Red and green buoys mark channels. With our vessel having a four foot draft due to the keel, we also monitored the lake's depth with an instrument at the helm.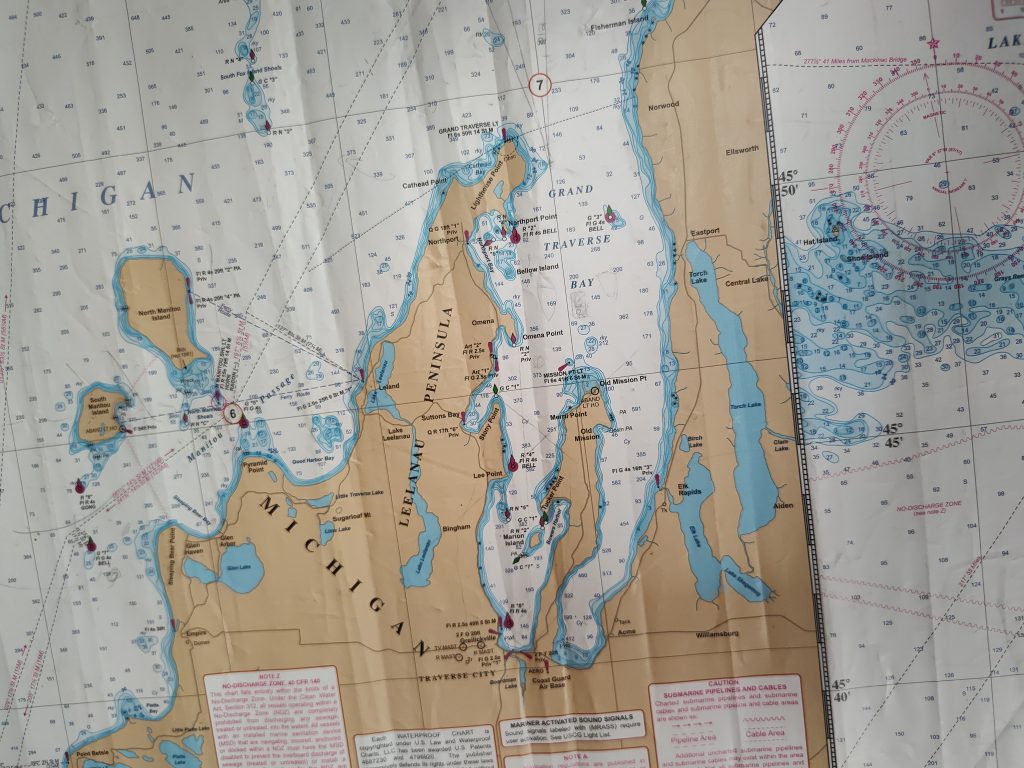 The Engine
The diesel engine motored us in and out of port. One day the weather had been extremely still, so we had used "diesel wind" to get us back to the marina. This hard working engine could be accessed by lifting the companion way staircase as well as from behind in the berth under the cockpit.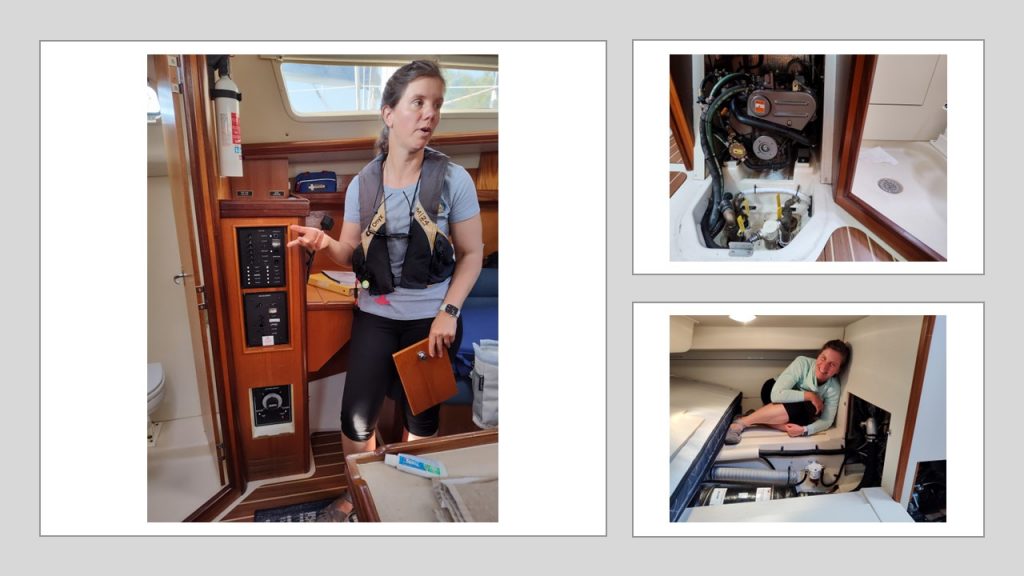 Lines
Each of the lines has a unique job to assist the sailors. Self tailing winches waited patiently for a chance to help pull a line so the sail could catch the wind creating lift. I was amazed to learn that the physics of sailing hold the same dynamics as flying a plane.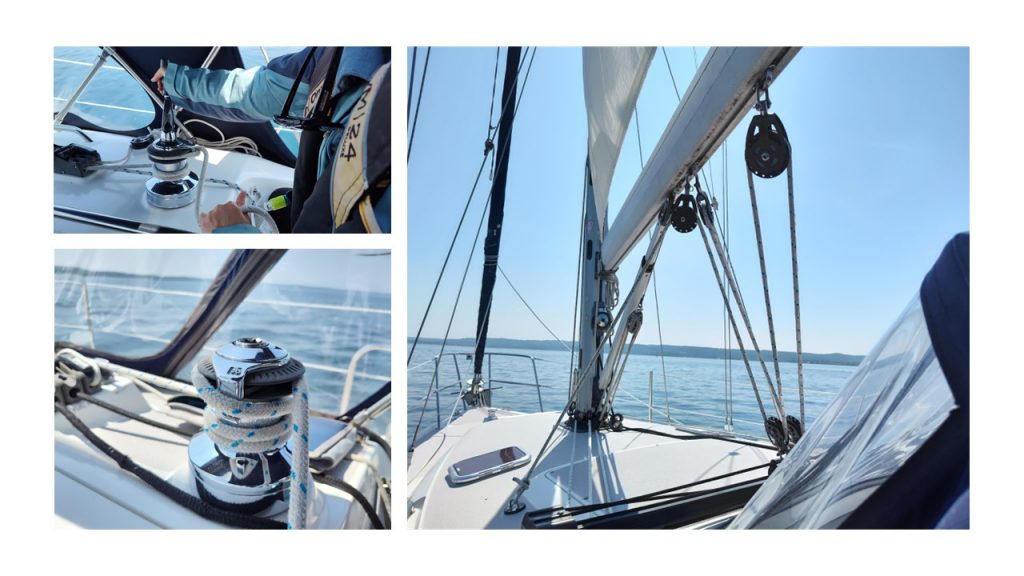 Tools and Supplies
Many tools and supplies had been conveniently tucked into the network of lockers around the cockpit area.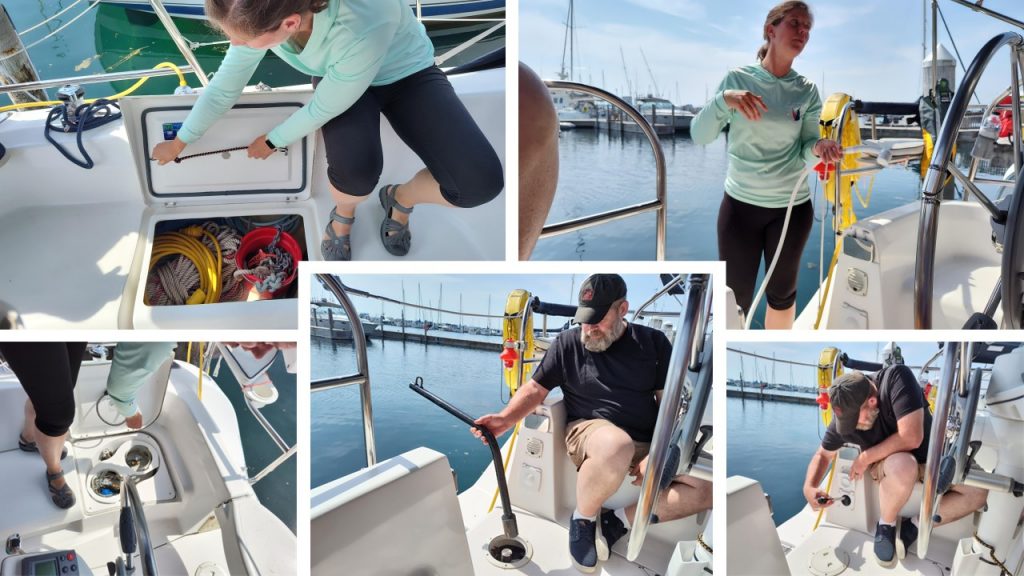 There were extra lines, a bucket, a shower-type hose, insulated fuel containers, an emergency tiller and a manual bilge pump. Two manual fire extinguishers stoodd ready in the cabin and one automatic extinguisher was poised next to the engine under the stairs.
Sailing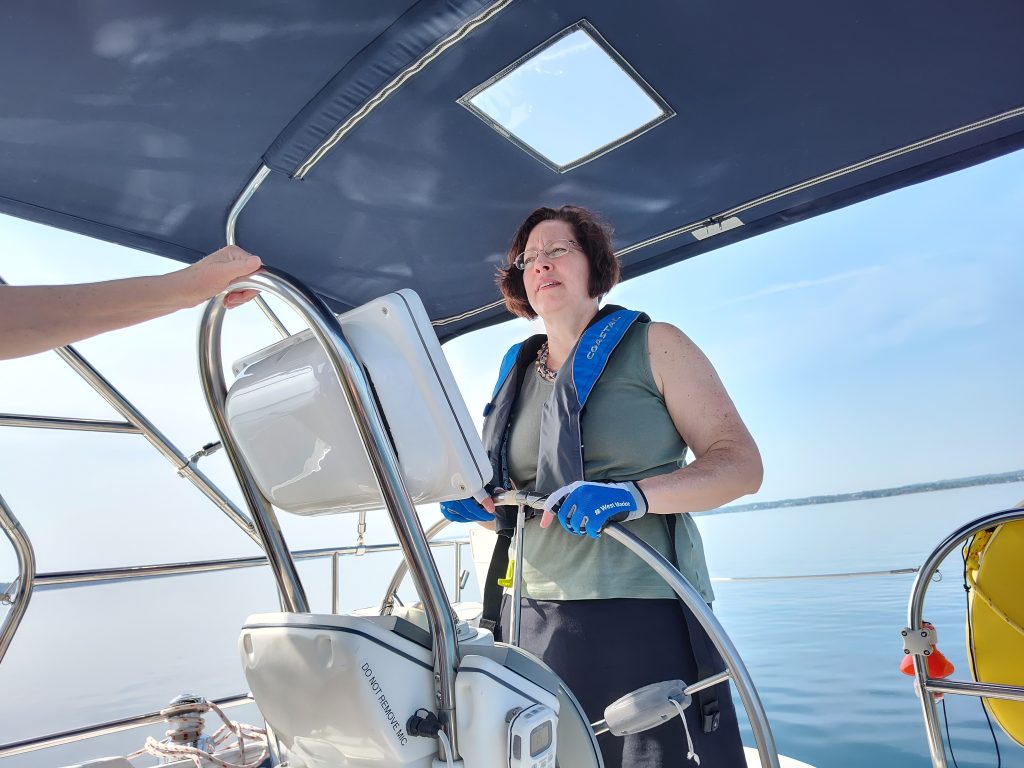 "Head up." Captain Jenny had instructed me as I stood at the helm. Checking the wind direction by looking up at the windex, an arrow at the top of the mast, I turned the wheel. "Turn back." Captain Jenny firmly directed. "I said Head Up." I had turned the in the opposite direction away from the wind, called 'bearing way.' Ug!
"You have to turn into the wind to tack." Captain Jenny patiently explained. "It's best to sail on a beam reach." A beam reach is when the wind is coming directly across the boat, causing the main sail and jib to create the most lift. The windex would be pointing either starboard (right) or port (left).
There was so much to think about when sailing! Insecurity crept through me as these vocabulary words rolled through my brain. I silently reviewed the two manuals I had studied and mentally pictured diagrams showing points of sail.
"What's your heading?" Charlie quietly asked. I shrugged, knowing our destination was Power Island, but we were harnessing the wind which was taking us sideways. "Pick a spot on the land to aim towards." He kindly offered. "Then keep that landmark positioned between the shrouds." Captain Jenny suggested. Shrouds are the lines attached to the top of the mast and the the sides of the vessel. Once I secured a beam reach, I could spy a white building on the shoreline and announced my intention to sail toward it. Sailing a zig zag course would finally bring us to our final destination, Power Island, centered in West Traverse Bay.
After a while the sails began to luff (flutter). "What do we need to do, Skipper?" Captain Jenny coaxed me. "Ummmm." I stammered. "Trim the sails?" I had a question in my voice. "We could, but we could also tack." Captain Jenny had suggested turning and having the sails move from starboard to port. "Tell your crew what they need to do, Skipper." She encouraged me to put my studying into practice. The problem was, I didn't know exactly what needed to be done. I took a deep, cleansing breath.
"Charlie, would you please release the starboard jib sheet?" I asked. "Susan, would you please loosen the main sheet?" "You're the most polite skipper!" Captain Jenny laughed. "Most just direct their crew. Later, you'd be able to say, 'Prepare to tack.' and your crew would know what to do." Captain Jenny stated. "Chuck (DaViking), please prepare to pull the port side jib sheet." With wide eyes darting I faced Captain Jenny to ensure I had gotten all the directions correct. "I'll move the traveler and trim the main sail." she volunteered.
"O.K. Is everybody ready?" I called out. A chorus of "Ready" sang out over the waves. "Prepare to tack." I announced as I turned the wheel starboard. The sails luffed and fussed as if they were reflecting the insecurity of my skills. As boom reached the center position, the crews' arms began pulling lines quickly. The sails slung over to the port side. Sails were trimmed. I let out a breath I hadn't realized I'd been holding. "Now you choose a new landmark." Charlie gently reminded. "Thanks." I smiled at Charlie, my quiet cheerleader.
As we moved across the pollen laden water, my right eye began to sting. Maybe it was the pollen or possibly sunscreen. "Who'd like to take over the helm? I need to rinse my eyes." I felt responsibility fall away as I relinquished the steering wheel to Charlie.
Going Below
The motion of the vessel felt more prominent down below in the cabin. I tried to mentally reviewed the tacking process and the steps involved, but I found it difficult to concentrate with the rocking of the ship.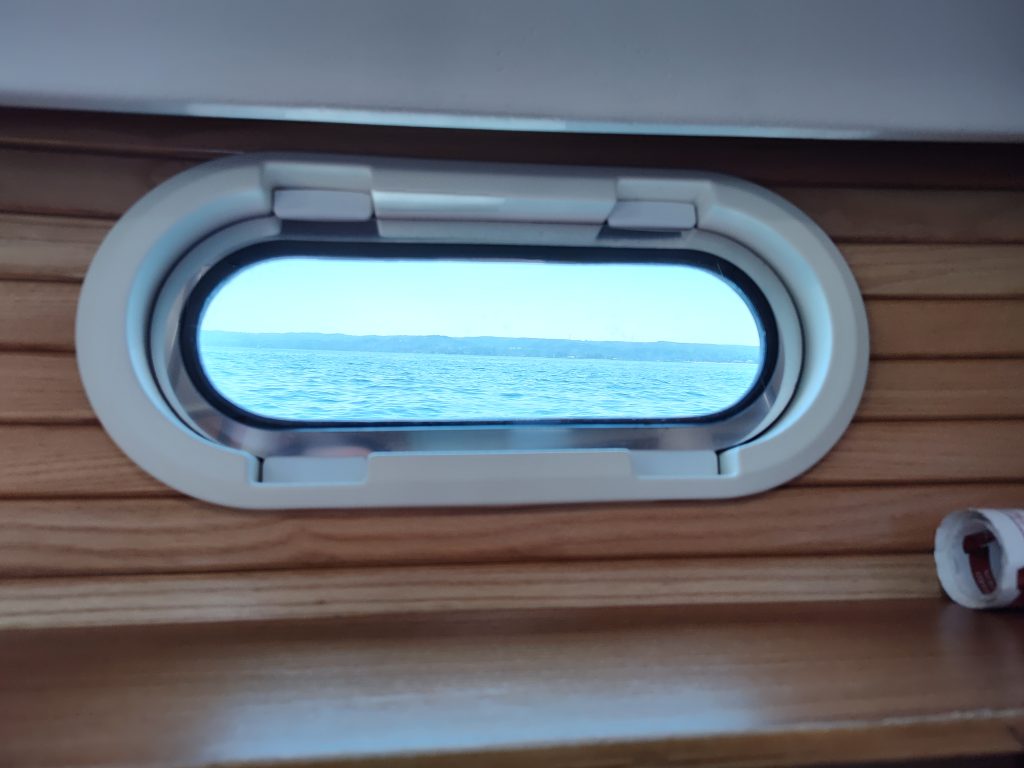 With a rinse of water over the galley sink, my eyes felt relief. I returned to the cockpit ready to assist the helmsman with lines.
Exam ASA 101
After an hour we anchored near Power Island in West Traverse Bay. Captain Jenny distributed the ASA 101 sailing exams. As the soft breezes blew over turquoise water we focused on the 100 question test. DaViking was the first one done with a score of 99%. I'm always impressed with his abilities to process and hold information with true understanding! Susan, Charlie and I all scored well after taking a bit more time. (I earned a 95%.)
More Sailing
As we sailed back to the marina, I felt a bit more confident in sailing. However, it still didn't feel instinctive as it seemed to be for the others. At dinner with Charlie and Susan we talked about wishing to do more tacking and jibing so we could learn the patterns of sailing more fluently. The following day Captain Jenny gave us even more experience with maneuvers. We even practiced hooking a mooring ball in the bay. Mooring is "parking" one's boat in deep water then taking a dingy into shore.
Exam ASA 103
We began our last day with the exam for ASA 103. We all passed with high scores! Again DaViking was the first one done earning 99%. Impressive. I passed with 91%.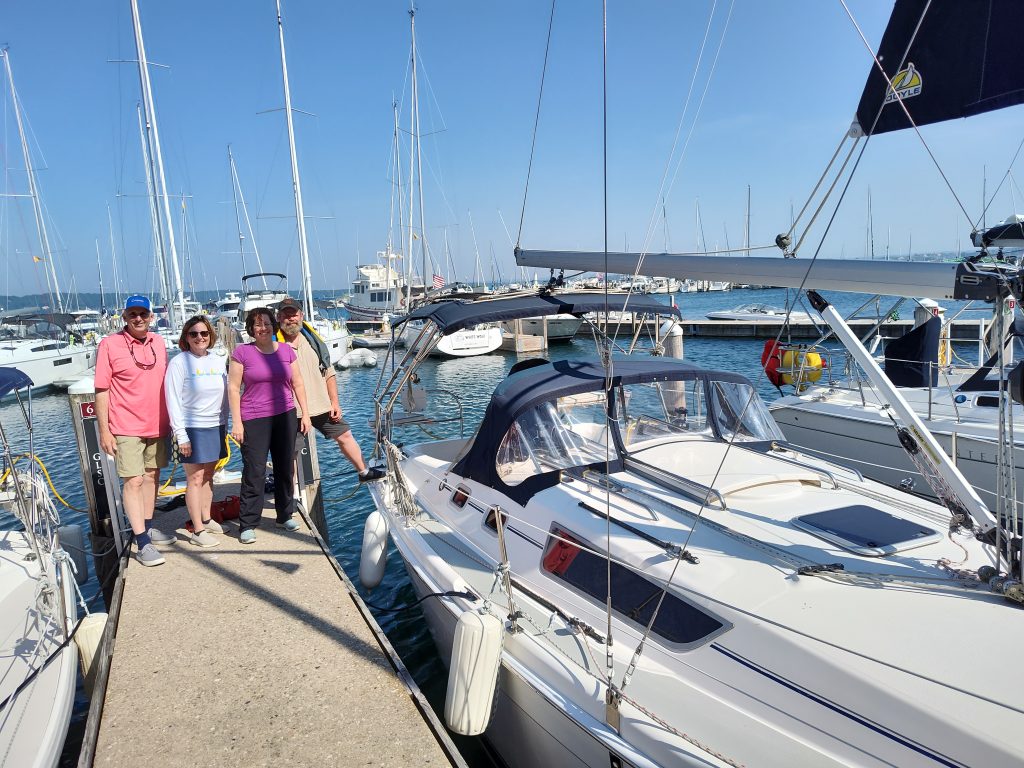 Trying New Hobbies
I had been learning the skills of sailing, but at a slow pace. Just like any new skill one needs practice. Some of us (pointing to myself) need remedial, hands-on experiences along with a bunch of debriefing. I just don't have a natural instinct for sailing. I know I would need to continue sailing to become more comfortable.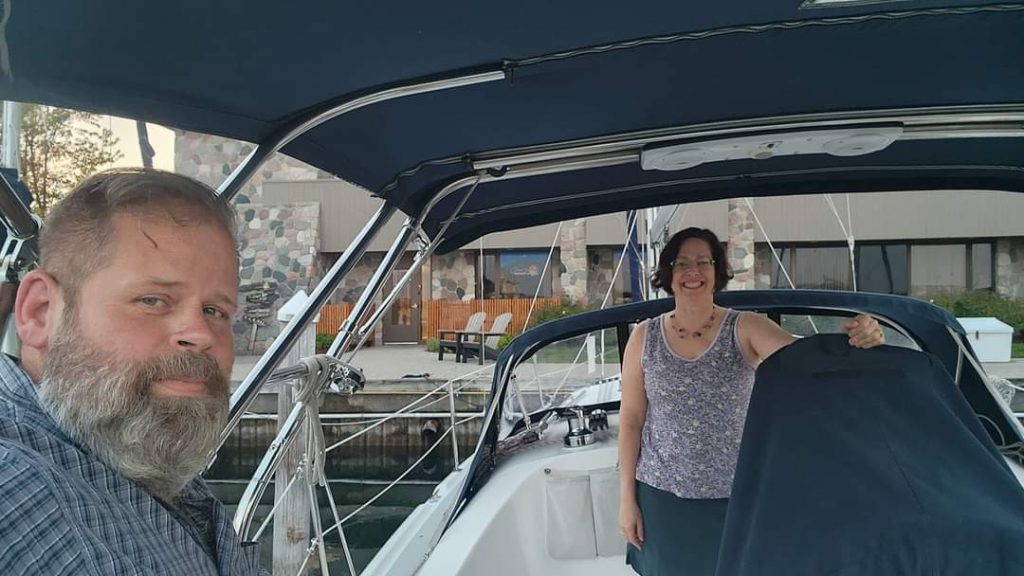 I never would have even tried sailing if it wasn't for my adventurous husband, DaViking, Chuck. "Thank you, Chuck!" I encourage each of you to charge forward and try a new hobby.
Chuck and Martha Hayden, aka The Viking and Poppins, enjoy going on adventures off the beaten path. They also like to share their explorations with others. The Viking is a retired expedition leader while Poppins is a retired teacher. The two offer independent views of their journeys showcasing places, people, and cultures as they explore the world. Visit and follow them on their website and social media accounts. Website | Facebook | Instagram |YouTube