This article was originally published on July 6, 2021 on The Restless Viking website.
Have you ever been greeted by a friendly dog when you've entered a bar? Well, a kind, energetic golden lab-mix wagged her way toward us as we entered the Middle Bar II on Washington Island last May 2021.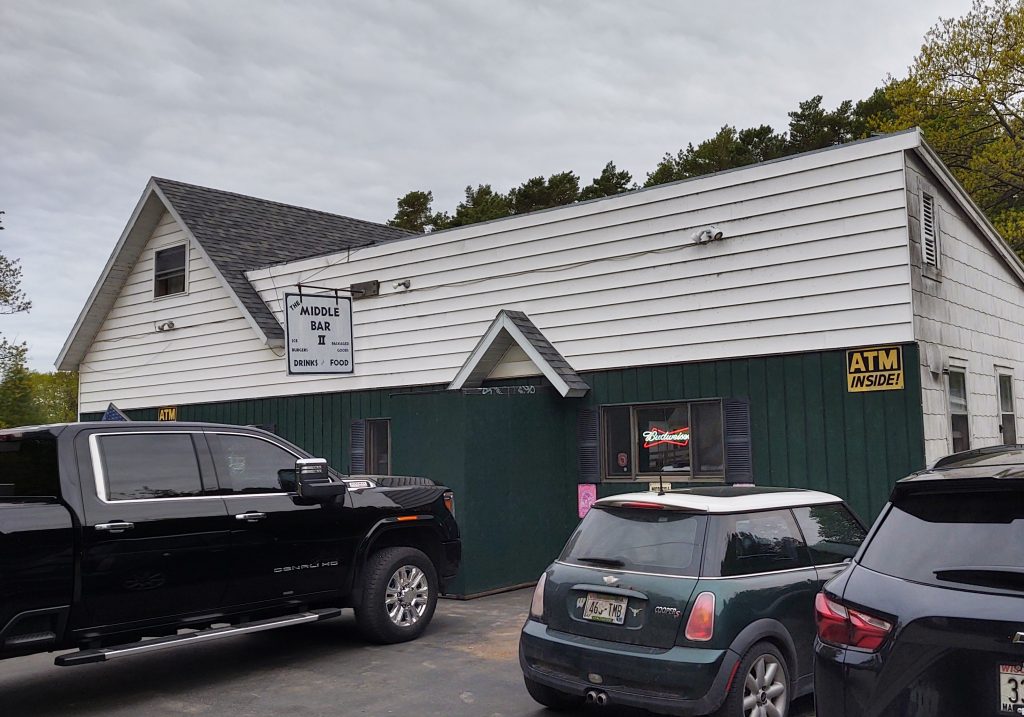 The Middle Bar II is one of the pub establishments serving customers on Washington Island.
Meeting Zoe
I was taken by surprise to find a canine working as a 'bouncer.' "Well, Hello!" I bent down to the golden mid-sized dog. "You're a sweetheart!" I commented and petted her gently as she 'bounced' and bopped freely around the establishment. "What's her name?" I inquired. The bartender and the three patrons seated at the bar answered simultaneously, "Zoe." I called her back to me for another round of "numples." (That's my word for petting fur friends.)
Zoe bounded over with her ball. The game was afoot! "You're in trouble now." a lady with short, gray hair mentioned. She was seated at the bar wearing a dark green Jack Daniel's t-shirt. Now, I was eager to learn about the people of Washington Island, as I usually don't see a dog in a bar or a grandma-type wearing a Jack Daniels t-shirt. I was ready to soak in the personality of this island community.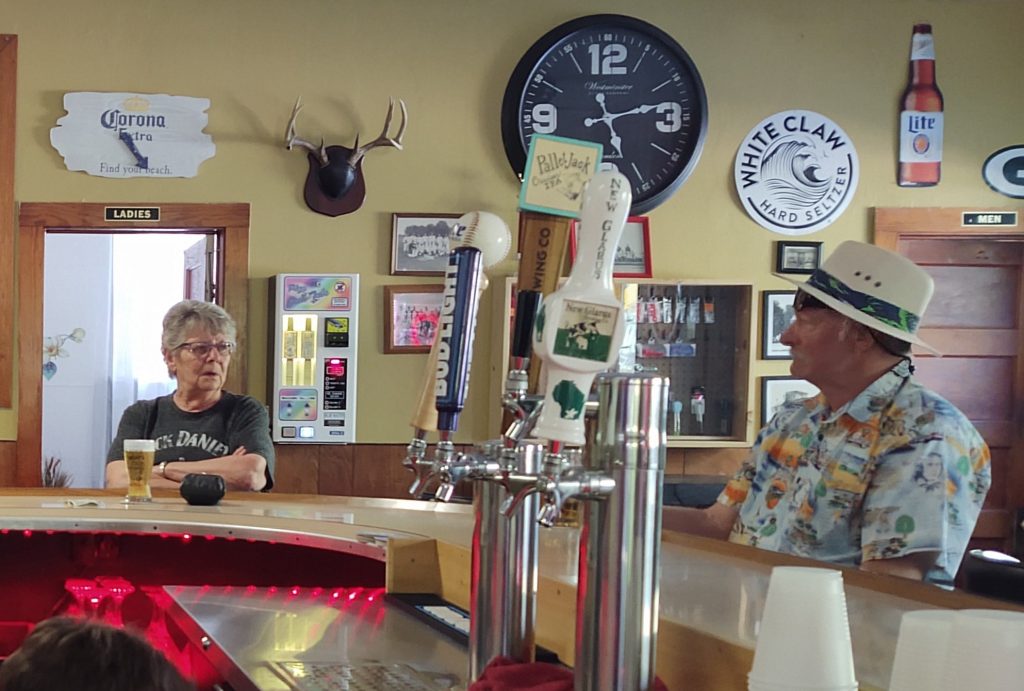 This sweet woman and gentleman chuckled as Zoe continued to bring me her toy.
I tossed the dog's ball behind us into the empty dining area as Da Viking and I situated ourselves at the "U" shaped bar. In short order, Zoe 'bounced' over to me dropping her slimy ball at my seat, ready to continue our game of fetch. The woman chuckled and knowingly raised her eyebrows, "She'll never leave you alone now."
Washington Island, Wisconsin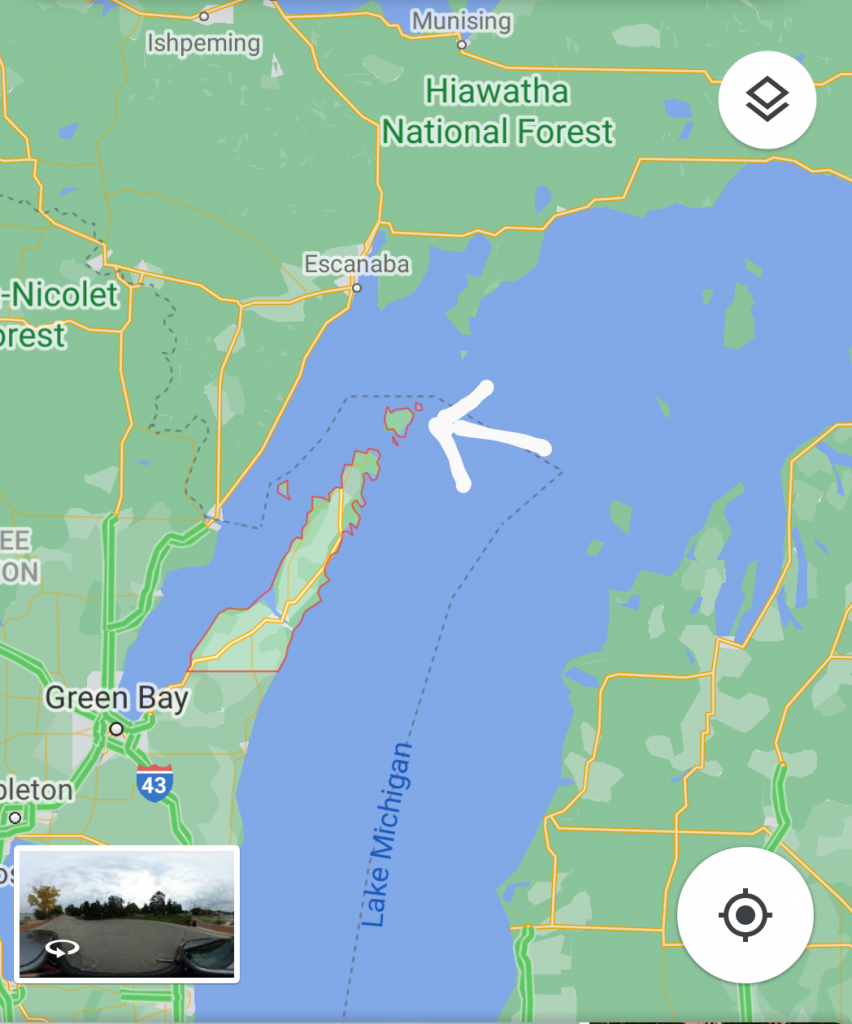 Washington Island, Wisconsin is located in Lake Michigan.
The Middle Bar II (or sometimes called the Middle Point Bar by residents) is located at 1239 Main Street on Washington Island. We'd just taken a thirty minute car ferry ride across Death's Door Passage. We were ready to explore this unique 35 square mile territory. But first, refreshments were in order.
Aaron, The Bartender
Da Viking asked the bartender if he'd lived here all his life. Aaron continued working and casually answered that he had moved to Washington Island to help his grandmother with her pub, The Middle Bar II. Now there were plans for Aaron to become the owner.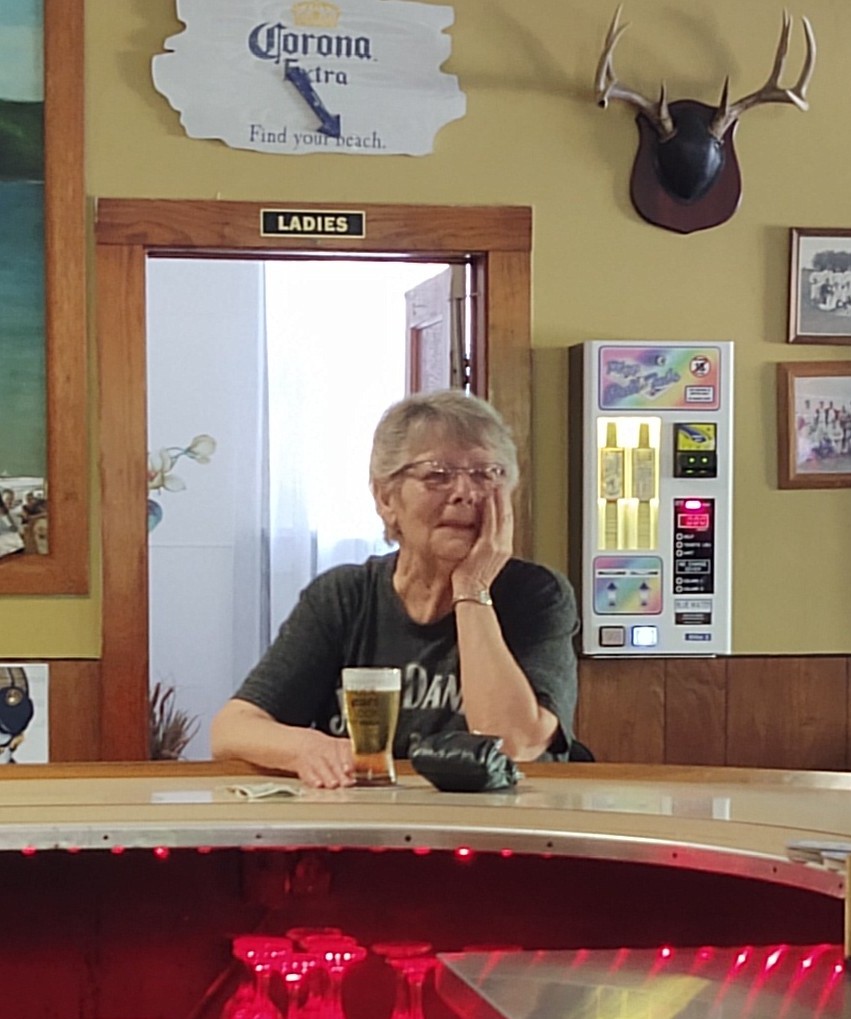 Aaron's Grandmother
The original owner of the Middle Bar II.
Zoe Enjoys A Drink
We joked about Zoe appearing to be the 'owner' of the bar. "Does Zoe partake in an occasional brew?" Da Viking laughed at his own question. The regulars all nodded and started to snicker with hilarity. They knew what would happen next.
"Come here, Zoe!" Aaron patted the counter across from us. Zoe hopped up and took a seat. It was striking to see a dog sitting at the linoleum bar. Aaron prepared Zoe's specialty; water with a layer of beer on top.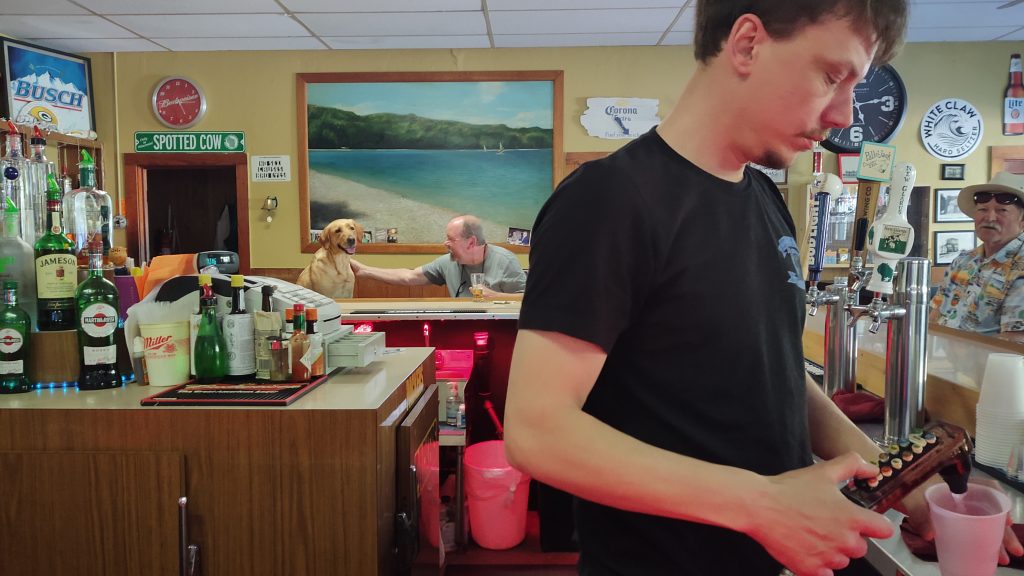 Zoe eyed Aaron expectantly as he prepared her favorite drink.
Aaron served Zoe and strategically placed a rag alongside the cup to give it stability. Zoe didn't spill a drop as she lapped the delicious liquid.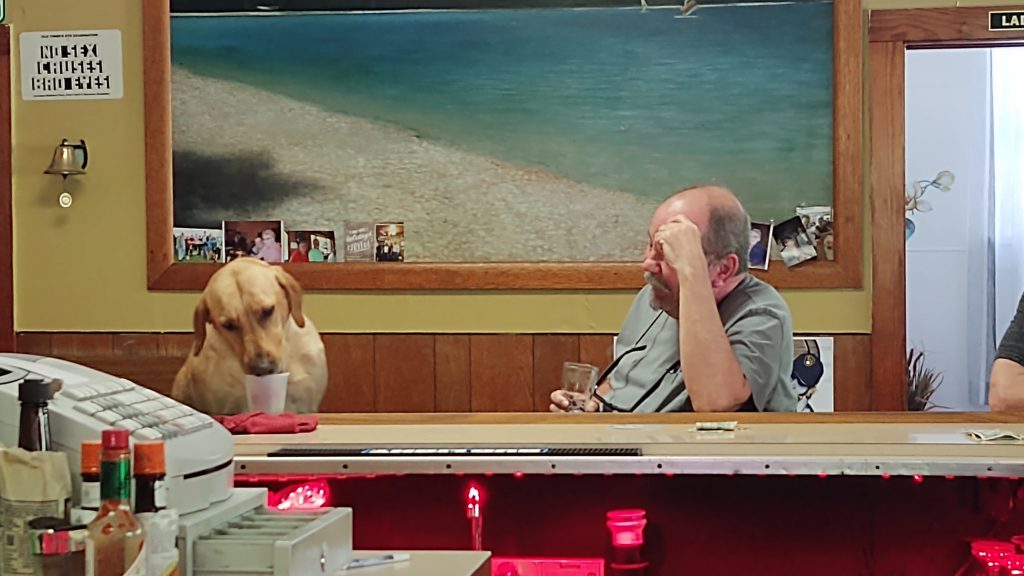 Zoe was well rehearsed at enjoying her beverage.
"I've never seen anything like this!" I shook my head with amusement. The locals nodded knowingly. With a grin I placed my chin in my hands and intensely observed this display. Without taking my eyes off from Zoe I commented to Da Viking, "This is something they'd have on The Tonight Show, or whatever it's called now."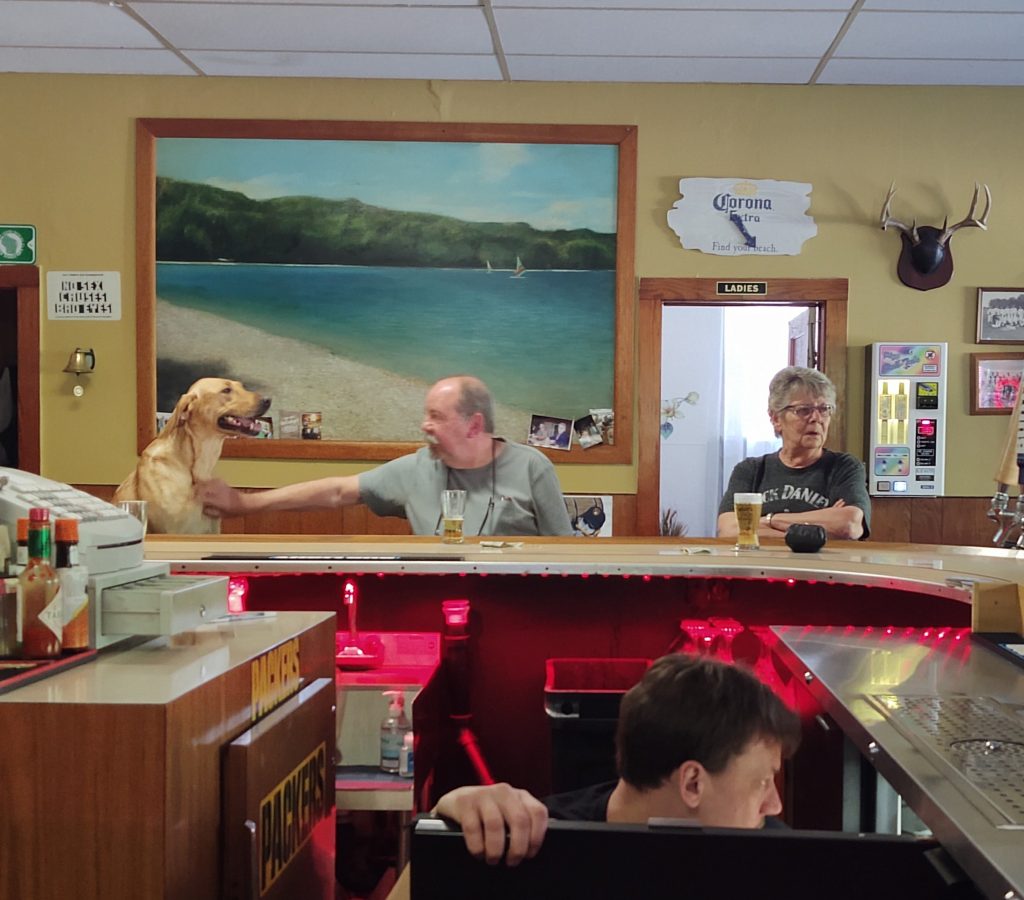 Aaron continued working as if Zoe's drinking skills were an everyday occurrence.
A Favorite Treat
Suddenly, Zoe got down and began bouncing to the door of the restaurant. Apparently, she was excited to see someone. She jumped at the window repeatedly. Her tail kicked up quite a gusty breeze, too. "Oh, it's her favorite treat." a local tipped his head toward the door. "He comes in here every day with a bone. Zoe knows the sound of his truck." Zoe continued her antics as the plaid clad gentleman approached.
Zoe shimmied with excitement as he opened the door and handed her a bone. She disappeared into the back room to her 'cave' where she naps and enjoys her favorite daily treat.
The Following Night
We returned to The Middle Bar II the next night with hopes of getting a pet from our friend Zoe. The bar stools were packed with patrons, so we seated ourselves at a high top table. Chuck went to the end of the bar to order, so Aaron didn't have to make his way to us. He was clearly busy with customers.
A song came on the jukebox. Squeals arose as three ladies and a man swayed. Soon the quartet was out of their seats, singing and dancing with the tune. After a year of lockdown from the Covid pandemic, people carried an indulgence for connection. Or maybe it's like this at The Middle Bar every night?
Taste Testing
Chuck returned with three canned drinks for me. He reported that Zoe was in her 'cave' in the back room. I glanced at the three beverages and gave him a puzzled look. One cocktail was usually enough or maybe two. Chuck explained, "I asked Aaron for something sweet for you. He looked off in the distance as if he was contemplating the meaning of the universe or something. He probably hasn't been asked to serve sweet drinks before."
I wrinkled my forehead and gestured toward the three cans. "These are samples and he asked if you'd taste them and let him know what you think. Ya know, if tourists would like them." I smiled. I love having a task, especially taste testing adult beverages! Ripping out three pages from my little notebook, I wrote the name of each drink at the top. I wrote my reviews of each sample using a rubric: flavor, sweetness and alcohol content.
Island Antics Revealed
Unexpectedly a bar patron's phone dinged. Then another chimed in. In short order the group who'd been dancing were all looking at their phones. "How did she know?!" one woman called out, "See," she shared her handheld with her friend, "My daughter messaged, 'I see you were dancing at The Middle Bar.' She lives in Minnesota! How did she know?!" The woman glanced across the bar eyeing a neighbor.
"It was you!" She laughed pointing to a man at the other side of the counter, "You sent a video of us dancing, didn't you?!" With his sly grin breaking into a laugh, he nodded. "Oh, my!" the dancer smirked, "Who'd think my daughter would ever know what we're doing here?"
Prime Seating At The Bar
When seats opened up, Aaron invited us to move to the bar and join the locals. Chuck spoke with Icelandic descendants. Boy, they shared many similar facial features as Da Viking! I listened to a middle aged gentleman who had a night off from caring for his aging parents.
Soon Aaron approached with two more cans of wine for me to sample. I took two more pages from my notebook and began my most important work. Aaron pointed out to Chuck that my writing had became a bit slanted as the night carried onward.
Small town bars and locally owned restaurants are wonderful places to meet locals and get to know their community. The "U" shape design of The Middle Bar allowed for us to converse easily with others who'd gathered. Zoe will forever be my favorite 'bouncer.'
Chuck and Martha Hayden, aka The Viking and Poppins, enjoy going on adventures off the beaten path. They also like to share their explorations with others. The Viking is a retired expedition leader while Poppins is a retired teacher. The two offer independent views of their journeys showcasing places, people, and cultures as they explore the world. Visit and follow them on their website and social media accounts. Website | Facebook | Instagram |YouTube