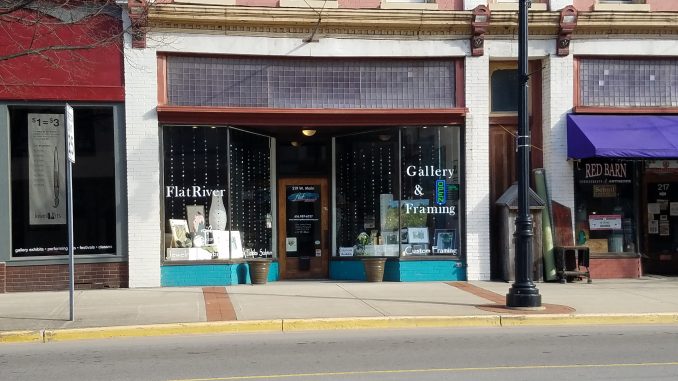 Do you remember the yarn bombing of trees along Main Street in 2013?  Or the butterflies in 2002-2003 which were displayed around the community?  LowellArts has worked on various projects in the community. Now it's time to announce Chair-A-Tee.  This will be a fun way to display art, encourage local and out-of-town patrons to experience Lowell and raise money for Pink Arrow Pride  and Gilda's Club of Lowell which helps those living in the Lowell Area School District who are touched by a cancer journey.
Take a seat and learn about Chair-A-Tee
Various artists from Flat River Gallery & Framing came up with the concept which has been named Chair-A-Tee.  Kimberly Gill, the current Vice President and Events Coordinator in addition to being a member of the gallery for four years, has been working with LowellArts, Pink Arrow Pride, the Lowell Area Chamber of Commerce, and Gilda's Club of Lowell to plan the project leading up to kickoff.  "It is the integrating of the arts into our everyday life and to make art a part of our lives." says Lorain Smalligan, Executive Director at LowellArts.  The collaboration of these groups signify the support Pink Arrow and the arts has within the community.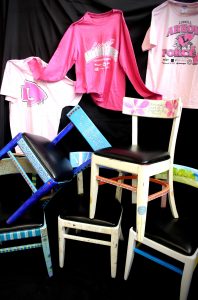 Gill says it was a roundabout way in which the project came together.  Brian Meuser, a cancer survivor himself, began thinking last fall about a way the gallery could contribute to Pink Arrow.  It was then brainstorming began within the gallery walls but in the end pieces seemed to present themselves and fall together landing with Chair-A-Tee.  "The President of the gallery, Kendra Postma [also a cancer survivor], asked all of us to paint our old chairs at the gallery to brighten up our shop. They've been turning out beautifully." Gill begins.  Upon seeing the chairs another gallery member, Sheryl Ruiter was reminded of a past project which helped raise money for a member of her family who is a cancer survivor.  "We all had the same vision of these uniquely painted chairs lined up and down Main Street!  Lowell is such an art conscious community, we know the project will be a success.  We hope to raise a lot of money for the cause!" Gill concludes.  
Artists and crafters are being asked to get creative and use a chair as their canvas.  Each unique item will be placed on display in pairs at local businesses and organizations with the intent of raffling them off via silent auction.  A bid sheet will accompany each chair.  The minimum bid per chair is $75.  Proceeds will be split between the designer of the chair, who will receive $50 to compensate for time and materials, with the rest of the winning bid going to Pink Arrow Pride.  Artists will also have the option donate their $50 stipend.  Any amount over $50 donated per chair can be used as a tax-deductible donation.  
Sixty is the magic number.  Up to 60 artists are being sought to decorate 60 donated chairs for the project.  Sponsors who donate $6,000 to Pink Arrow appear on t-shirts each year.  If at least $6,000 is raised through this effort Flat River Gallery & Framing and LowellArts will have their logo appear on next year's t-shirt as a sponsor.  Shirts will already be in production prior to knowing the dollar amount raised to be included this year.  
How can you be involved?
There are numerous ways to become involved.  LowellArts and Flat River Gallery are currently accepting chair donations and seeking artists and those with a crafty side to sign a piece out to decorate.  The deadline for donating a chair and signing up as an artist is Wednesday, May 30.
Chairs should be in usable condition made of wood or metal.  Fully upholstered chairs are discouraged.  An upholstered seat is acceptable but the greater the surface accepting of paint the better.  The style of chair is left to the eye of the beholder.  It could be a piece you'd find in a living room or kitchen to an adirondack used for outside relaxation.
Those interested in receiving a chair to paint should stop by LowellArts or Flat River Gallery to look at their current selection.  Participation from artists outside the community is also encouraged.  Anyone 16 or older is able to make a creative chair.  If more than one chair catches your eye multiple chairs can be signed out.  Once completed, chairs should be returned to chair's assigned merchant.by June 30 where a silent auction sheet for bids will be available.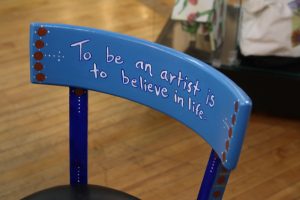 Take a walk, see a seat
Chairs can be viewed and bid upon from July 5 through 3pm at the closing reception on August 26.  If you see a chair you'd like to make yours place a bid.  The starting bid is $75 and should be increased in $5 increments.  Previous bids will be visible so it will be clear what is needed to outbid the highest dollar amount.  If you find something you can't live without and don't want to worry about being outbid, a $500 buy it now option is available.  
Various websites and Facebook pages will have a list of locations where chairs can be hosted.  Each business or organization will also have a clothesline in their window where t-shirts with the Chair-A-Tee logo on the front will hang indicating it's a participating location.
On Friday, August 25 during the Showboat fundraising concert where Alive and Well will perform, all of the available chairs will be on display and bid will be accepted.  They'll be moved to LowellArts and Flat River Gallery for a closing reception to take place Saturday, August 26 from 2pm-4pm.  Final bids must be placed by 3pm.  Artists and crafters who designed a chair are invited to attend the event in addition to anyone wanting to place a last-minute bid or see all of the entries at one time.  Light refreshments will be served.  Winning bids for each chair will be announced at the conclusion of the reception.
If you're not able to attend the closing reception, it is not necessary to be present to deemed the highest bidder.  Winners who are not at the reception will be notified and can make arrangements to pick up and pay for their chair(s) at a later date.   
Move over Cows on Parade, Chair-A-Tee coming through!
Some may remember Chicago's Cows on Parade in 1999 which generated a lot of buzz.  Lowell's upcoming Chair-A-Tee will be a public art exhibit to remember as well.  Artists, businesses, organizations, and members of the community will work together to create a unique project.    
If you're doing some spring cleaning and come across a chair you'd like to donate, drop offs at LowellArts located at 223 W. Main or Flat River Gallery & Framing located at 219 W. Main are happening from now until May 30.  Anyone interested in creating a work of art can sign up and take a chair by stopping by one or both of these locations to review available options during this timeframe.  Questions can be directed to Kim Gill via email at [email protected] or by phone at 616-560-8705.