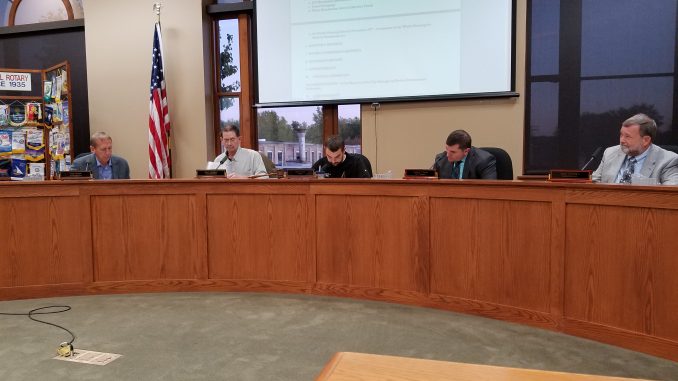 Last night's city council meeting clocked in at just shy of 30 minutes as the panel ran through a short agenda. The council authorized the purchase of a truck, ok'd street sweeping and set a public hearing for the discussion of medical marijuana dispensaries in the city. The sparsely attended meeting saw two residents take the podium to address the council.
Council votes on revised resolutions, vehicle purchase
After approving the agenda, minutes and invoices, the city council moved on to a pair of Industrial Facility Tax exemption resolutions. The council had previously passed resolutions on behalf of Litehouse and Big Boiler Brewery, but a review by the State of Michigan found some language was missing. The amended resolutions corrected that oversight. Both were passed unanimously.
The council also passed unanimously a request to purchase a new water distribution sewer collection truck. The current truck is 10 years old, and its replacement was included in this year's budget.
The new vehicle will be a Chevy Extended Cab 4×4 and cost nearly $40,000. It will be purchased from the Berger dealership in Grand Rapids. There will also be a $24,000 aluminum utility box bought from Tractor Supply Company, bringing the total vehicle cost to just shy of $64,000.
Councilmember Marty Chambers asked if other dealerships had been approached for bids on the truck. Department of Public Works Director Rich LaBombard said Berger was the dealership in the area that provided MiDeal pricing which is the lowest cost available.
Street sweeping cost questioned
Lowell City Council also approved two rounds of street sweeping for the city. Only one company – Sanisweep – bid on the project, and their price is $14,900 per round. For that price, the company will clean five miles of major roads and 40 miles of local roads. The cost of sweeping M-21 will be reimbursed by the state.
"It's a lot of money," councilmember Jim Hodges said of the total price tag of $29,800. He mentioned to LaBombard that the city used to own its own street sweeper. "Maybe in your spare time, you could look at see what a new street sweeper would cost," Hodges said. He suggested the city could maybe then provide service to the school or contract out work to area businesses.
While LaBombard didn't seem to dismiss the idea, Councilmember Greg Canfield noted that one-third of the sweeping cost is for landfill fees that would need to be paid regardless of whether the city owned the sweeper or hired a company like Sanisweep.
Medical marijuana public hearing scheduled
In a final bit of business, the council scheduled a public hearing about medical marijuana dispensaries "in our quest to become more educated," according to Mayor Mike DeVore.
The hearing will be held during a Committee of the Whole at 5:30pm in council chambers on November 20, 2017. DeVore said it was decided to hold the hearing during a Committee of the Whole rather than a regular meeting so the council could focus on the one issue.
When asked if he was worried whether the early start time would make it difficult for those working during the day to attend, DeVore noted there would be no vote on November 20th and people would have additional opportunities to comment in future meetings.
Manager's report and council comments
In his city manager's report, Mike Burns mentioned there had been some issues with certain AT&T landline customers being able to call city hall. He noted Halloween hours will be from 5:30-8pm and mentioned residents should not sweep their leaves into the street.
Burns has also been in contact with Kent County about putting Hudson Street on the list of road projects for 2018. "They seem very receptive to helping with that," he said.
The city council will be getting iPads, and those will be passed out during a November 13th meeting to seat those individuals who win the upcoming election. In December, the council will have an audit meeting, and in January, there will a team-building workshop with consultant Lew Bender.
During council comments, Hodges mentioned some work had been done in the 800 block of Jefferson Street to trim trees out of the right of way. "It looks a little scrappy right now, but I'm sure it will improve," he said.
Canfield noted work to extend the Lowell Area Trailway from Gee Drive to Main Street was beginning. Currently, trees are being removed from the intersection of Gee and Alden Nash. "We're still about $60,000 behind in money we need to raise [to finish the project]," he said. Money for the trails typically comes from grants and private donations, not the general fund.
Chambers said Lowell Light & Power had their audit which went very well. The utility is also in the process of purchasing some new poles. He added that the community turn-out during the Harvest Celebration was strong despite the rain. "At Lowell Light & Power, we must have handed out about six dozen hot dogs," Chambers said. "The chili cook-off was phenomenal. It was packed down there."
Citizen comments on vacation rentals, medical marijuana
Two citizens addressed the council during Monday's meeting. One simply wanted to ensure council members were aware of state legislation that would prohibit cities from regulating short term vacation rentals, such as those offered on the website Airbnb.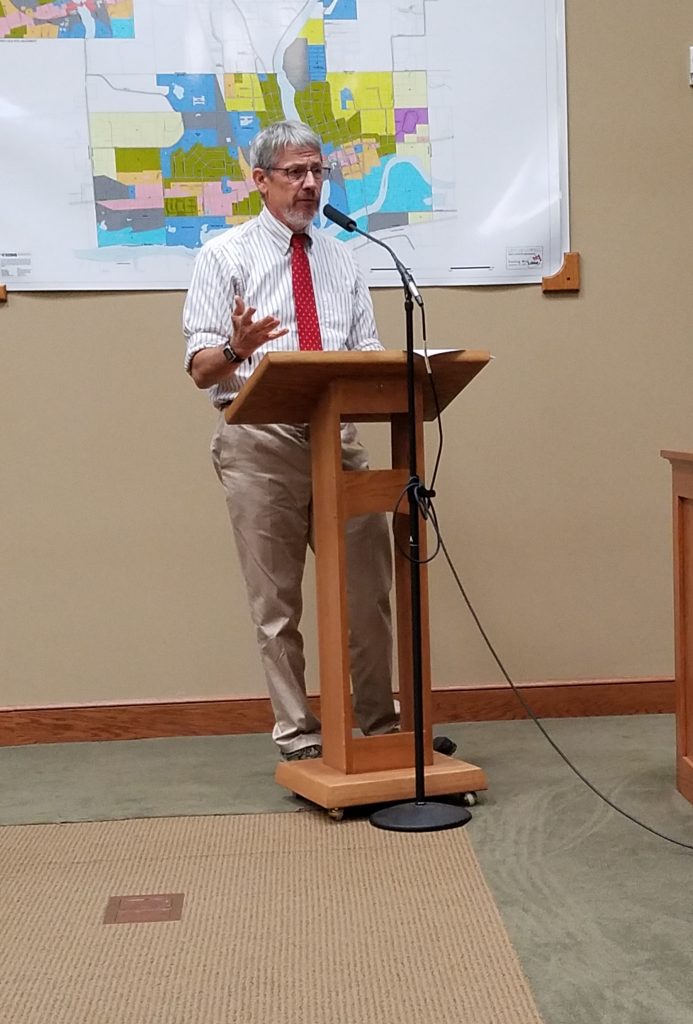 The second speaker, Dr. Jim Reagan, commented on the medical marijuana issue. "The ease of getting a medical marijuana card is well-documented," he said. He expressed concerns about addiction and noted many major medical organizations dispute the medicinal benefits of smoked marijuana. "Medical marijuana needs a better way to be regulated," he concluded, encouraging council members to learn more about the group Smart Approaches to Marijuana.
At the end of the public meeting, the city council went into a closed session to review the city manager's performance evaluation.
The next Lowell City Council meeting will be Monday, November 6, 2017 at 7pm.
Note: This article has been updated to add the date for the public hearing about medical marijuana dispensaries.
Save