This article was originally published on November 8, 2022 on The Restless Viking website.
"Hey, let's go for lunch in Ada. Shopping, too!" Chuck's eyebrows danced knowing how I like to eat and shop. "We can take Loki! It will be a trial excursion for our trip down the Mississippi." Loki is our new freighter canoe. "We can put him in at the fair ground's boat launch, travel down The Grand River to The Thornapple River and tie him to a tree. It should take an hour or so." This October Saturday greeted us with a high of 73 degrees. It was a perfect day to motor down the river. I sat at the bow as we needed to be mindful of shallow areas and underwater debris.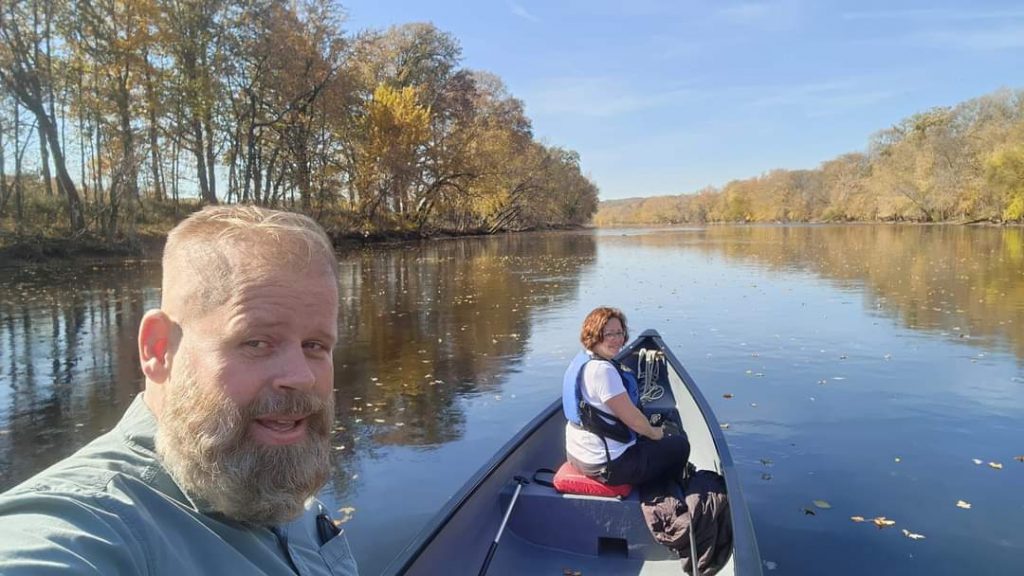 Madame La Framboise – A Remarkable Woman
As we departed west, I looked eastward and thought about Madame La Framboise and her trading post nearby. Born to a French-Canadian couple, Jean Baptiste Marcotte and an Ottawa Indian, Marie Nekesh, in 1780, Madeline Marcotte learned to speak four languages: French, English, Ottawa and Chippewa. At 14 years old she had married Joseph La Framboise. Together they built twelve fur trading posts which they traveled in a circuit. Within a short span of time they had two children, Joseph and Josette.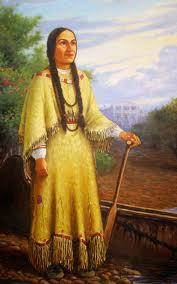 Following her husband's murder in 1806, she managed these twelve fur trading posts including the one where The Flat River and the The Grand River meet. All this time Madeline La Framboise raised her two children alone. During that era most fur traders annually brought home $1,000. Madame La Framboise was so successful that her average income ranged between $5,000- $10,000 yearly. This provided enough for her children to attend school in Montreal.
Madame La Framboise retired to Mackinac Island and started a school for native children. Her home is now the Harbor View Inn.
My thoughts were interrupted by Chuck instructing, "Grab your paddle!"
Paddling
"Oh, this is too shallow." Chuck called and tipped the motor out of the water. "Grab your paddle." He repeated.
Ooops! I had been enjoying the surrounding trees' true colors, thinking about Madame La Framboise and not watching as the river's bottom crept close to our boat. Shoving our paddles into the sand, we managed to slide into deeper water.
'I can't imagine how Madame La Framboise paddled this area so efficiently.' I marveled quietly as I watched the curled leaves resting on the top of the water. 'Thank goodness we have a motor and we don't have to paddle the whole way.'
Steamboats
It was equally amazing to think about the steamboats that traversed these shallow rivers. For two decades starting in 1837, steamboats conveniently carried passengers along the rivers until railroads were built in 1858.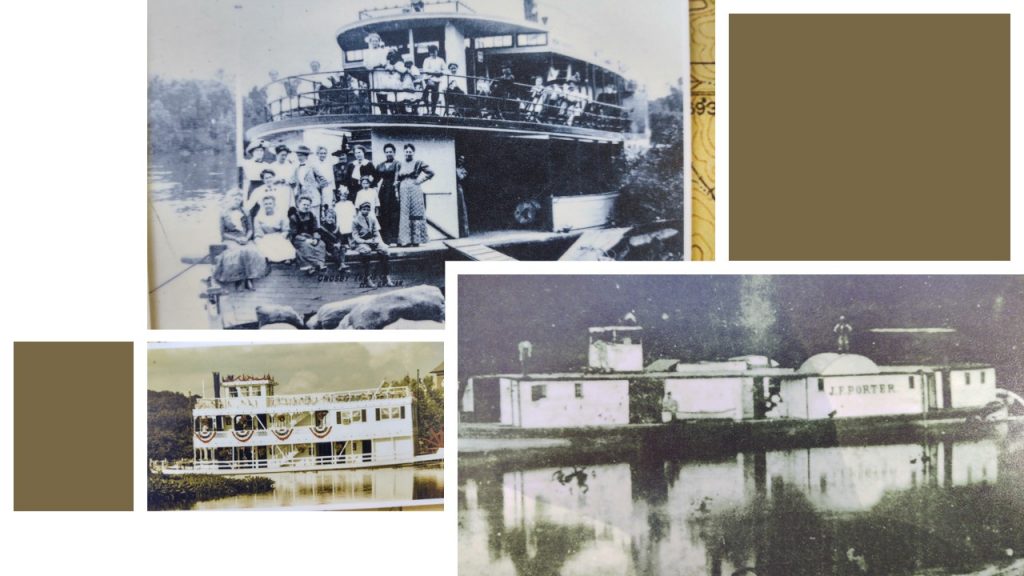 One captivating story was about the riverboat, John Almy. Orson Peck, the ship builder of the John Almy, joined the crowded Lowell riverbank in 1838 to watch his ship's maiden voyage from Grand Rapids to Lowell. Arriving at the confluence of The Grand River and The Flat River the John Almy became grounded. Passengers were able to get safely ashore before the John Almy became waterlogged and eventually wrecked.
In 1877 as railroads proved to be more efficient, steamboat rides were seen as nostalgic. The Lillie catered to as many as 200 customers with a $0.25 steamboat ride from Lowell to Saranac. The advertisement stated a 3:00pm departure with a return that evening. The journey was considered "Just splendid!"
Clamming and Buttons
Another historical tid bit that caught my imagination as we slid through the water was clamming. Clamming had once been a profitable business on The Flat River as well as The Grand River. "Why?" you ask. Well, clam shells were used to make buttons. Gus Liebbe operated his button factory from 1934-1946. By 1948 harvesting clams became illegal.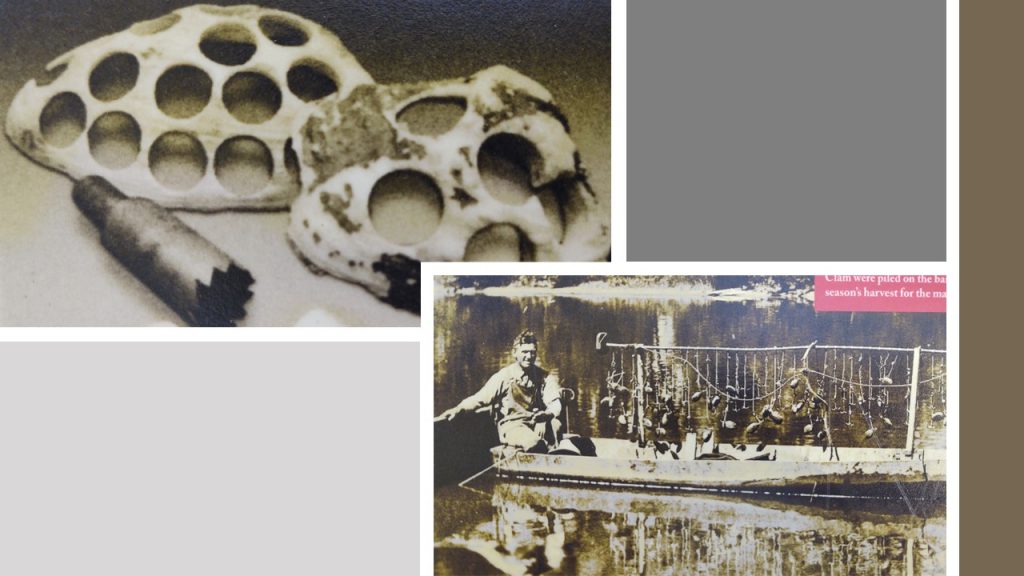 Lowell's history is fascinating! Please check out the 'Related Links' section at the end of this article.
Timpson Bridge
People waved as we slowly motored under the pedestrian bridge connecting two parks along the Grand River. This wooden span interested us and we needed to learn more about this massive structure.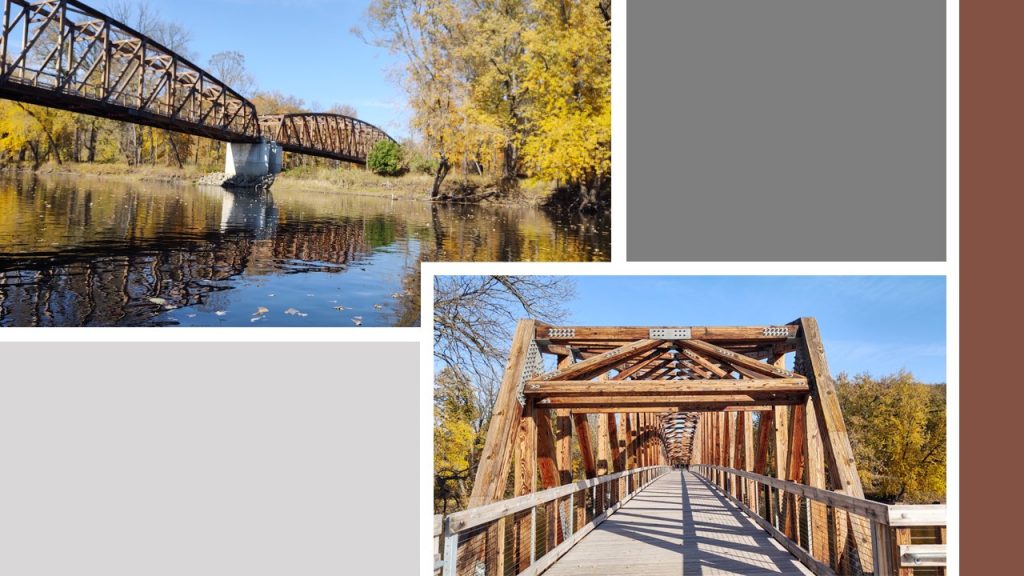 Back in 1999, John Timpson, Supervisor of Lowell Township, monitored the construction of South Riverfront Park. He spoke often of building a walking bridge over The Grand River to allow easier access to the South Riverfront Park.
In 2015 the bank-side property directly north of the park became available and was purchased. Jerry Hale, Lowell Township Supervisor, and Linda Regan, Lowell Township Clerk, brought John Timpson's vision of a pedestrian bridge to life. According to the sign the Timpson Bridge is, "the longest timber framed bridge in North America" and was completed in 2019.
Farms
Similar to the past, Lowell's rural areas continue to provide space for livestock and growing crops. Some farmland lies adjacent to The Grand River.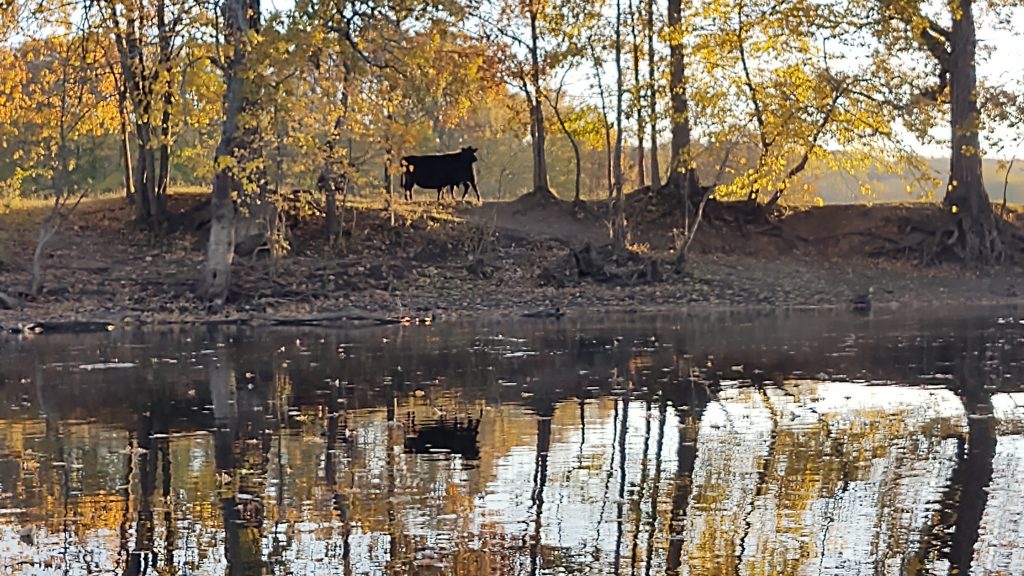 DaViking
"That's Sister Island." commented "DaViking." Who else would take a canoe down a river in late October for a lunch and shopping excursion? My husband, Chuck, DaViking. He holds an amazing amount of curiosity and knowledge. His confidence spans a vast variety of subjects. I am so fortunate to share this life journey with him!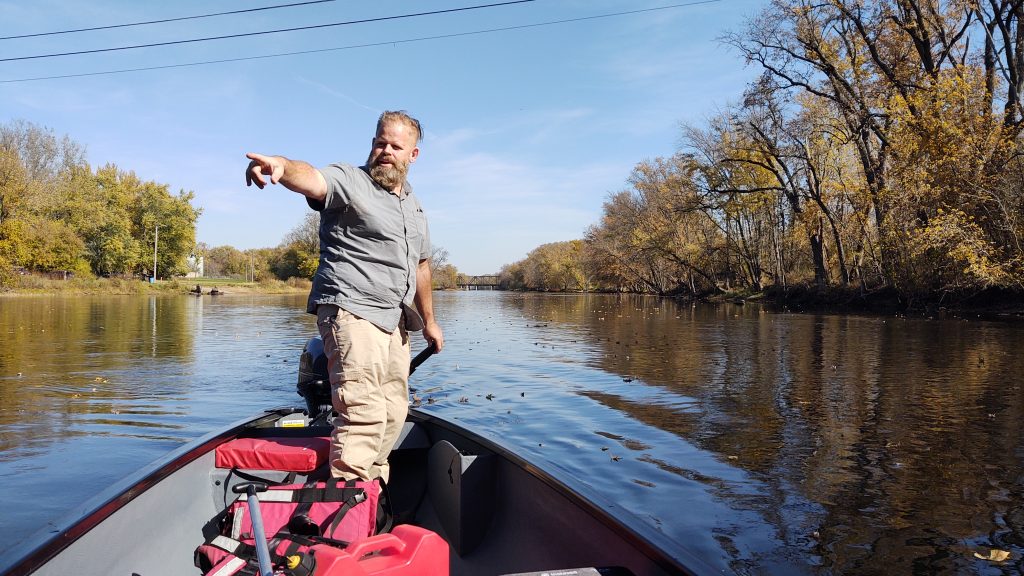 Arrival in Ada
We arrived in Ada after 90 minutes or so of travel using a motor. Reflecting on the previous eras, my admiration for their grit and perseverance sparkled. Our ancestors actually paddled these long distances. I can't even imagine how long that would take or how tired they must have been. Just sitting in the boat soaking in the fresh air gave me a desire for a nap.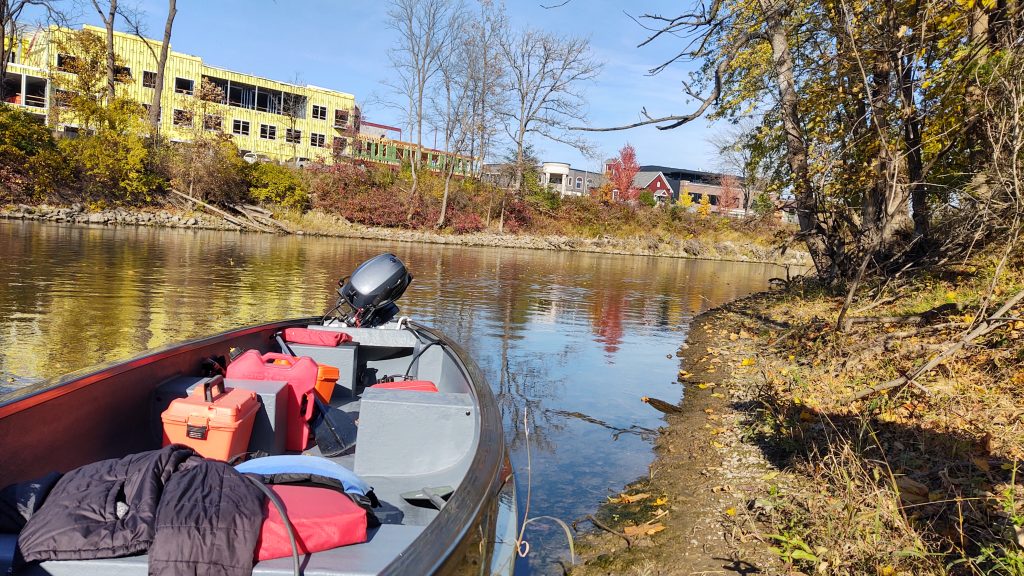 The sun was making a speedy westerly decent, so we decided to choose a quick bite from the grocery store deli instead of having a sit down meal at a restaurant. We would need to get back on the river to make a safe journey in the daylight hours. Again, the mid 1800's came to mind. Boy, we are fortunate to have modern conveniences.
We met a young Cub Scout selling popcorn. He shared that he has two YouTube channels, so Chuck gave him some camera time (link below) to advertise his ambitious undertakings. Check out "TyTyBoy17." Stopping in two clothing stores was enjoyable, but I didn't find anything that fit the body I currently occupy. Oh well. What's the deal with crop tops, anyway?
Thank you for joining us on our maiden voyage in our new freighter canoe. Loki proved to be sturdy and reliable. We are looking forward to upcoming capers with Loki as our main source of transportation.
Chuck and Martha Hayden, aka The Viking and Poppins, enjoy going on adventures off the beaten path. They also like to share their explorations with others. The Viking is a retired expedition leader while Poppins is a retired teacher. The two offer independent views of their journeys showcasing places, people, and cultures as they explore the world. Visit and follow them on their website and social media accounts. Website | Facebook | Instagram |YouTube