This article was originally published on September 17, 2020 on The Restless Viking website.
Not only did Chase S. Osborn serve as Michigan's 27th governor (1911-1913) but he had a variety of skills and occupations: newspaper publisher, world traveler, naturalist, prospector, postmaster, railroad commissioner, fish and game warden, a member of the board of Regents for University of Michigan, and an author of many books and publications.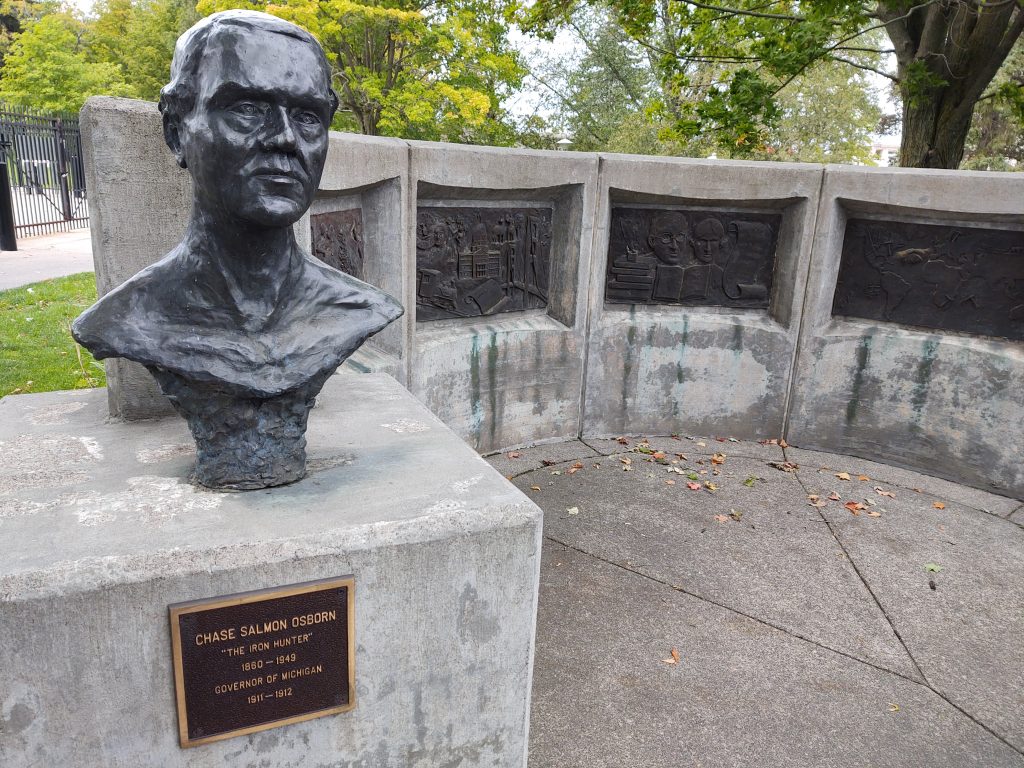 Chase Salmon Osborn was an eccentric, creative character who lived in the upper peninsula (and Georgia in the winter). Laurel and Jim Viewig took us on a tour of Osborn's Duck Island Estate.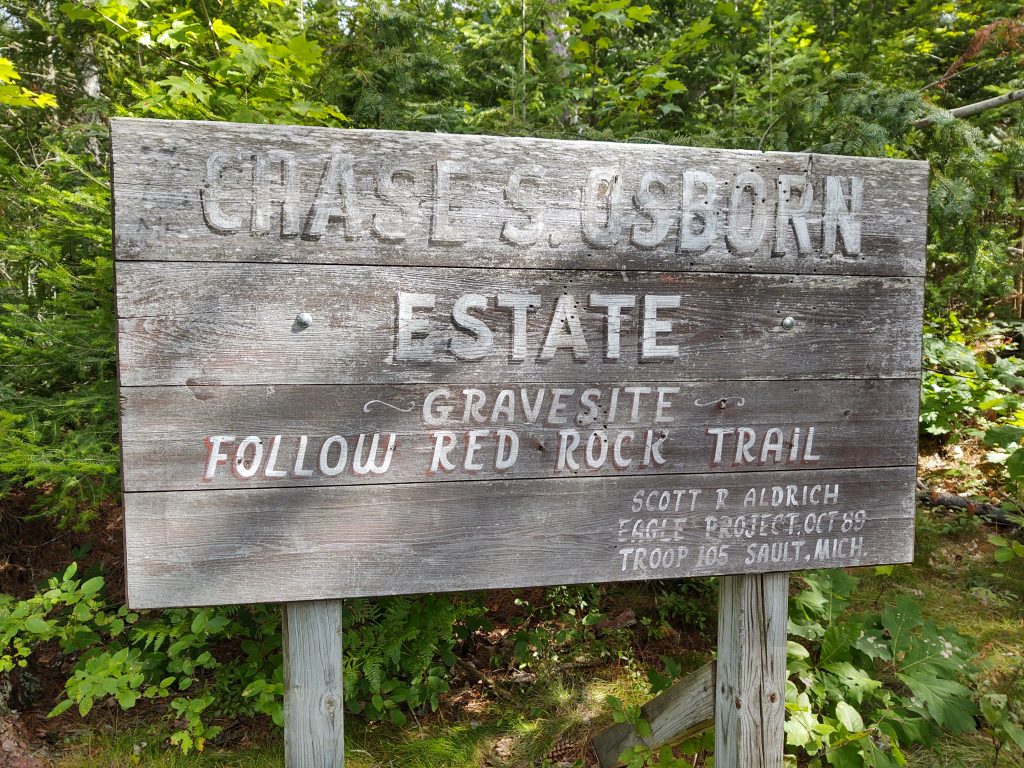 Chase led an outstanding life with a variety of interests as well as a lot of hard work. He had been born in Indiana. Chase joined the Sigma Chi fraternity at Purdue University, but left before he graduated. For a short time he worked for the Chicago Tribune. The Evening Wisconsin newspaper caught his eye as did Lillian G. Jones in Milwaukee, Wisconsin. They married on May 7, 1881. Over the years they had five sons. After a few years they moved north to Florence, Wisconsin where he ran the local paper while he prospected for iron in the upper peninsula of Michigan. In 1887 when the pair moved to Sault Saint Marie where Chase started The Sault News shortly after his arrival. He became postmaster from 1889 – 1893. Being the Fish and Game Warden was his next stint in the upper peninsula from 1895-1899. From 1899-1903 Osborn served as the Commissioner of the Railroad. With this position he met William Foresman Fitch, president of the Duluth, South Shore and Atlantic Railway. They partnered to form the Fiborn Quarry (FI – from Fitch and BORN from Osborn)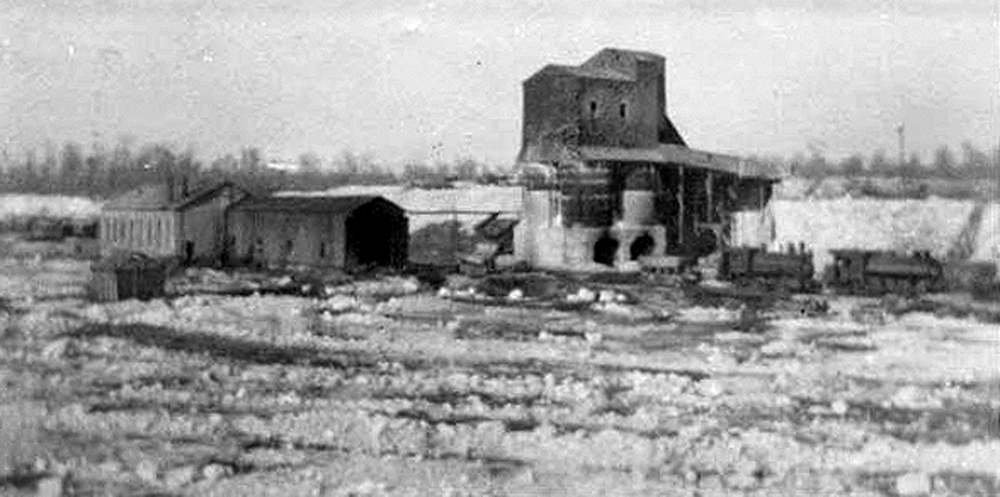 Fiborn Limestone Quarry
Michigan's Upper Peninsula 1905-1936
In 1905 the limestone quarry created many jobs as well as a small settlement, Fiborn. The limestone was crushed, transported by train to steel foundries. The Restless Viking has created a video about Fiborn located under "Dispatches" on our website www.restless-viking.com
Limestone is used in steel making as it had been long ago. The limestone fuses to impurities in the ore creating slag that is removed. This helps to create different grades of steel used in automobiles, sky scrapers, bridges, ships, railroads and appliances. In 1909 there was a pending deal to sell Fiborn Quarry to Algoma Steel.
In 1908-1911 Osborn was a leading member of the Board of Regents of the University of Michigan. At this time he began purchasing property on Duck Island (adjacent to Sugar Island) in northern Lake Huron along the St. Mary's River. Over 15 years Osborn added deeds until he acquired 3,000 acres.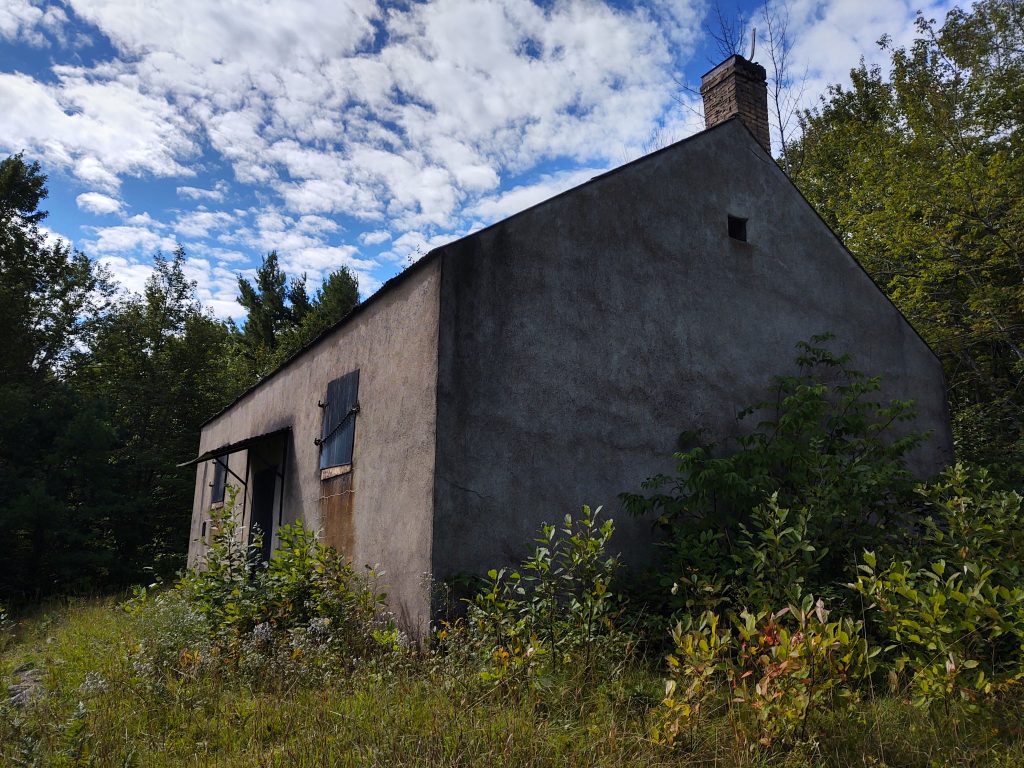 Osborn built a cement library on Duck Island to contain his collection of 7,000 titles and his personal manuscripts. He called it "Go-Down." Years earlier he had lost his writings in a fire at his winter home in Possum Poke Hunting Lodge in southern Georgia.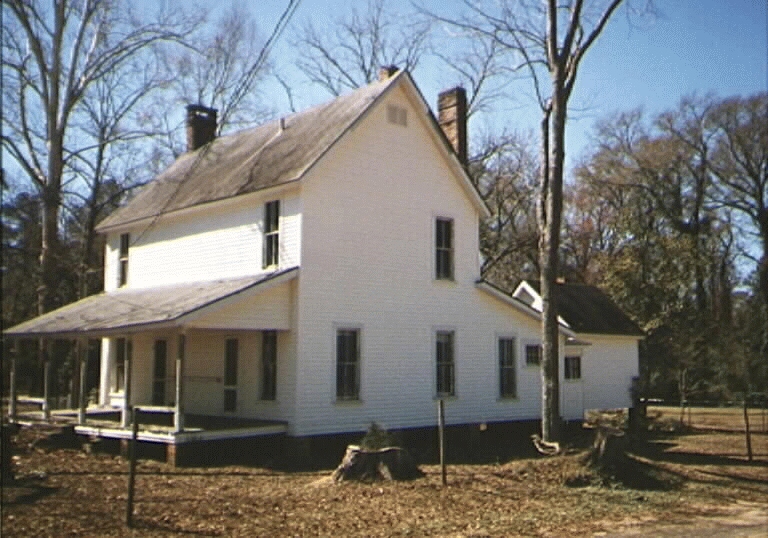 "Gib," Osborn's right hand man was the last full-blooded Chippewa from the island. Gib was short for "Ne-on-gib" which means "he who rests." Gib also was called an English name, Charley Andrews. Gib built a sleeping hut for Osborn.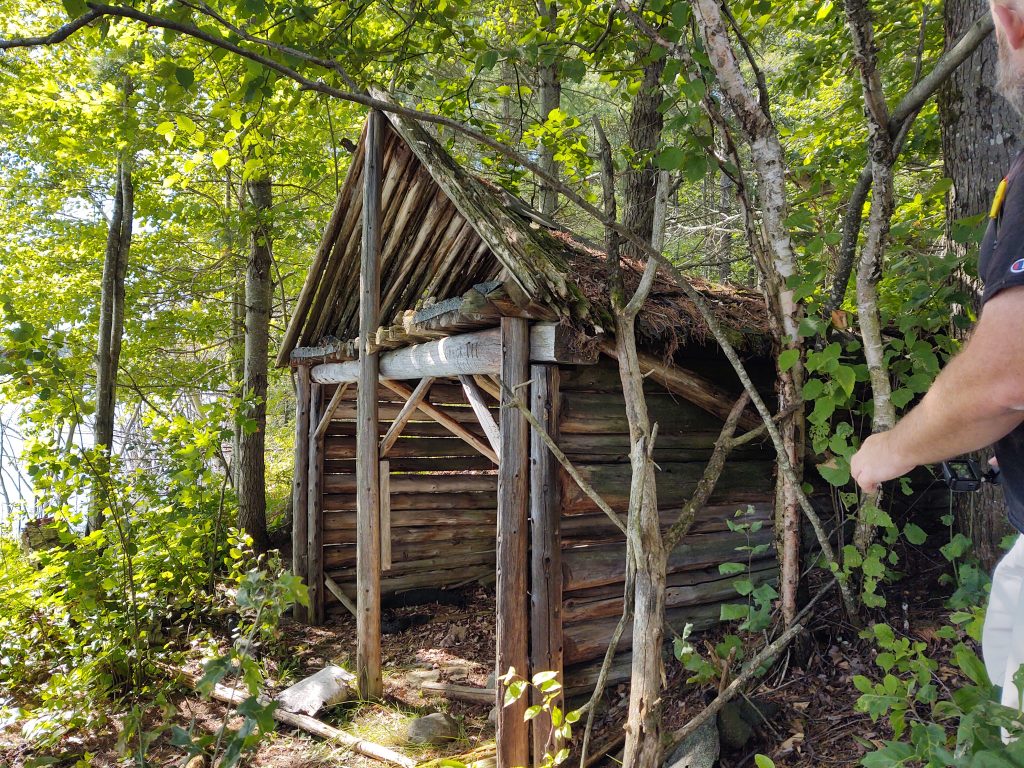 Chase Osborn, a naturalist, loved sleeping outdoors oriented north to south so the Earth's magnetic fields could easily cleanse his energy. Gib built a small hut on this longitude line, using balsam pine branches for bedding and balsam bark for the roof.
Osborn built "Big Duck," the home where his family lived in the summers. and "Little Duck," which he used as his workshop and place to write. The Gander Lodge, built on nearby Sugar Island, was used by guests which was just across a foot bridge. Osborn had named his boat, "Water Bug" Tom Patton recalled in a University of Michigan article published in 2017. Tom is a cousin of Osborn's great-grandson, George "Nick" Pratt of Portage.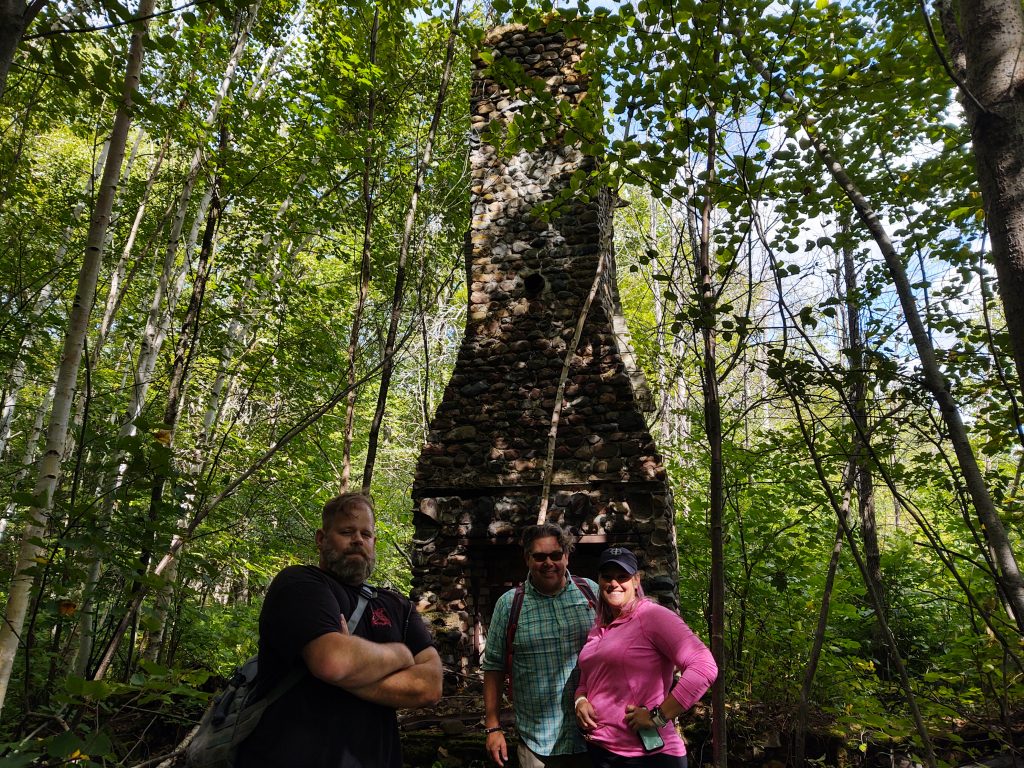 The ruins of "Big Duck"
The Osborn family's summer home on Duck Island
Pictured: The Viking, Jim and Laurel Viewig. Laurel Viewig's family has had a cabin on Sugar Island. She and her husband, Jim, took us on a tour of Duck Island teaching us about Governor Osborn.
Osborn was elected governor in 1911. He served until 1913 (some references say 1912). He was an advocate to bridging the Straits of Mackinac. Many locals were unhappy with Osborn's stand on this issue. It was alluring and with a sense of pride to have arrived in the upper peninsula on a car ferry.
"The Iron Hunter" autobiography was published in 1919. Osborn wrote many other books and articles. He and his adopted daughter, Stellanova, wrote stories and poetry. He adopted Stellanova when she was 37 years old.
In 1929 he and his son, George, donated the 3,000 acres of Duck Island property to the University of Michigan. Chase Osborn gave a speech,
"It is my belief that this gift will be one that will be of everlasting benefit to the University of Michigan. Gifts of money and of buildings and of books will perish in time. These lands, than which there are none more interesting in all of God's world, will be here, amid their setting of grandeur, for all time." The stipulation was that Osborn and Stellanova (Lillian had passed away) would be permitted to live on the island until their deaths.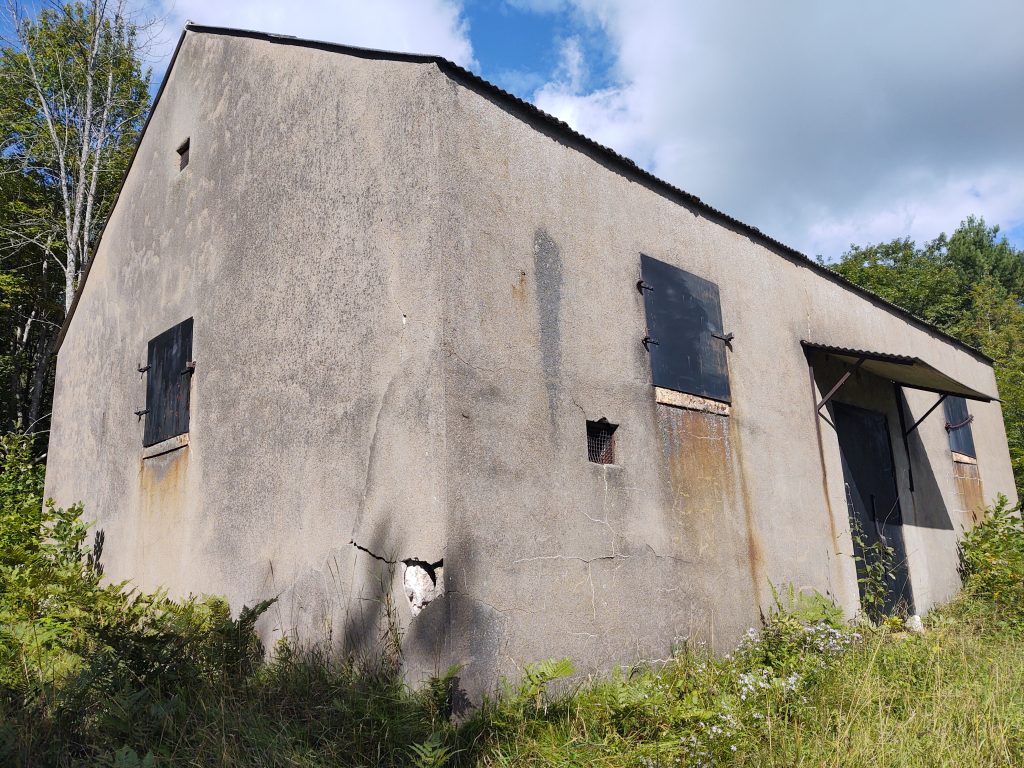 Most of the volumes from the library were donated to the University of Michigan and Tulane University. The few materials that were kept could be seen by visitors into the 1970's. Now the building is locked and has some cracks. There was a snake skin inside one of the more prominent holes.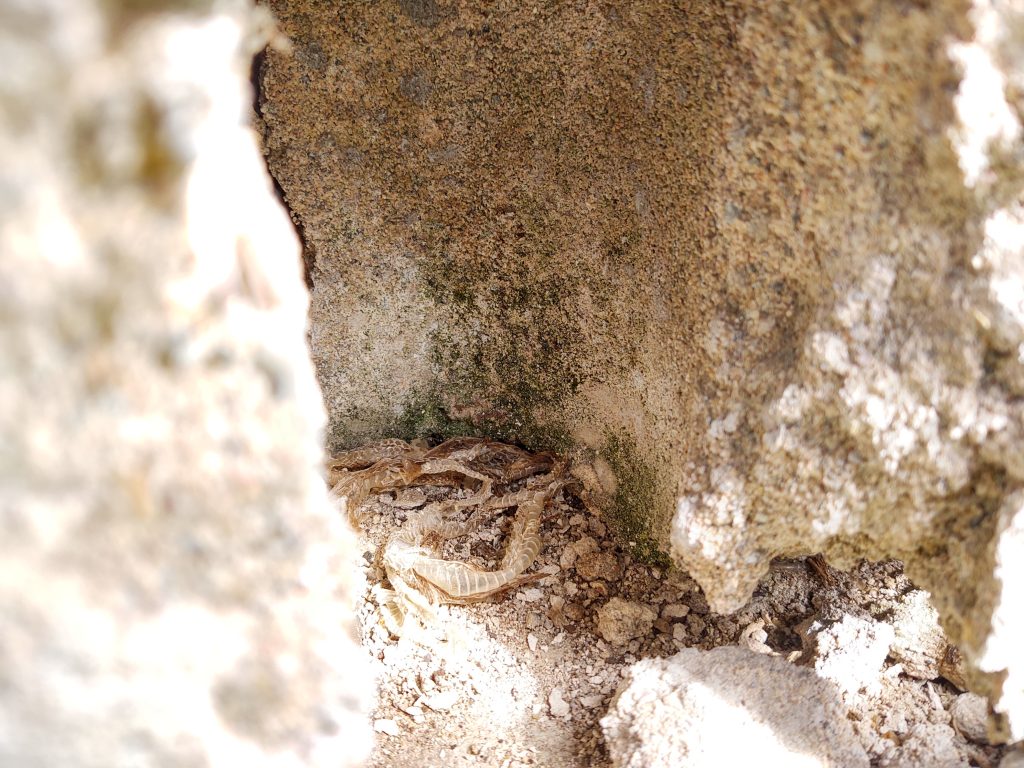 In 1940 for Osborn's 80th birthday, the city of Sault Saint Marie put on a celebration and published a 600 page book honoring him. Thirteen of the pages contained a list of Osborn's publications.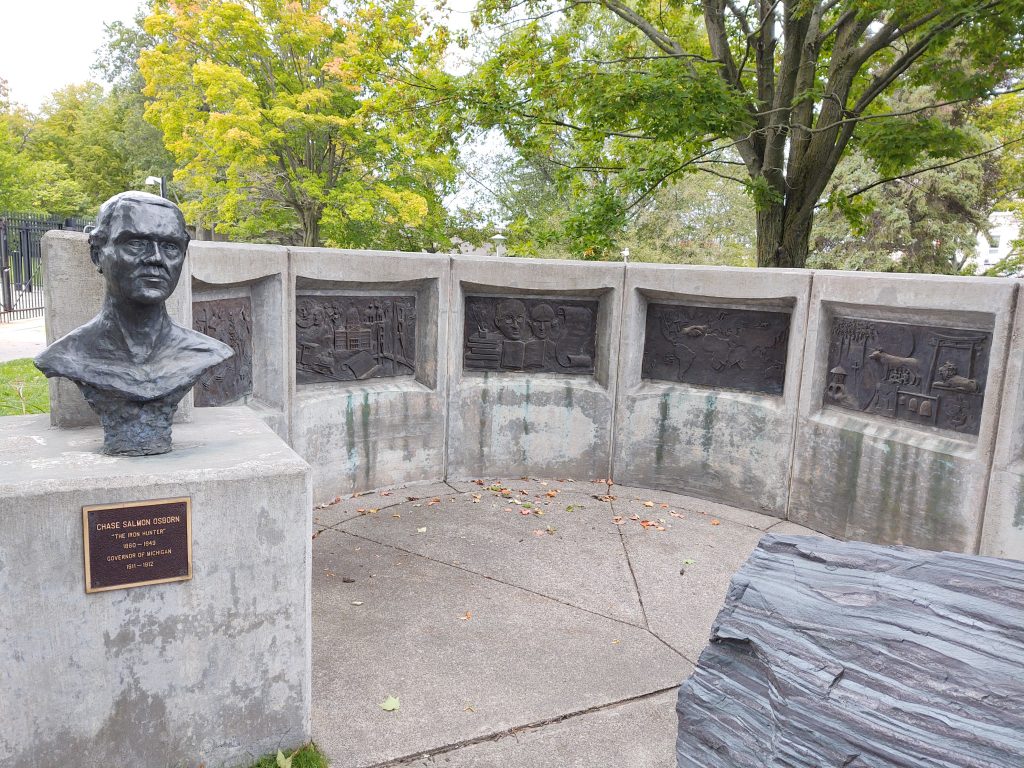 The Chase Salmon Osborn Memorial Soo Locks Park
The Chase Osborn Memorial is found on the corner of Water Street and Osborn Street inside the Soo Locks Park enclosure. These metal relief pieces represent the six phases of Osborn's life.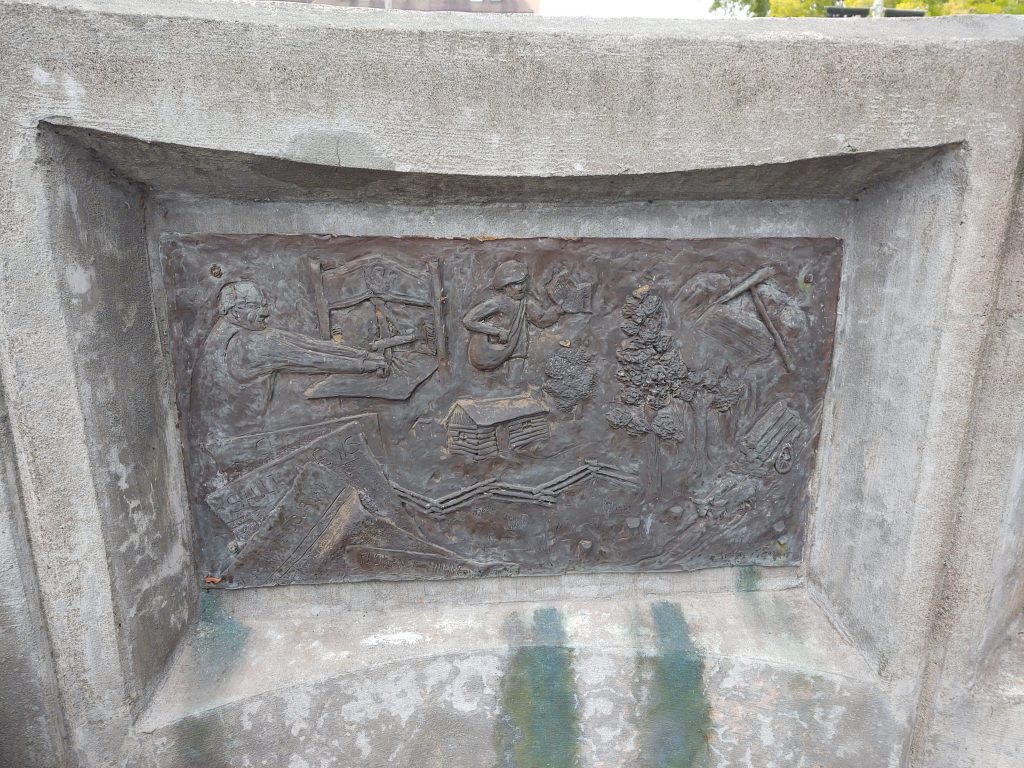 Phase One: The early years – Indiana, Journalist, Newspaper publisher, seeker of ore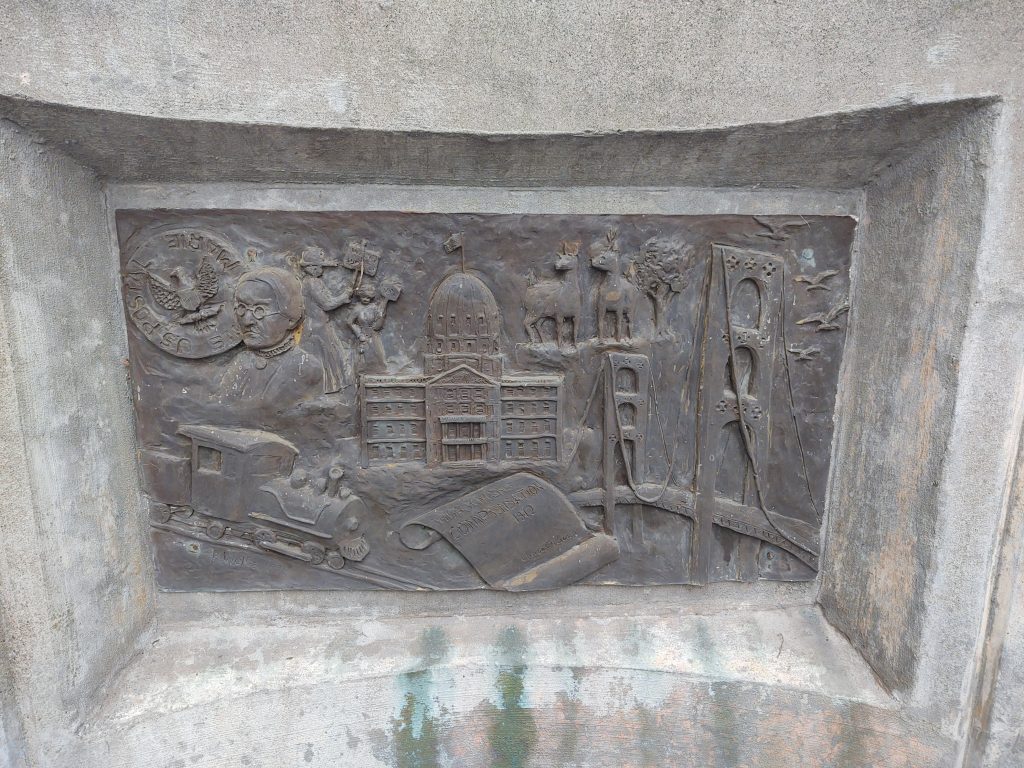 Phase Two: The public servant – U.S. Postmaster, Governor of Michigan, Supporter of the Mackinac Bridge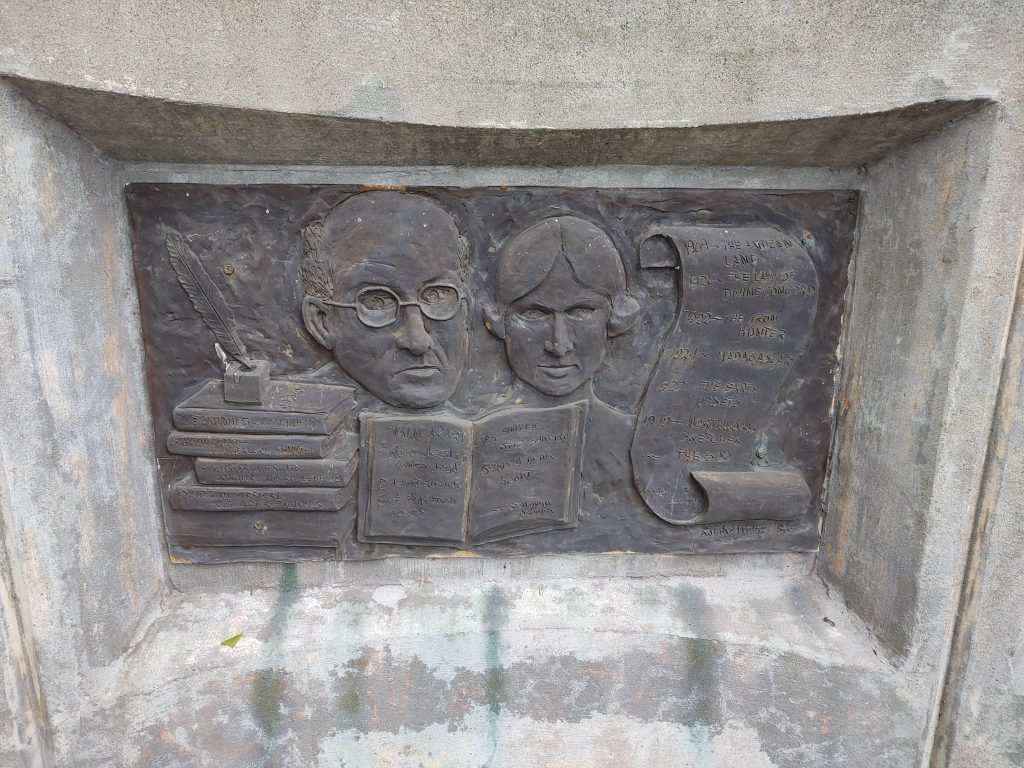 Phase Three: Author of several books including 'Schoolcraft – Longfellow – Hiawatha'. He is pictured with Stellanova, adopted daughter and later second wife.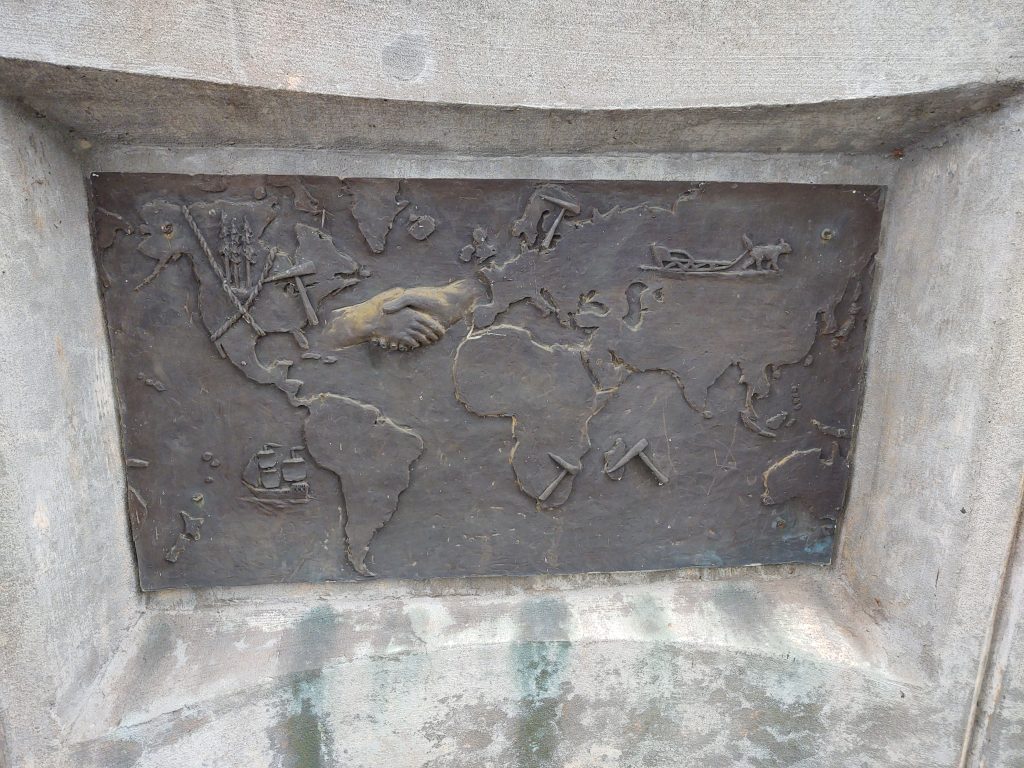 Phase Four: The Statesman – advocate of free trade with Canada and a Union of the Democracy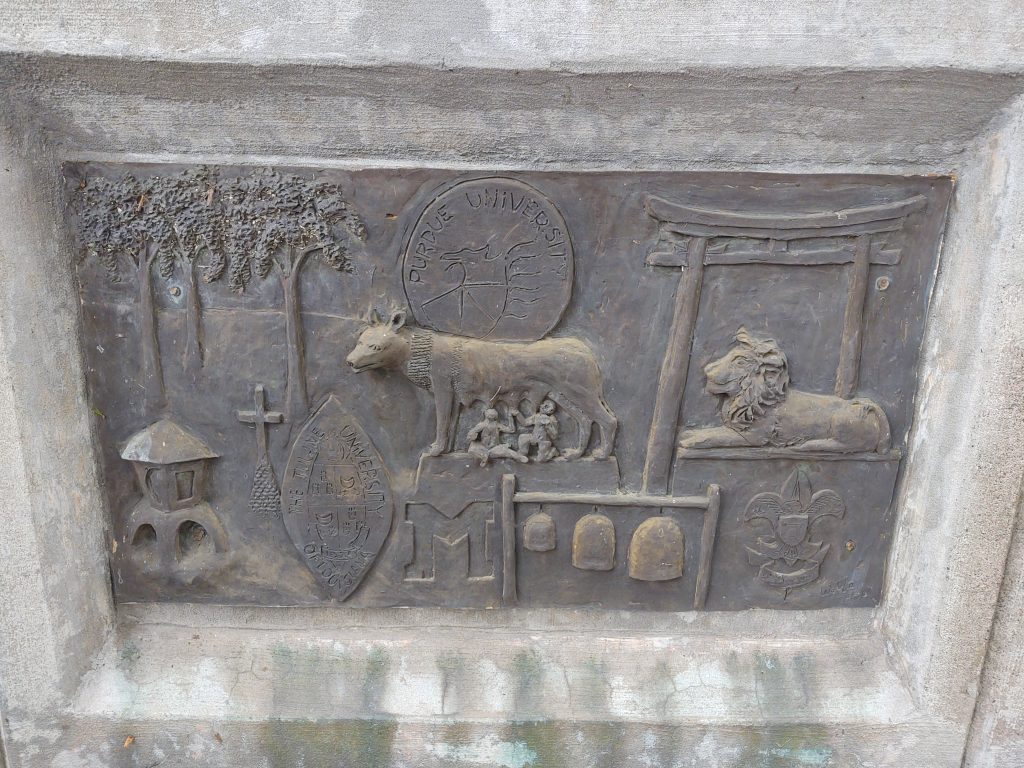 Phase Five: Philanthropist – Donated gifts to the University of Michigan, Tulane University, the Boy Scouts of America and to the city of Sault Saint Marie, including the Japanese Torii Gateway at Locks Park, Carnegie Library Lions and St. James Church carillon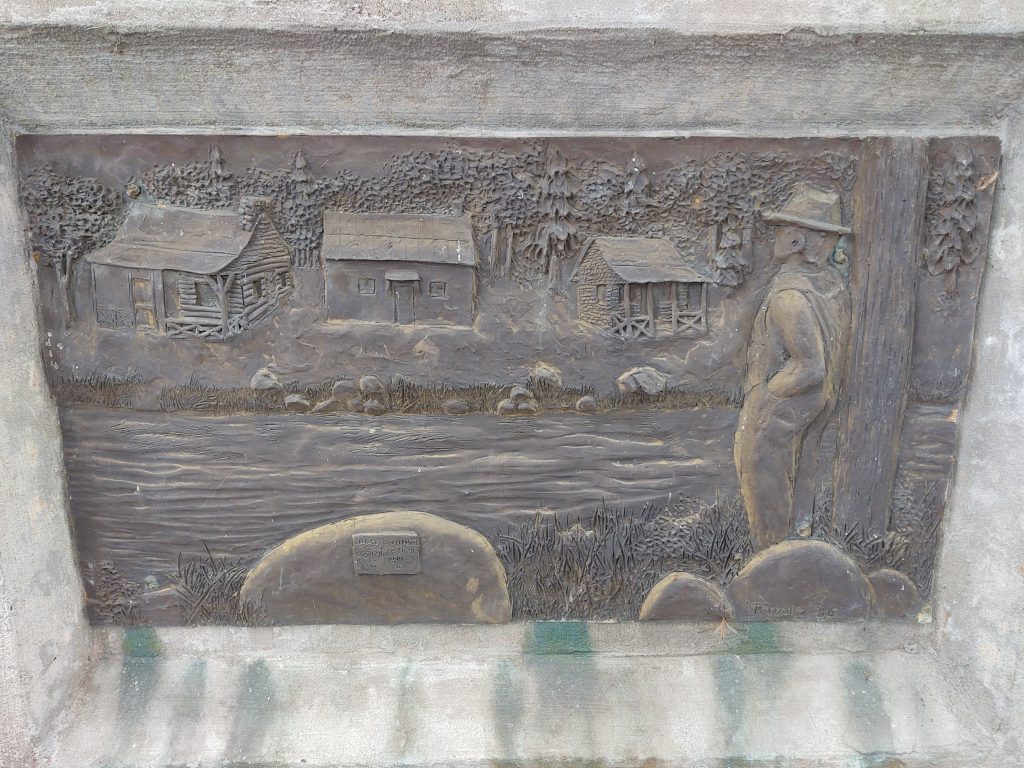 Phase Six: Osborn Remembered – The governor's retreat on Duck Island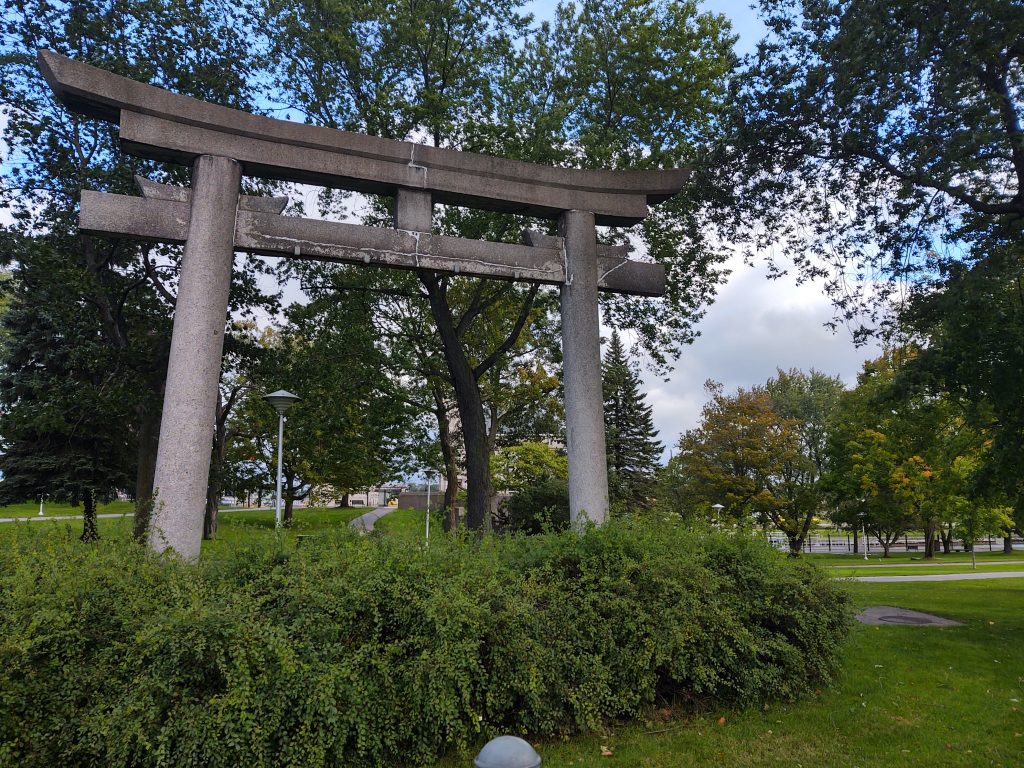 The Shinto Torii Japanese gate was donated by Osborn in 1905 and served as the main entrance to the Soo Locks Park. In Japan the Torii serves as a formal gate making the entrance to a sacred place. Years later with security concerns this area was fenced in and the gate moved to a central location complete with guards.
Chase Osborn used a wheel chair with Stellanova as his full time caregiver. After Lillian's death, Osborn had Stellanova's adoption annulled. Then at 89 years old Osborn married Stellanova, who was 54, on April 9, 1949. Two days later he died at Possum Poke, Georgia. His body was brought to Duck Island where he is buried. Stellanova lived on Duck Island publishing poetry and stories until her passing in 1989.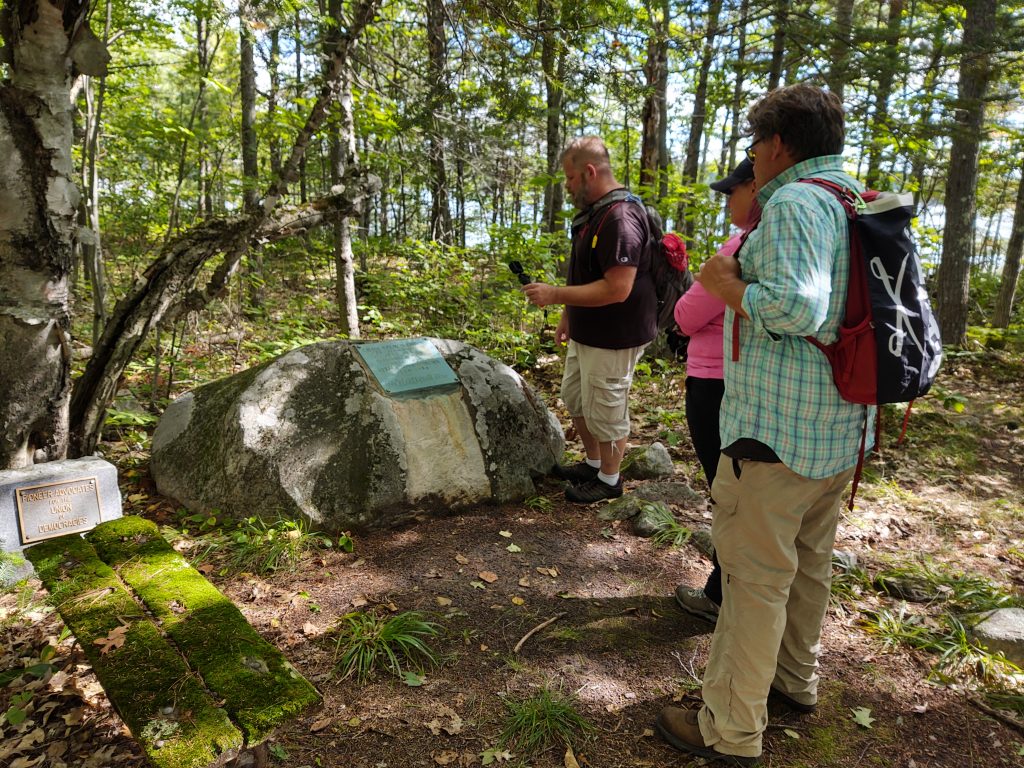 Looking behind the curtain of life, Chase Salmon Osborn's life, has been intriguing and enlightening. His varying talents and devotion to public service have been an example to me. I am curious about so many things: his wife Lillian, his five boys, his relationship with Stellanova, finding the books he'd published and why the University of Michigan hasn't used this property to its potential. (I suppose it's a five hour drive and costs a lot of money to care for a property.)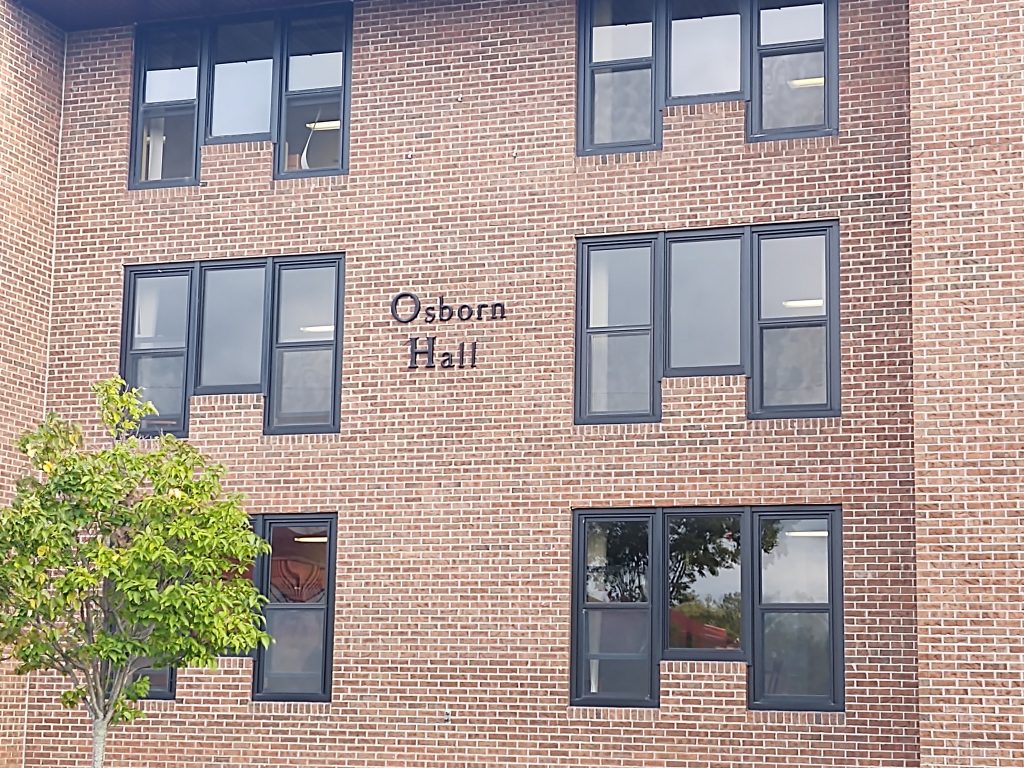 Osborn Hall on the campus of Lake Superior State University
Chase Salmon Osborn is the only governor from the upper peninsula. He has left a legacy. Governor Osborn has been remembered in many ways around our state. The female freshman dormitory at Lake Superior State University is named Osborn Hall. The student union on the campus of U of M holds a bust of Osborn. There's an oil painting at Bay Mills Community College Library in Brimley, Michigan. As well as the riverfront Soo Locks Park in Sault Saint Marie, Michgian.
Chuck and Martha Hayden, aka The Viking and Poppins, enjoy going on adventures off the beaten path. They also like to share their explorations with others. The Viking is a retired expedition leader while Poppins is a retired teacher. The two offer independent views of their journeys showcasing places, people, and cultures as they explore the world. Visit and follow them on their website and social media accounts. Website | Facebook | Instagram |YouTube