This article was originally published on October 5, 2021 on The Restless Viking website.
Using a black light, I found my first Yooperlite along Lake Superior's shoreline. The orange speckled glow from the gray rock was captivating! I wanted to know more. Once I returned home, I messaged, Erik Rintamaki, the founder of Yooperlites, and asked my interview questions, sharing my contact information. My phone rang the next night. I was thrilled that he'd called me personally! Recently he's been on the History Channel, the Discovery Channel and featured on the cover of Rock and Gem Magazine. His enthusiasm shined as we chatted! I was honored that he had taken the time to talk with me, The Man Behind Yooperlites!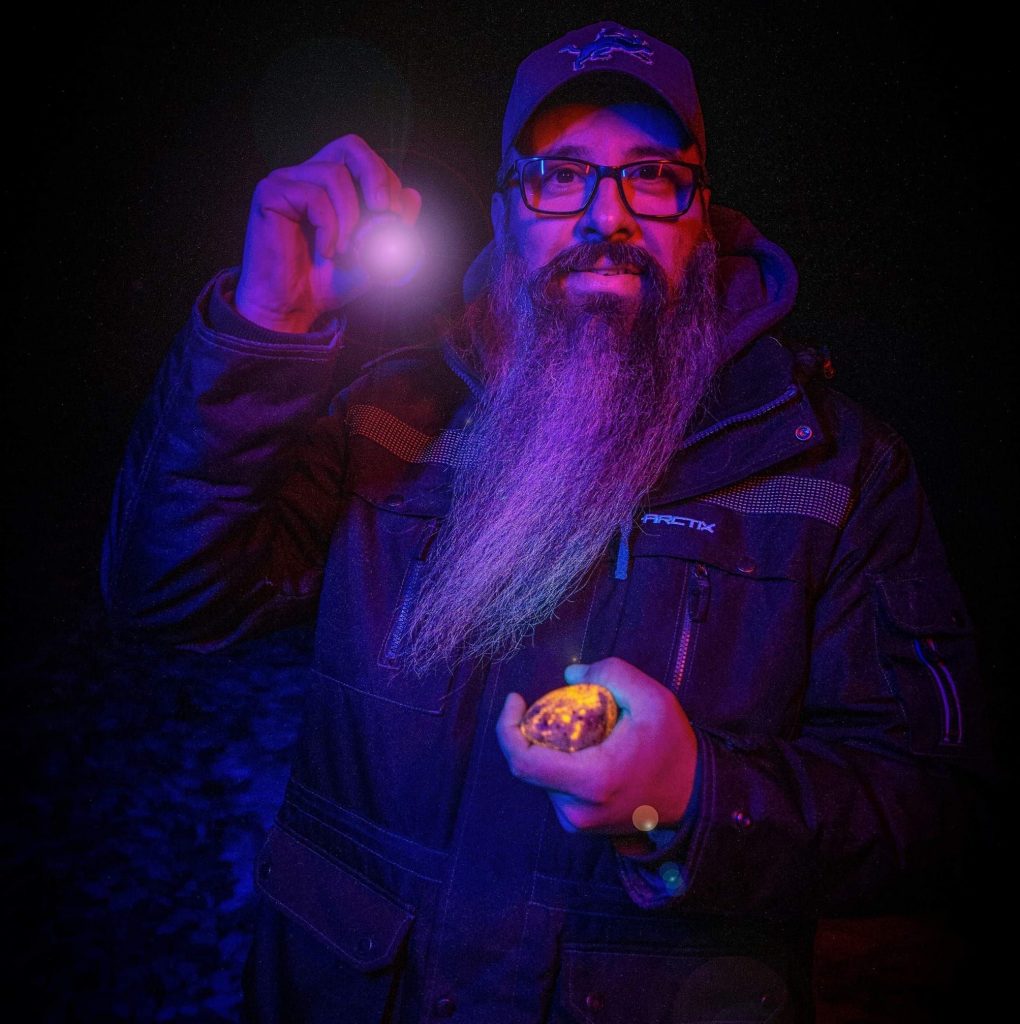 "Well, I should start at the beginning." I could hear Erik's smile over the phone. "Rock hunting has been a family tradition. My grandfather, Viljio, came from Finland and owned Macs Jewelry in Newberry, Michigan." Viljio had hunted for rocks with his son. Erik's Dad, and made them into artistic pieces for his shop. "My Grandfather died when my dad was ten." Erik voice dimed. "As kids my dad took us rock hunting." Erik's enthusiasm returned. "I was nine and would get to drive the 1973 Scout. I've always liked rock hunting!"
As the oldest of three kids, Erik would lead his siblings in searching along Lake Superior's shoreline. Erik was the perfect person to have discovered, revealed and named this new find for Michigan, Yooperlites! This all took place just a few years ago in 2017!
Rocks Can Be A Business
Eric had been a poker room manager at a nearby casino when a friend encouraged Erik to create a business from his admiration of rocks. This friend had just been to a rock show where a Lake Superior agate was sold for $4,000.00.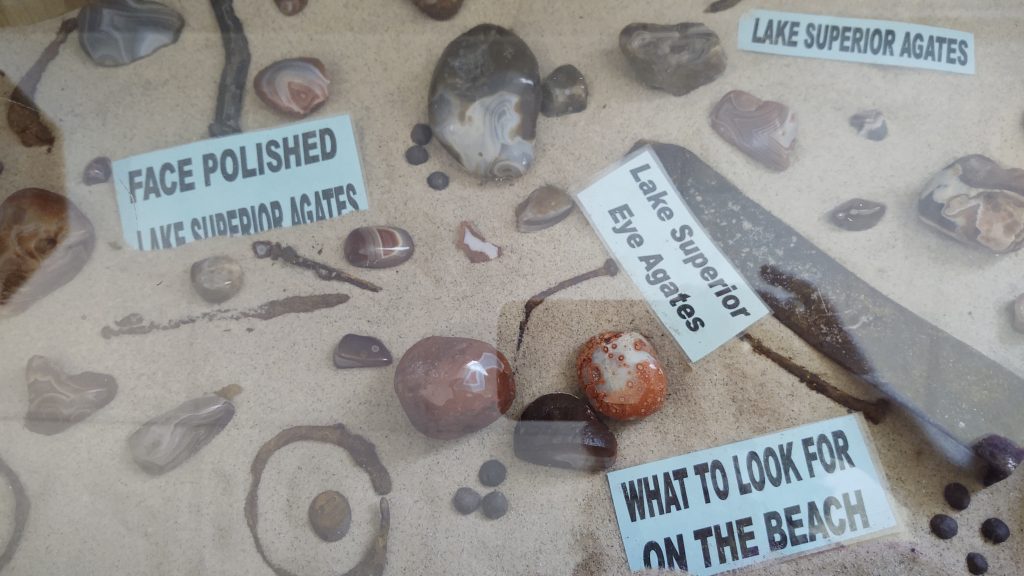 Erik purchased some inexpensive agates on Ebay and was able to resell them for a slight profit. It was satisfying and fun to locate deals and make a little money on the side. Agates were in demand! Agates were created by puddles of quartz-rich deposits crystallizing inside a pocket of low fluid pressure. The agate's layering reminds me of Gobstoppers, a layered orb-shaped candy.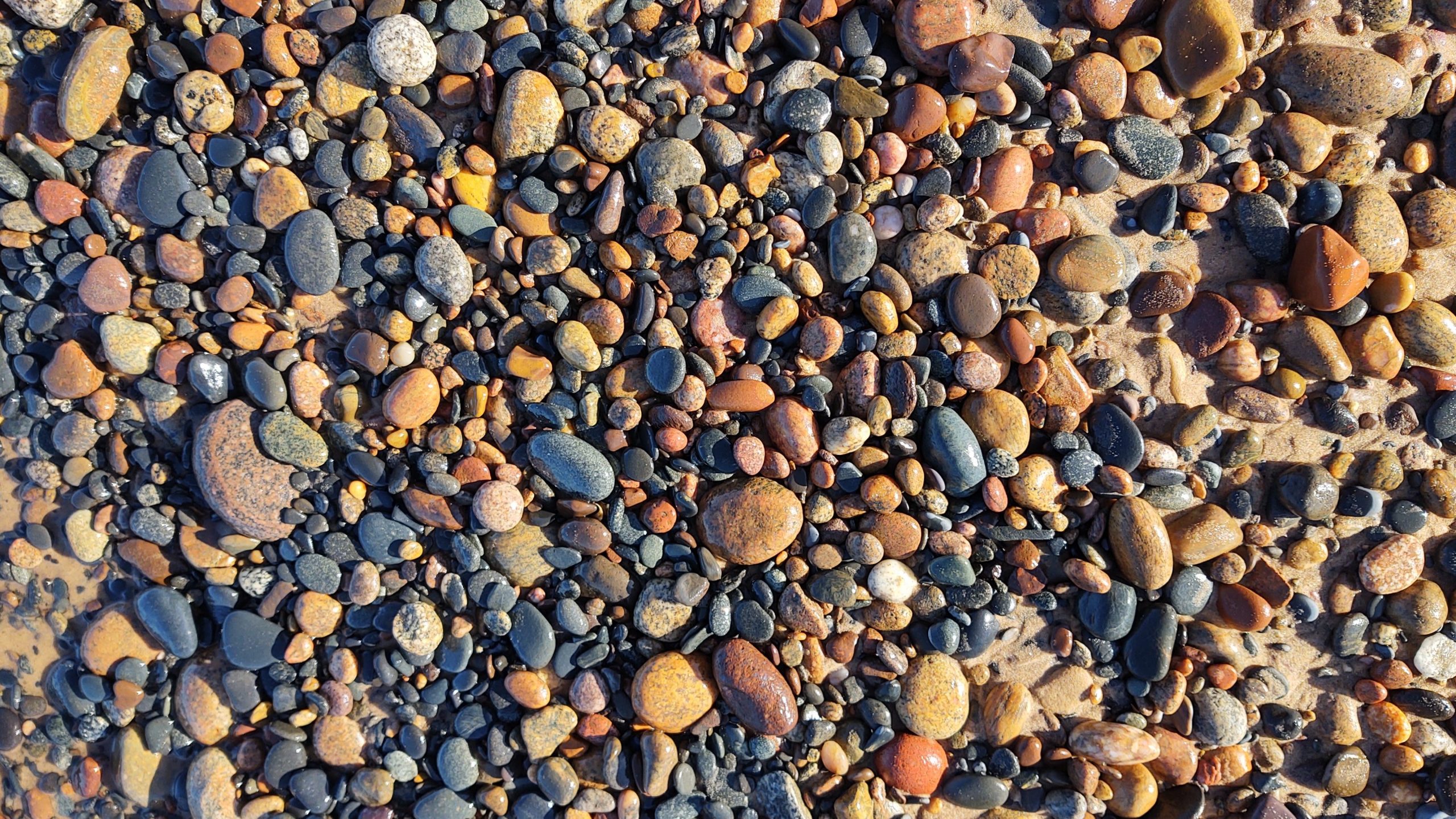 Erik was motivated to find more agates. Late into the night after work, when no one else was around, Erik walked the beach carrying a florescent black light. He had hoped that agates would show up more clearly under the short wave light. He found 36 agates using this device.
The Yooperlite Discovery
This was followed by three nights in a row where Erik didn't find anything. He never gave up, though. On the fourth night as he cruised Vermillion Beach at 4:15 am (south of Whitefish Point), he found three nickel sized stones that glowed florescent orange patterns under his special flashlight. He'd never seen this type of rock before!
One was dotted with orange, another had lines of orange and the third had snowflake orange patterns. In regular light each stone looked different, too. One was black, another tan and the third was speckled. But, by shining the black light on them the florescent orange minerals glowed.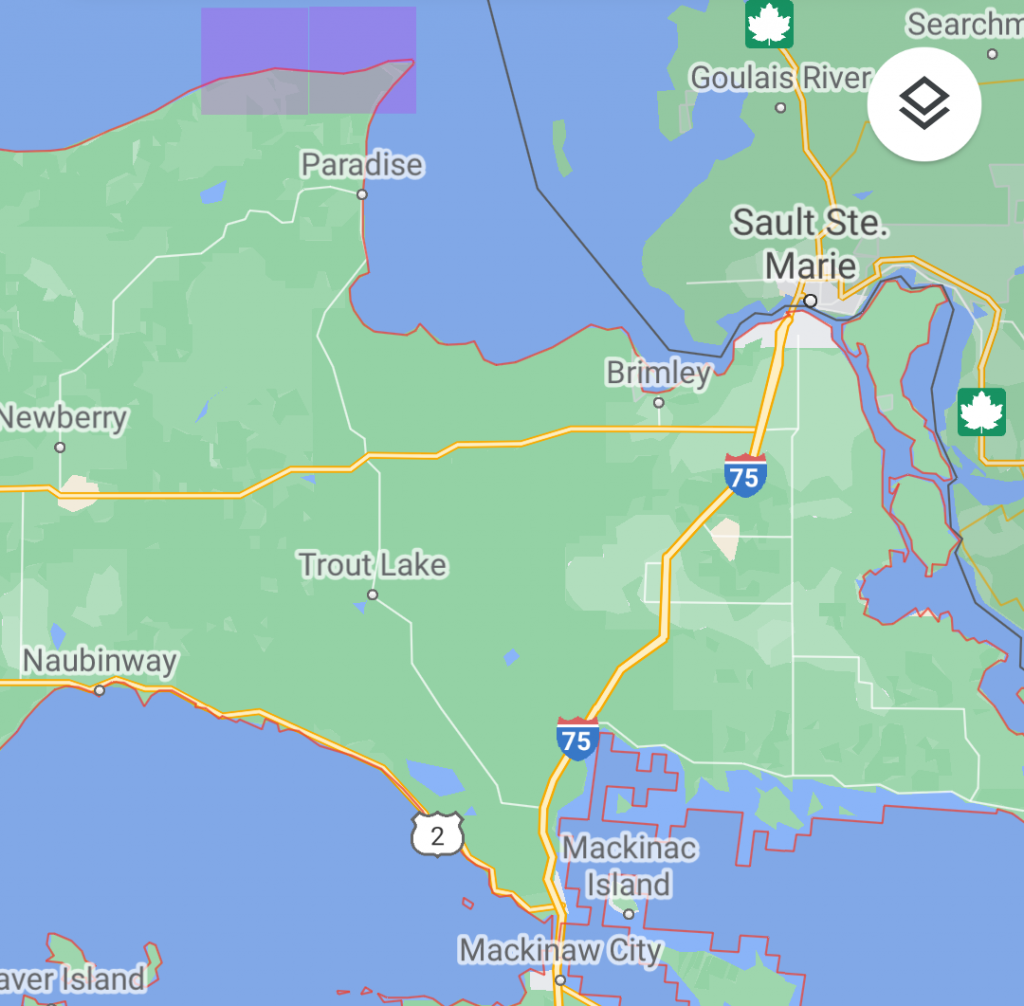 The Quest for Identification
Erik was on a quest to solve the mystery of these stones. He spoke with his friend, Gabe, a geologist from California. He brought the stones to rock shows and to his friend, Kelly Laughlin. Kelly connected Erik with geologist, Shawn Carleson.
Shawn was well known for discovering forty different minerals that had not previously been found in Michigan. Using the electron microscope at Michigan Technological University, Shawn verified that the mineral in Erik's rocks was Sodalite from the Syenite family of minerals. Sodalite had originated from volcanic activity. Sodalite Syenite is a sodium aluminosilicate igneous rock which crystalized from sodium-rich magmas. These rocks did not contain quartz, as agates do.
Sodalite Syenite rocks had never been found around Lake Superior. This unique rock has only been found in northern Nambia; Bancroft, Ontario; Ilimaussaq, Greenland; the Russian Peninsula of Kola; Magnet Cove, Arkansas and Litchfield, Maine.
Naming The Sodalite Syenite Rocks
Erik and his brother-in-law wove webs of words while walking along the beach. After some time his brother-in-law thought aloud, "Something – lite." "Yooperlite!" Erik felt like the label fit his find on many levels.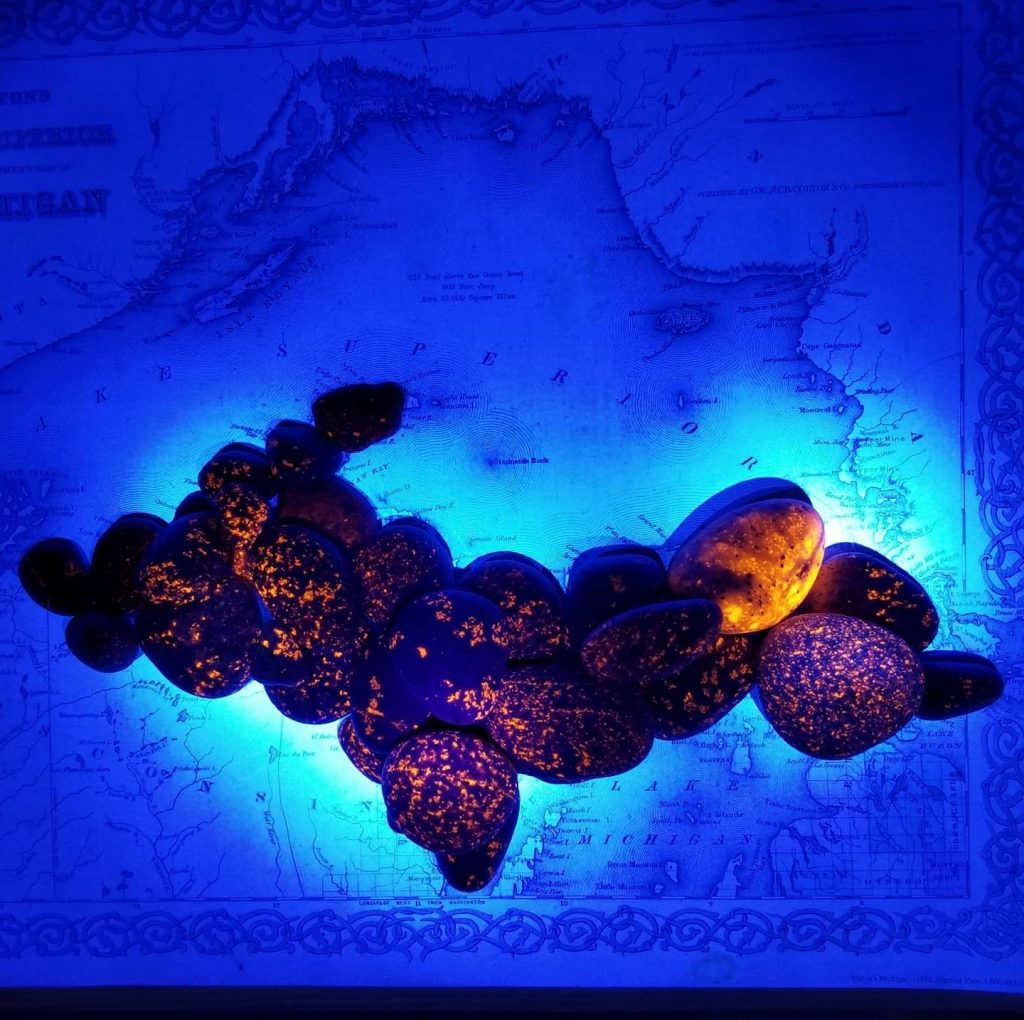 "Yoopers" is a nickname for residents of the upper peninsula of Michigan. "U.P." has transformed into "Yooper." Combining "Yooper" and "lite" (from Sodalite) captured the sense of where these rocks were found and their origin.
Sodalite Syenite Source Is In Canada
Later it was determined that these rocks had been formed from a volcano in Canada. A glacier had brought them to the basin of the Great Lakes. Sodalite Syenite has now been located around each of the five freshwater lakes.
Yooperlite Business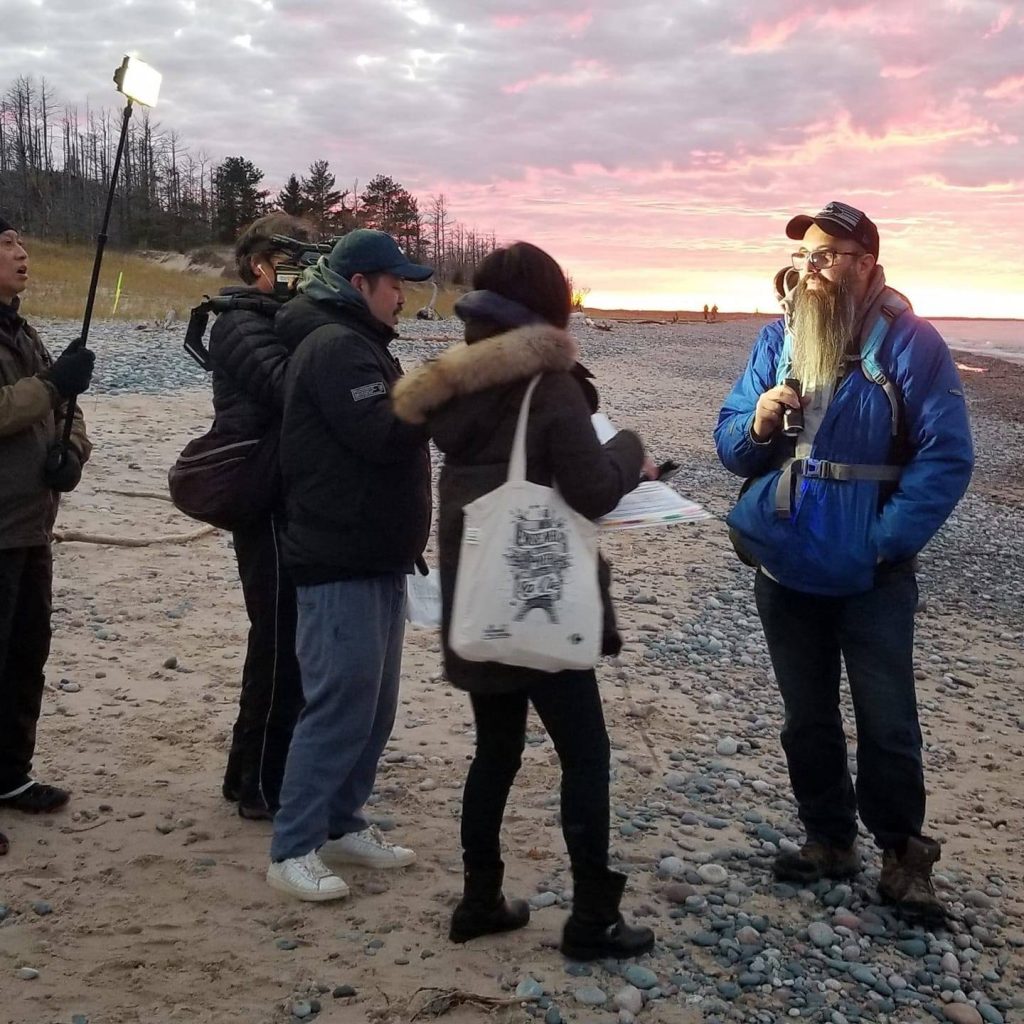 Erik handles his business along with the help from a lady two days each week. Erik has been interviewed by magazines and television shows alike. He organizes sales of flashlights, Yooperlite rocks and nighttime tours three times each week April – October. After rock picking sessions he polishes Yooperlites as well as agates to sell.
How Does One Find Yooperlites?
After our interview, I will now use Erik's proven method. He said to hold the black light at shoulder height and scan the rocky shoreline. He recommends standing still and scanning slowly. Take a few steps and repeat.
My First Yooperlite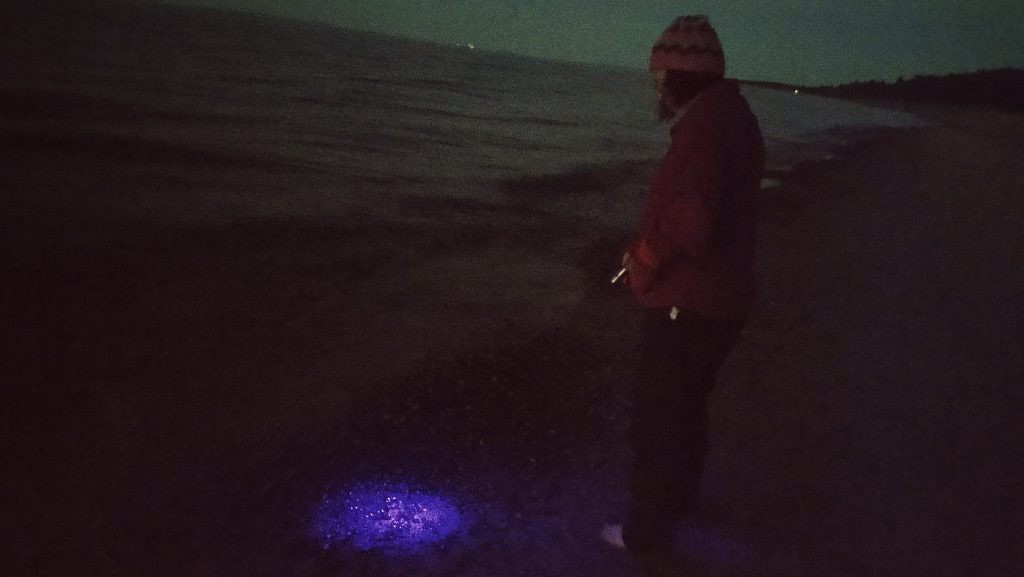 I had brought my small black light to the shoreline of Lake Superior last month. DaViking and I had traveled to Whitefish Point, Crisp Point Lighthouse and Vermillion Beach to learn about the life saving stations which were once along the shore.
I had scant knowledge of Yooperlites, but had heard about these specialty rocks and figured this would be a perfect opportunity to have a look-see. The water lapped gently along the shore on this September night. I moved my light slowly over the rocks. The quartz shined like stars in the sky. My breath caught each time thinking I'd found a Yooperlite. I collected small white stones as I continued my caper.
Suddenly, orange beamed from a small spot in the pile as my light danced over a section. I slid my beam back over the same spot. It was unworldly! "I found one!" I called out. THIS was definitely a Yooperlite. It was unlike anything I'd ever seen!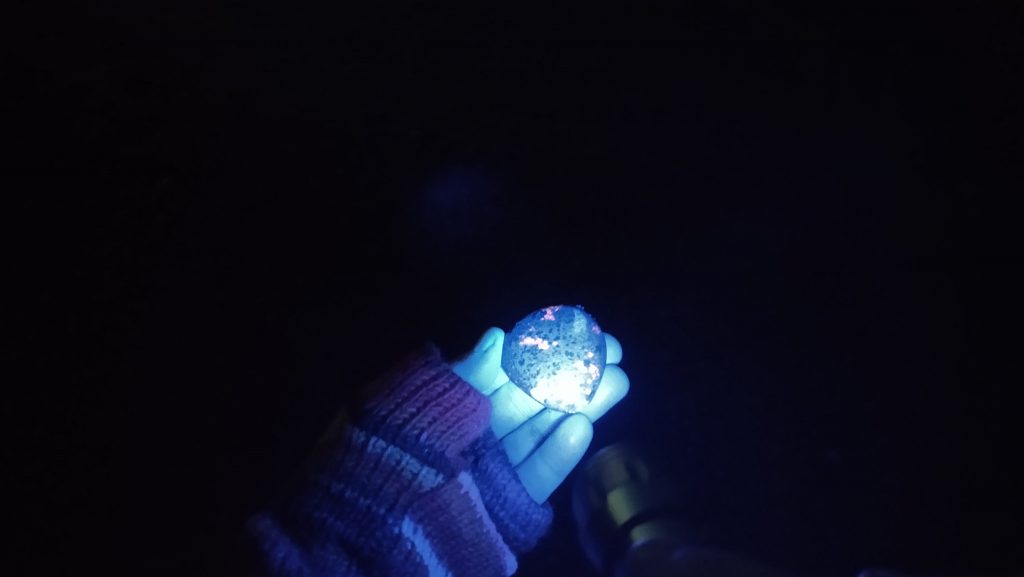 Rock Hunting
I have always enjoyed rock hunting. In fact, I minored in science with my education degree. I had memorized over 300 rock specimens, but I have never held anything like this!
As you can see below that the Yooperlite rock looks plain under regular lighting. However, when a black light is passed over the stone, neon orange and blue jump out at you. The Sodalite shines brightly!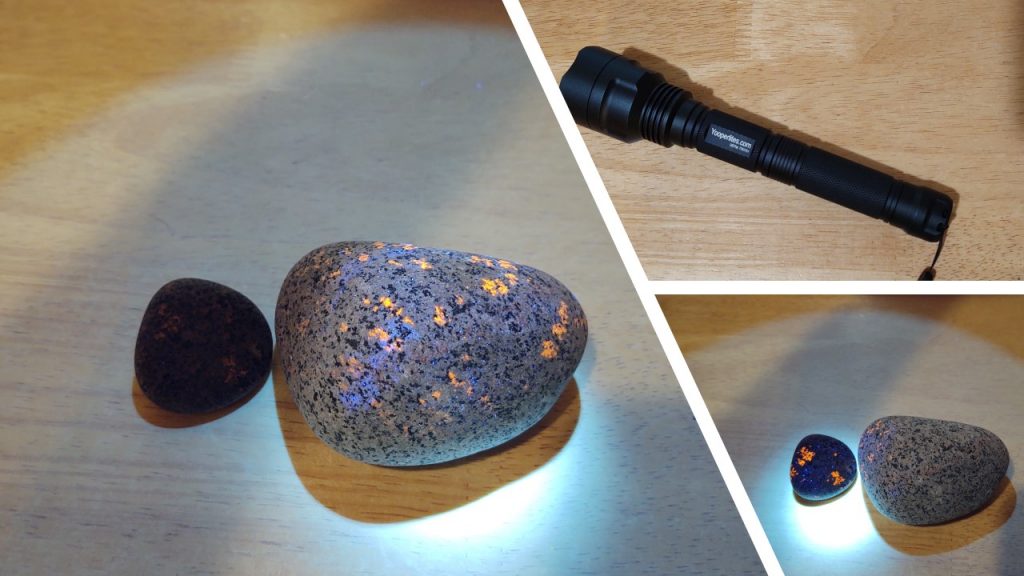 Once we arrived back at home, I reached out to Erik Rintamaki to learn more. He graciously granted me the phone interview. That same night DaViking ordered a "Yooperlite" flashlight from Erik's site (listed below). Erik included a large Yooperlite stone along with the flashlight. What an awesome gift!
Erik's outgoing, fun-loving, hardworking manner has struck a chord with me, bringing out my smile! Meeting Erik and learning about him and his pursuits has been an adventure. Encouraged by Erik, I am hooked on rock hunting once again. I'm planning to purchase a rock tumbler, too. Keep looking behind the curtain of life, learning from others and finding curiosities!
Chuck and Martha Hayden, aka The Viking and Poppins, enjoy going on adventures off the beaten path. They also like to share their explorations with others. The Viking is a retired expedition leader while Poppins is a retired teacher. The two offer independent views of their journeys showcasing places, people, and cultures as they explore the world. Visit and follow them on their website and social media accounts. Website | Facebook | Instagram |YouTube