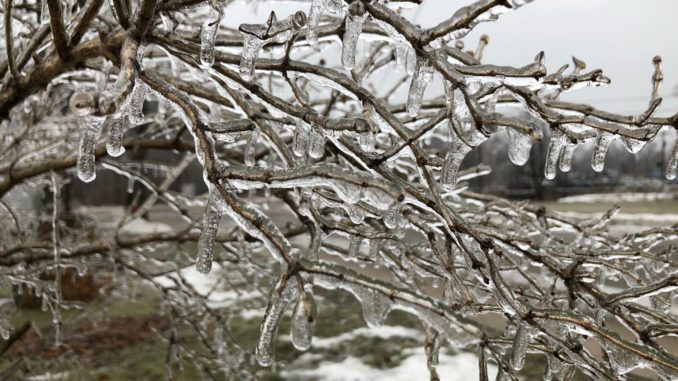 On February 6th, Lowell's First Look contacted Steve Donkersloot, general manager for Lowell Light & Power, to get some insight on the outages they were currently experiencing as well as what the utility expected in the next few days. The weather forecast was looking a bit extreme.
At that time, there had been only one outage that impacted one person for approximately 60 minutes. "The vast majority of the credit goes to Ryan (Teachworth) and our entire distribution staff for their proactive system (of) planning and tree trimming endeavors that they have been diligent about for the past 2+ years," Donkersloot said.
He then added: "With all that being said, this doesn't mean we are out of the woods yet. As the ice melts, tree branches can snap back and cause potential problems with our lines – resulting in power outages. In addition, there is the possibility for more freezing rain tonight with high winds on Friday."
Donkersloot was correct as the next few days brought widespread outages across the region. We caught up with Donkersloot yesterday, and he reported the following:
On February 7th, there were 14 outages impacting 739 services.
More than 50 percent of the services impacted were without power for 49 minutes or less.
By 5:15pm on February 7th, only 40 services were still experiencing lack of power.
At 7:18pm, it was reported that only 5 services were waiting to have service restored.
At 9:16pm on February 7th, crews had successfully restored all power to Lowell Light & Power consumers.
As of February 11th, at 3:30pm, no new outages have been reported.
Due to the severity of the storms, Donkersloot explained, "We enlisted the help of a three-man crew from the Zeeland Board of Public Works and a two-man crew from the Holland Board of Public Works through our Michigan Municipal Electric Association Mutual Aid Agreement." The decision to call in assistance expedited the restoration of power to LL&P customers. The entire crew worked as a team according to Donkersloot. "The office staff answers calls, monitors our metering platform, communicates and relays important information to the distribution department and updates the public with outage status information," he noted.
When asked if he had any advice for customers, Donkersloot wanted to remind everyone that downed power lines are extremely dangerous. Don't get near a downed line. Instead, call the utility at (616)-897-8402 so LL&P can dispatch a crew to investigate the situation.
Lowell Light & Power customers were safe and warm for the most part with an average outage time of only 141 minutes. That's in stark contrast to those on the outskirts of town. Many residents of Lowell who are not able to hook up to LL&P service spent up to five days in the cold without power.
According to the Consumers Energy outage map, the number of customers without power exceeded 150,000 during this past week of storms. It was a difficult situation as the temperature dipped to the single digits, and customers realized quickly how difficult it becomes to keep essential needs in your home functioning when experiencing an extended power outage. Freezing pipes is a concern but not being able to cook a meal or flush a toilet becomes an issue too.
The last Lowell area homes had their power restored by Consumers Energy yesterday, but this morning, the company was reporting another 11,000 customers were without power, mainly nearly the state's southern border.
The recent ice storm is a reminder that customers of LL&P are extremely fortunate. However, not everyone in the area gets this service. When the next ice storm hits, check with your friends and family to ensure they have power. They may need a place to take a shower or wash some laundry, gallons of water so they can flush a toilet or even a bed or couch in your home for a warm night's sleep. We heard many stories of community members banding together in just this way during the past week. But that doesn't surprise us. If there's one thing Lowell is, it's caring.