This article was originally published on October 11, 2022 on The Restless Viking website.
This unmarked site, Devil's Washtub, makes for an exciting find along the Lake Superior shoreline near the tip of the Keweenaw peninsula. Brendan, our hotel concierge, along with Will told us about this unique blowhole rock formation. It's located along M26 near Mohawk, Michigan. Two miles west of Copper Harbor.
I couldn't believe that there weren't any signs, walkways or a gift shop! Usually these natural formations become overrun with tacky tourists who wear Mackinac Island t-shirts. It was delightful to have had Brendan share this secret, local knowledge.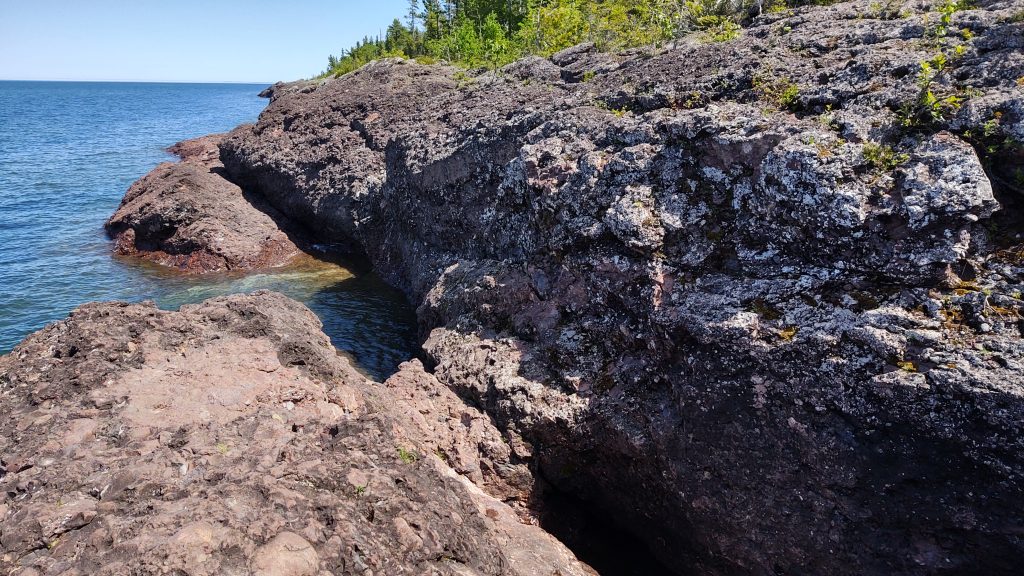 As we investigated the deep crevasse, we heard people chatting as they neared us. It was Ingrid, a Michigan Technological University student, with her family. She was showing her relations all the highlights in the area. With wide eyes Ingrid told the tale that she and her friends had jumped into Lake Superior and then swam under the rock "bridge" into the Devil's Washtub.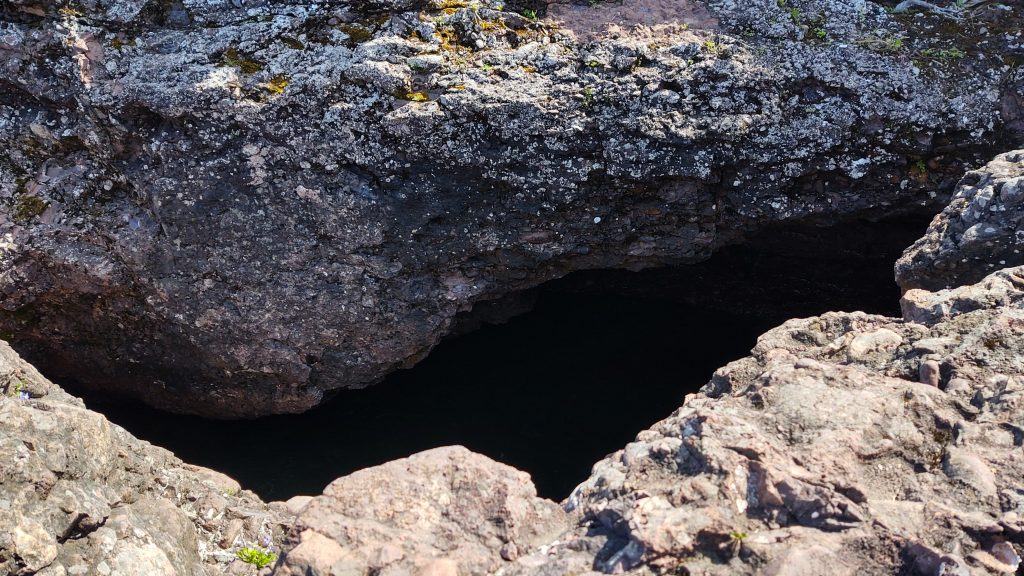 Ingrid's mother and I shared an eyeroll. Ingrid casually stated, "Yeah. I wouldn't have known there was a passage under there unless my friends had shown me." Personally, I felt a little claustrophobic just looking into the crater.
This gutsy co-ed, Ingrid, is working at Michigan Technological University this summer after earning trophies in a self driving car competition. She'll start her sophomore year in the fall.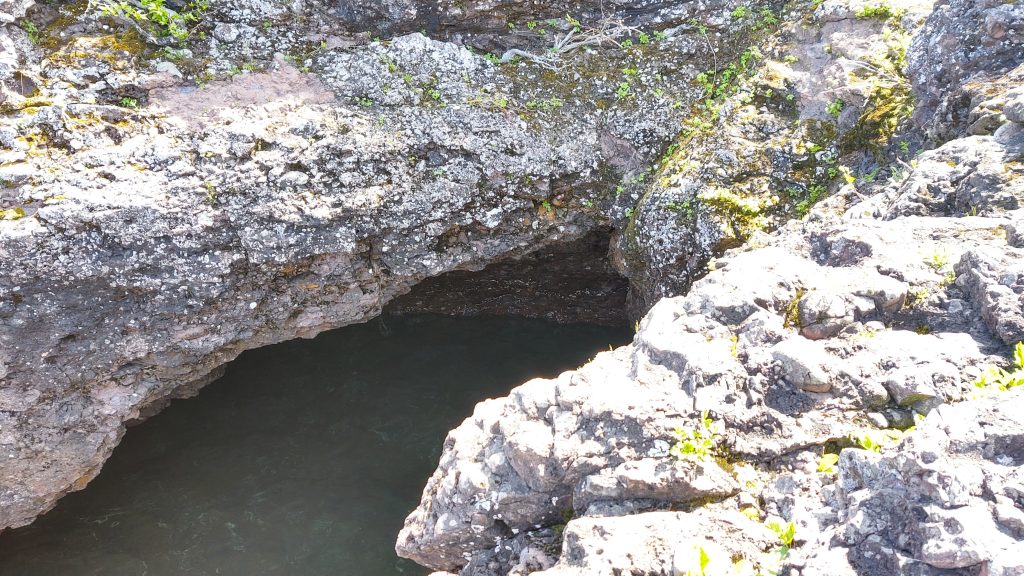 This formation is also known as "Sloshing Whatnot." This volcanic rock is labeled as the Copper Harbor Conglomerate which holds many interesting creations. The Devil's Washtub or Sloshing Whatnot can churn during storms creating a blow hole effect. The day we were there it was fairly calm, where one could more easily swim into the deep basin. (Not me, though.)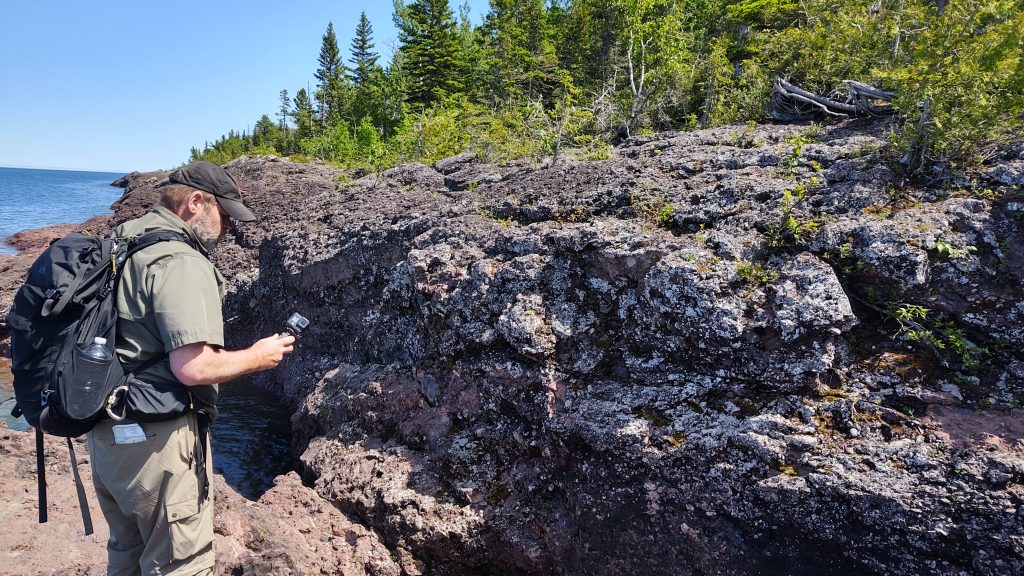 How To Get There
It's easier to located than I thought. The Devil's Washtub is a site on Google Maps, too. We parked away from the curve and walked back to the guard rail. The trail starts right at the end of the railing.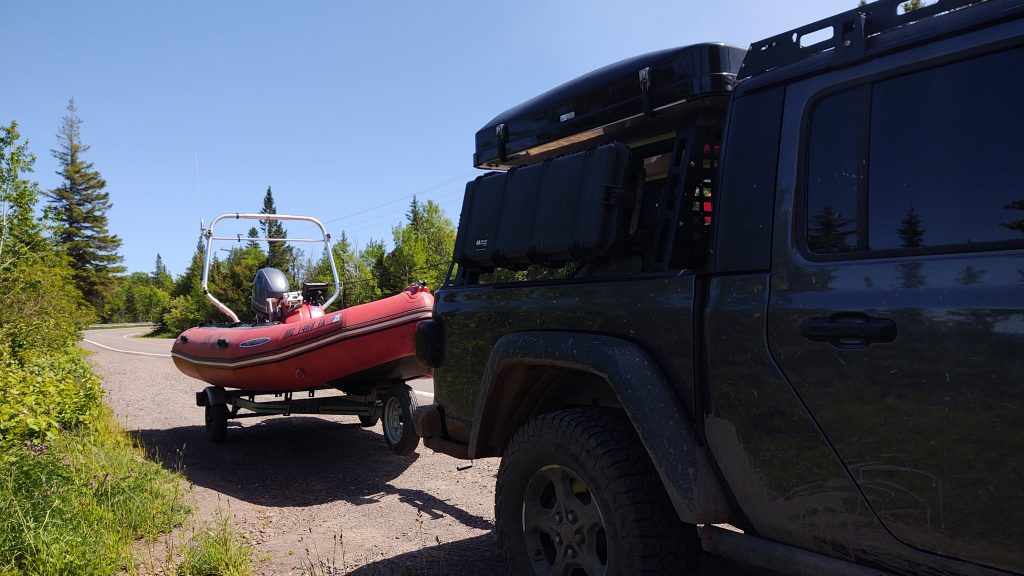 There are several other paths along the rocky shore which we enjoyed. The views of Lake Superior are stunning! Thank you, Brendan and Will for suggestions on local sites!
Chuck and Martha Hayden, aka The Viking and Poppins, enjoy going on adventures off the beaten path. They also like to share their explorations with others. The Viking is a retired expedition leader while Poppins is a retired teacher. The two offer independent views of their journeys showcasing places, people, and cultures as they explore the world. Visit and follow them on their website and social media accounts. Website | Facebook | Instagram |YouTube