This article was originally published on December 14, 2021 on The Restless Viking website.
The first Friday in December hosts the Christmas tree lighting on Mackinac Island which begins the holiday season for the 500 year-round residents. I was ecstatic to have the opportunity to partake in the celebration and peek "behind the curtain" of Mackinac Island in the winter! Chuck (DaViking) tolerates my extremely whimsical wishes!
The Huron Ferry Ride
Starline provides ferry service on The Huron, weather permitting, during the winter. Otherwise one could pay for a small plane flight to the island. If the lake freezes later in the season, the locals will often take a snowmobile along the "ice path" marked by their used Christmas trees from British Landing to St. Ignace.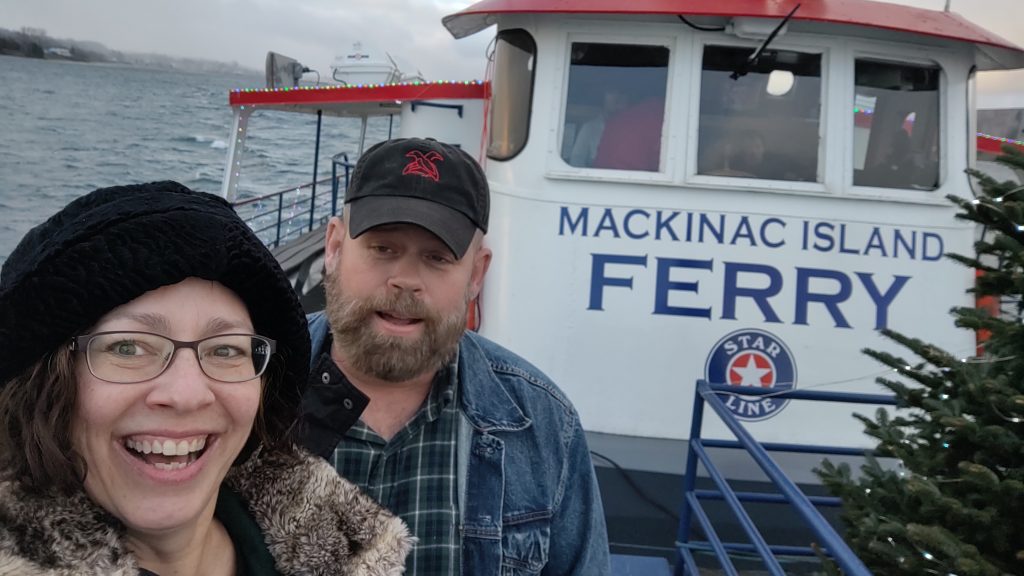 The Huron ferry was decked with lights and a Christmas tree on the bow.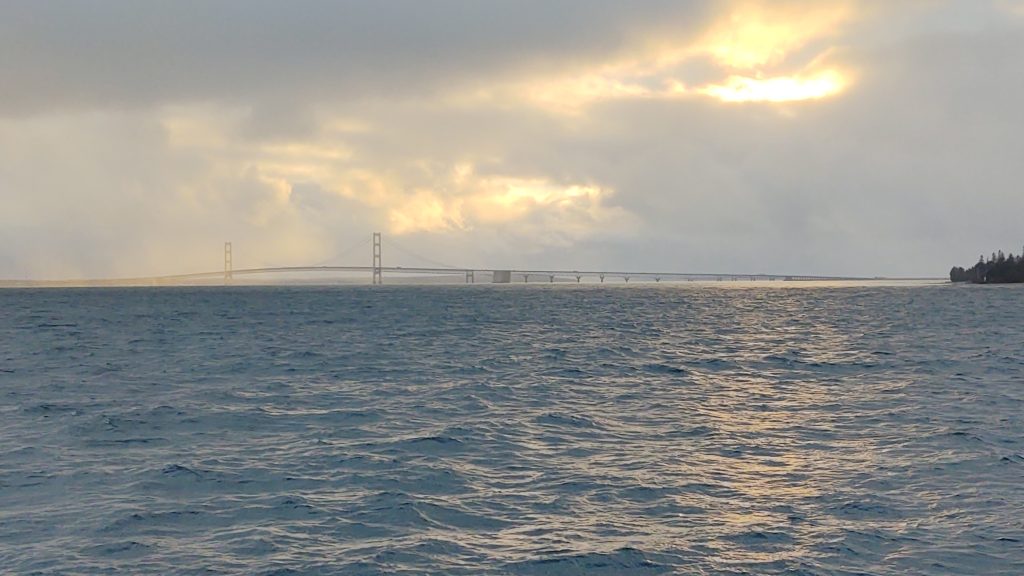 The "Mighty Mac" was dressed in hazy sunlight on Thursday, December 2, 2021.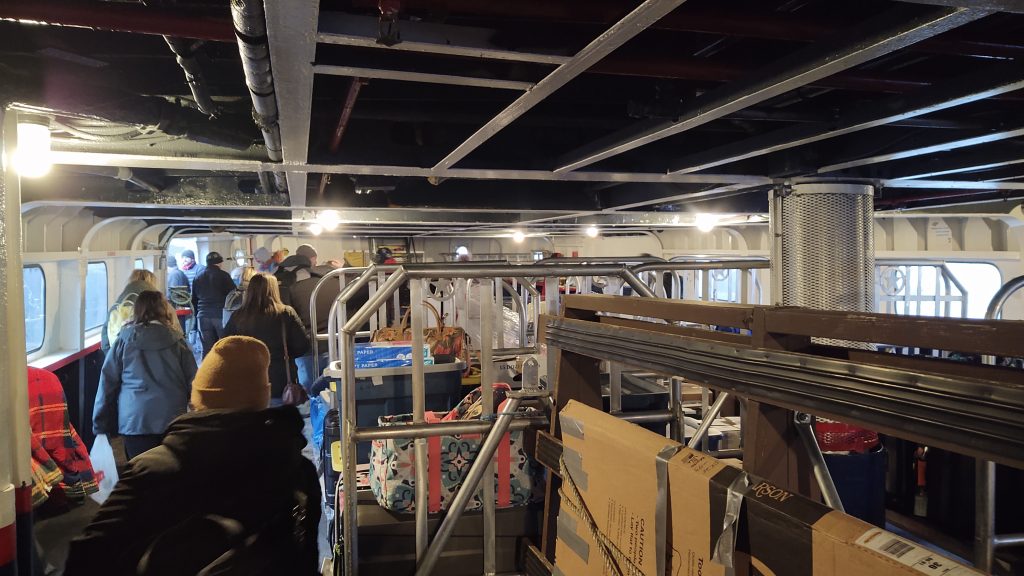 The Huron ferry was loaded with carts of construction supplies, heavy totes and some luggage.
The Christmas Tree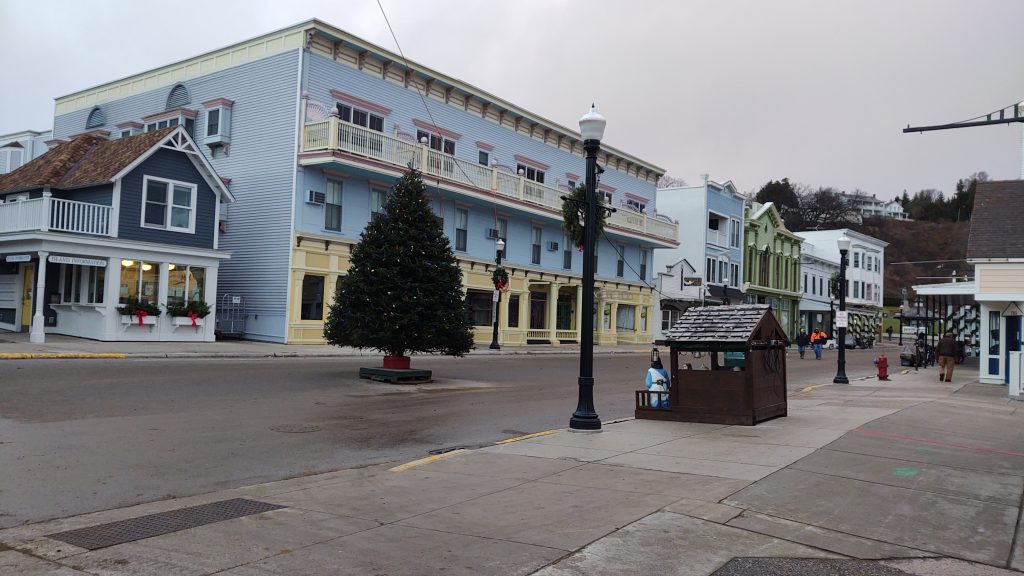 The Christmas tree stood proud and patient, waiting to brighten the holiday season with her lighted smile.
After checking into the Pontiac Lodge, we headed to The Broken Spoke restaurant for dinner. The Mustang Lodge was another option for eating, as well as Doud's Market, the oldest grocery store in Michigan. With year round residents, Mackinac Island has some businesses that stay open.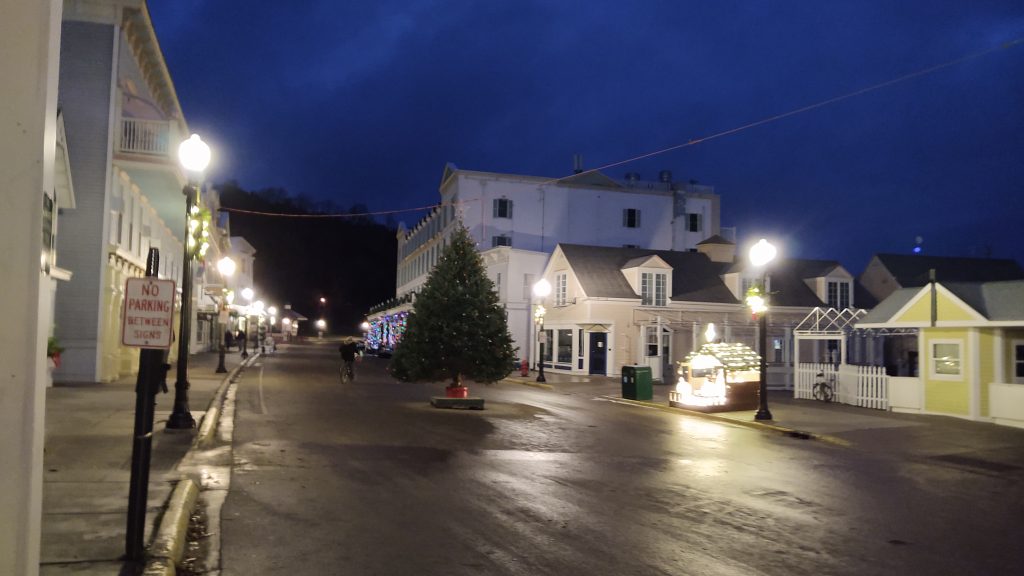 The quiet main street was captivating.
In the summer these sidewalks are jam packed with tourists which the locals call, "Fudgies." In this stillness Mackinac Island revealed her underlying peacefulness and steadfast reliability especially during the winter.
Fire Trucks?!
As we were studying the menu, a fire truck rolled by. At first it felt normal to see an emergency vehicle slide by the restaurant window. We placed our order with Taylor. This was her third year on the island.
Then it occurred to me that it's unusual to have any type of motorized vehicle on Main Street. Suddenly I recalled the cottage that had burnt this past summer. Concern and curiosity gripped me. I left my seat with only a nod toward Chuck and clamored out the door.