This article was originally published on October 11, 2022 on The Restless Viking website.
Did you know that plank roads had once been created to make travel easier? As civil unrest between the northern states and the south slowly simmered (1845-1855) over 100 plank road companies organized, constructing miles of timber laid paths throughout our nation. Many had toll houses to sustain revenue for the needed upkeep of the wooden pathways. However, it just wasn't enough money. Plank roads were a short lived era as the plentiful planks soon rotted and warped. Join DaViking and I as we investigate this long gone history and how plank roads had connected our country.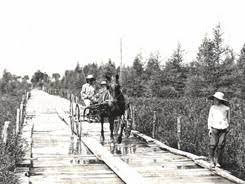 These roadways aligned villages and towns making travel more accessible and the transportation of goods much easier.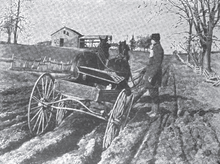 Muddy pathways became impassible in the spring or anytime there was heavy precipitation. With ample amounts of lumber readily available, many companies quickly formed and crews started steadily working at constructing plank roadways.
The First United States Plank Road
The first plank road in the United States was constructed in northern New York state.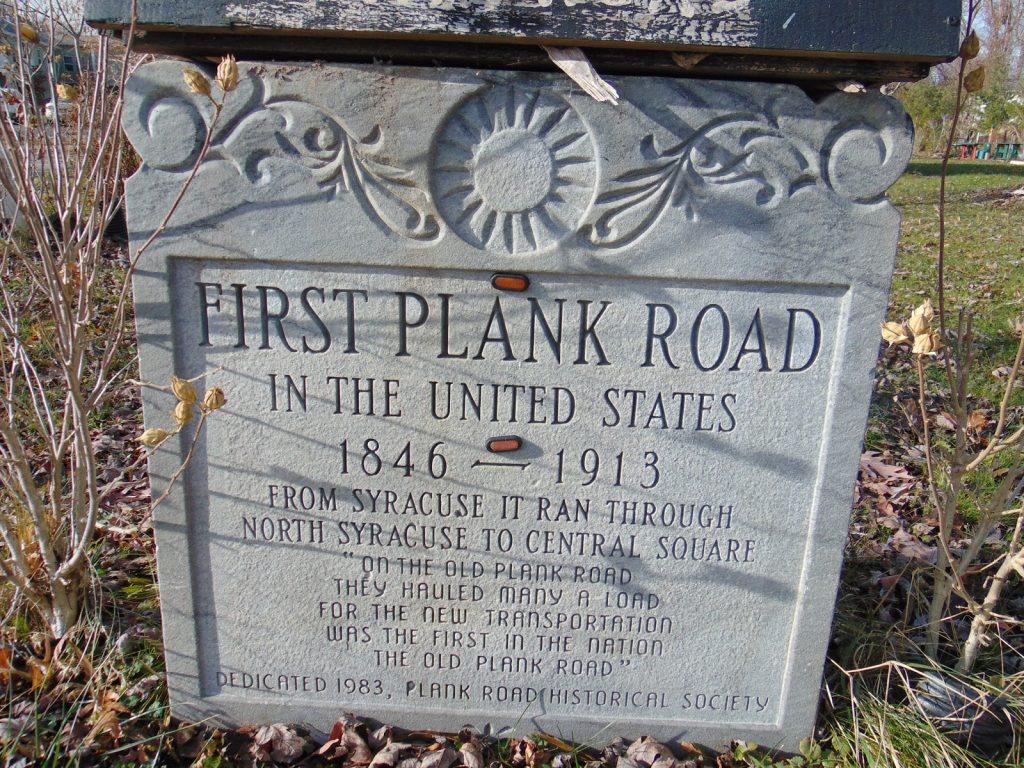 What Did A Plank Road Look Like?
Some plank roads in Michigan were reportedly made from 16 foot wide lumber which was three inches thick. After only two years these planks warped and split, needing repairs.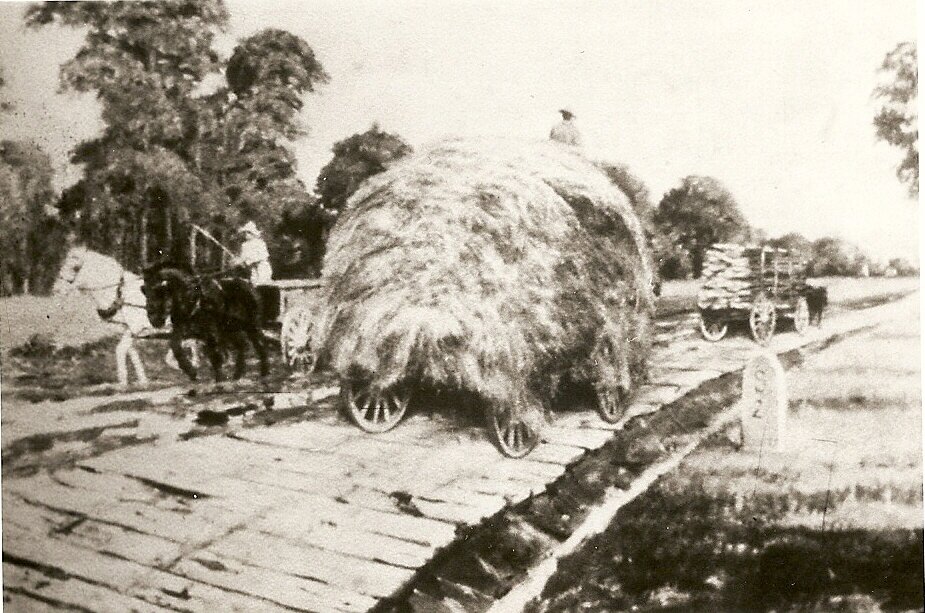 Ben Little, a settler from Indiana (southeast of Chicago), had been quoted. "The great highway for the farmers to haul their grain to the vessels at Michigan City. . . The road was built of oak plank, made from virgin timber that grew along the road. The plank was nine feet wide, and two inches thick." This quote was found in the Chesterton Tribune on June 25, 1914 describing the plank road connecting Valparaiso and Calumet (later named Chesterton). It had been built from 1850-1851.
Plainwell
We started our caper at the "Old Plank Road Restaurant." Walking in we observed the waitress bustle over to a table of gray haired gentlemen. As she poured coffee into their mugs. She addressed each customer by name and recited their regular order. A pair of squeezed lips with a nod from each gave her a silent confirmation of their desired breakfast request. My heart smiled. She glanced up and directed us to a booth near the kitchen.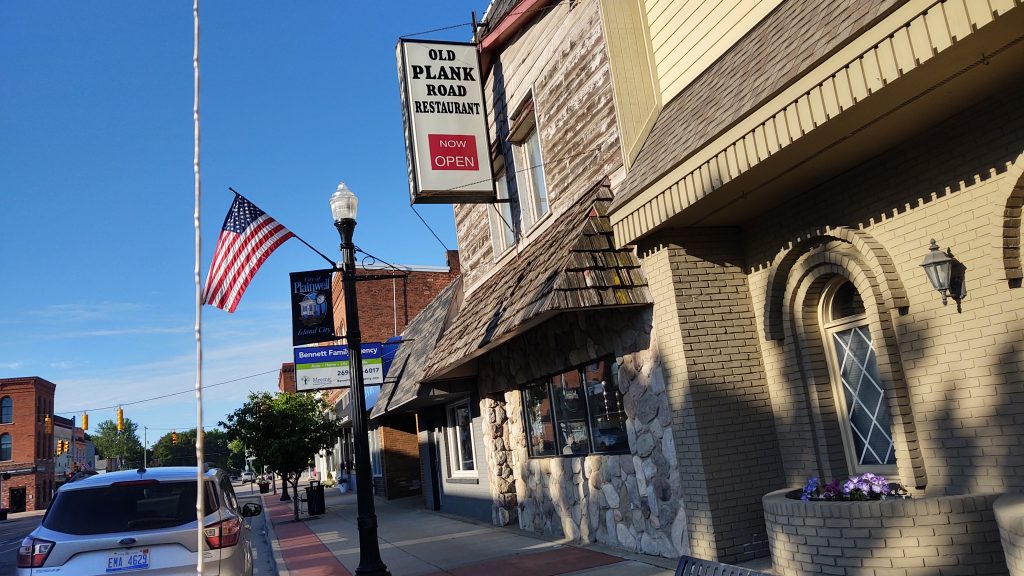 Megan, the current owner, took time to come out from the kitchen and chat with us. Her mom, Sherry, had been known for cooking delicious meals at her restaurants: Cooper Cafe (1990-98), The Fly Inn (located at the airport) and then The Old Plank Road. Sherry had charmed the community with her music at these hometown locations. She had played the bagpipes, dulcimer, bodhran (Irish drum) and the banjo. Sadly, Sherry passed last September.
Megan has taken over since her mother's passing. She reported that her whole family has enjoyed playing instruments. Grief is difficult, but hopefully their family will find solace in singing together again.
Megan thoughtfully sent Chuck texts containing some history about plank roads. This included a poem/song.
Here's Sherry playing her banjo. This is from the Old Plank Road Restaurant Facebook page. What a lovely family.
Kalamazoo
DaViking and I headed south on Division Avenue to one of the last remaining toll houses located on Douglas Street in Kalamazoo. This roadway had been an American Native route which was then laden with planks in the mid 1800's. The trip from Grand Rapids to Kalamazoo was significantly shortened from two days to a single day trip thanks to the plank roadway.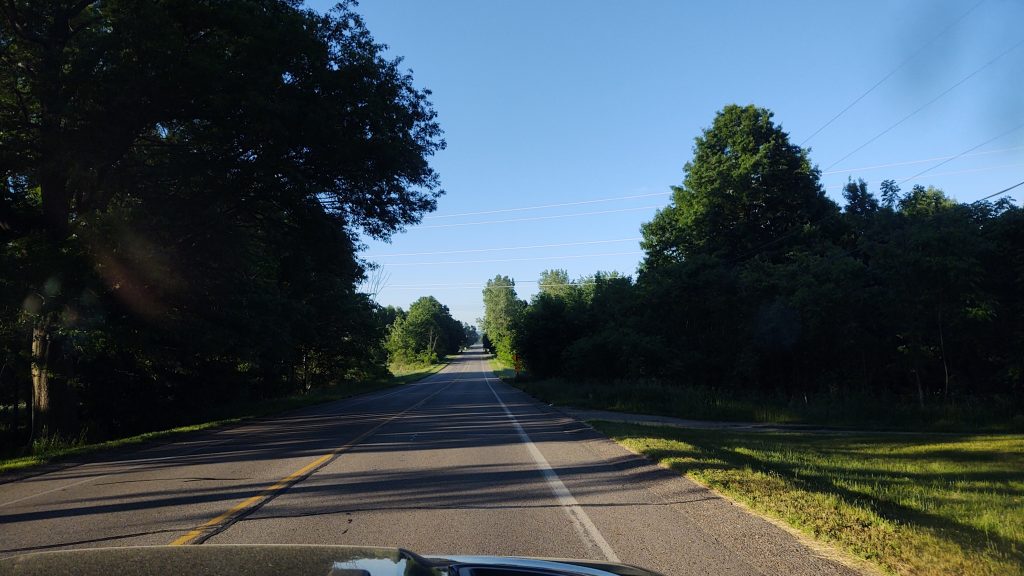 Paul and Penny Sugas had lived in this brick toll house on Douglas Street. (below) According to the Sugas' collection of articles they've assembled over the years, this official tollmaster's residence had been manned by A.P. and Anna Ware. "During the seasons of 1855 and 1856, A.P. Ware and his wife Anna kept the toll gate and sold tobacco, cigars and beer to wayfarers."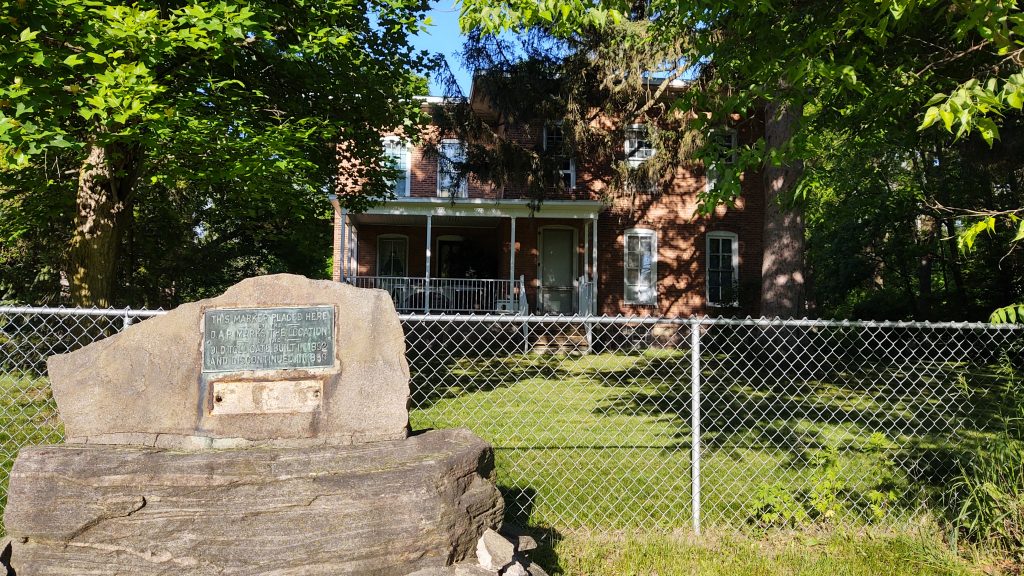 A descendant of A.P. and Anna Wares was quoted in another article about altercations that occurred along the route. "Plank road etiquette required that the lighter load was supposed to leave the road and let the other one pass, which sometimes meant that they'd get stuck in the mud. So they occasionally would have some pretty contentious confrontations between people hauling things."
With the stone marquee and plaque drawing attention, the current residents of this home have constructed a fence around their property. We clicked a photo from a distance and resumed our caper. DaViking and I had organized a tour at Meridian Park in Okemos.
Okemos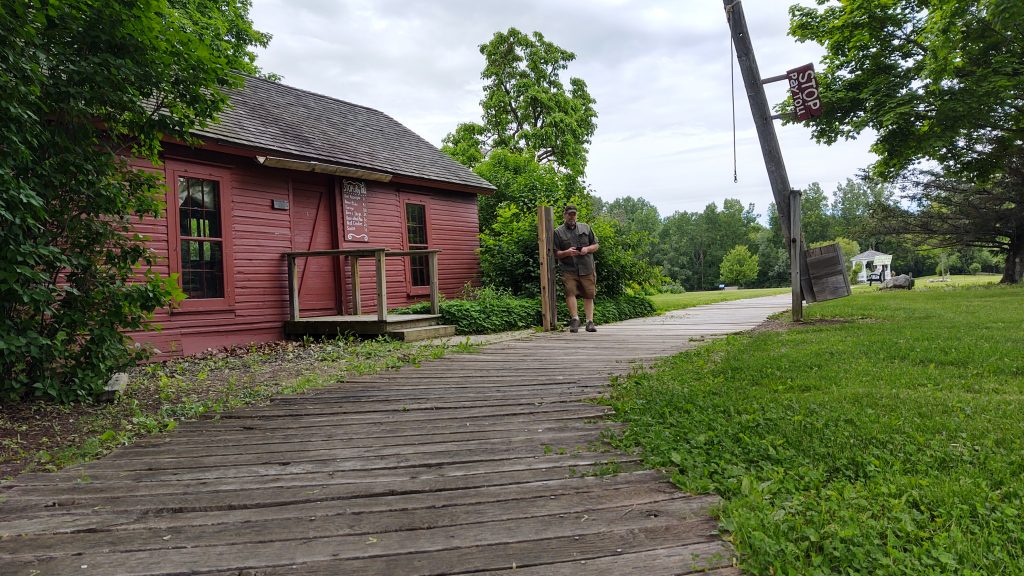 We arrived early for our scheduled tour with Patrick at the Meridian Charter Township Park. Through email we'd organized our meeting. With extra time we strolled the pristine grounds of a reconstructed village. It contains an outstanding collection of structures which had been moved to this location starting in 1974 by John Orin Grettenberger and his family.
Honestly, I had been expecting our tour guide to have already coursed decades. Patrick's spry enthusiasm for history and his knowledge was enjoyable and reassuring that these tales from the past would continue onto the next generation.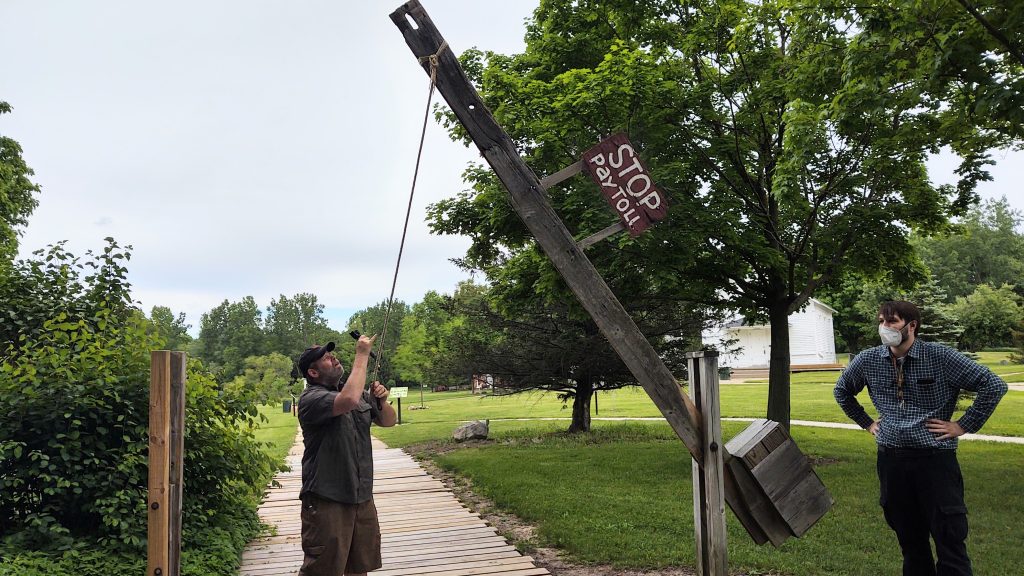 Patrick will inspire our youth to honor the past and ponder life lessons to carry our country forward.
Toll Houses
Crossing the threshold into the cabin structure brought a feeling of an era long ago.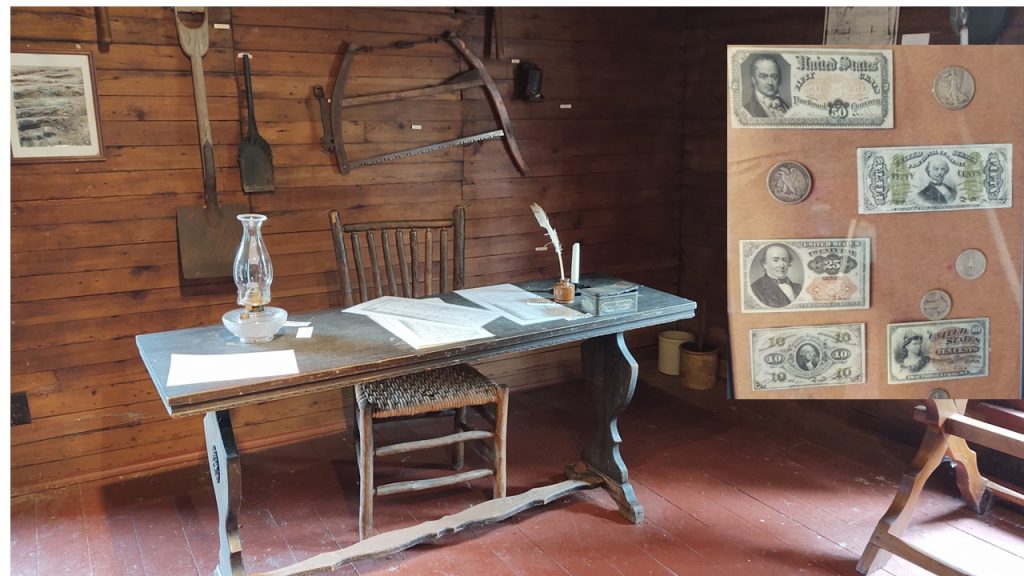 Did you know that tolls varied according to items being transported? The location of the roadway would be another factor in the cost. At the discretion of the toll master, fees could be waived for those attending church, going to court or heading to a military parade.
One toll list included the following:
·  Vehicle drawn by 2 animals = 2 cents a mile
·  Sled or sleigh, 2 animals = 1 cent a mile
·  All vehicles drawn by 1 animal = 1 cent a mile
·  Each score of sheep or swine = ½ cent a mile (A score = 20 animals)
·  Each score of meat cattle = 2 cents a mile
·  Horse and rider = 1 cent a mile
Those who dodged the gate by taking a side path and skipped paying their toll were labeled, "shunpikes."
Toll House Cookies
With all this talk of "Toll Houses" are you thinking cookies? I am. Well I found out that Ruth Wakefield and her husband's "Toll House Inn" had originally been located across the a plank road from a toll house along Route 18 in Whitman, Massachusetts.
In 1938 Ruth ran short on nuts for her butter drop cookies. So, she broke off pieces of a semi sweet bar of chocolate. As she added the chunks to the batter she hoped they would melt as the goodies cooked. However, the bits of chocolate held their shape and the first "Toll House Cookies" were invented.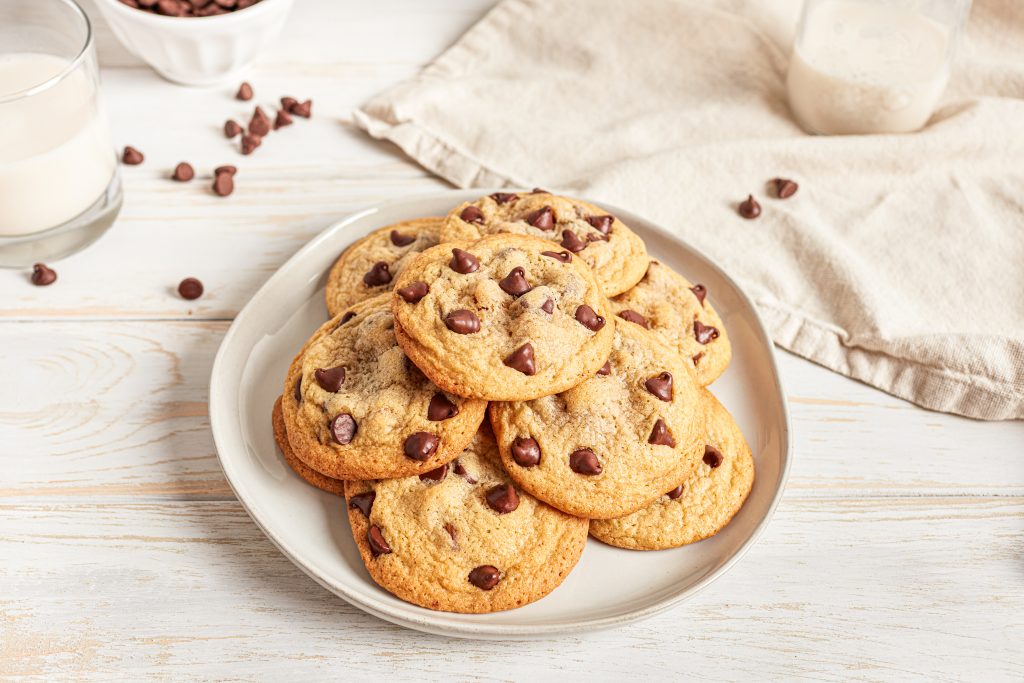 Ruth's recipe was published in a Boston newspaper. Andrew Nestle contacted Ruth and they made a deal to publish Ruth's recipe on the Nestle Toll House package.
Ruth passed away in 1977. Sadly, the Toll House Inn burnt in 1984. There is a sign commemorating the site.
Horses and Riders
Along these routes, teams of horses were replaced every twelve miles. The working team was given time to rest in a pasture while a new team would be harnessed for the next leg of the journey.
After traveling a dozen miles, people needed a break, too. Taverns sprouted up along the roadway. They provided a place to gather for food and entertainment creating a kinship between locals and travelers.
Barney's Tavern
One tavern was originally built by Nathaniel Barney who had moved from New York in 1833. He constructed a log cabin. He rebuilt twice relocating each time to be closer to the plank road. The latest structure still stands today as a multi-family rental unit.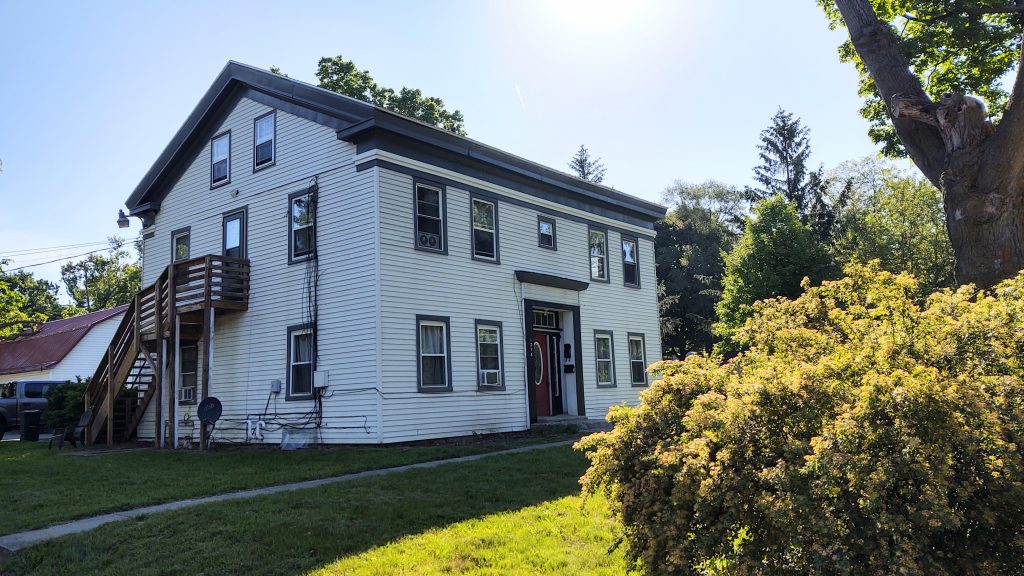 Barney's Tavern's 100th Birthday
For the 100th birthday of Barney's Tavern the local newspaper collected memories about Nathaniel, his wife and three sons. These memories were published in 1933.
"Young folk of Battle Creek would gather for their frolics as the muddy musk dancing feet would pound the second floor dance hall."
"The meals were famed from one end of the territorial road to the other with the aroma of thick bacon."
" . . . brimming beakers of the nutbrown ale that also bore a far reaching reputation."
Gravel
Within a decade, the planks warped and rotted. With over 100 companies trying to keep up these wooden trails, it became disorganized. The money collected at toll houses proved to be insufficient for all the repairs that were needed.
Gravel was often laid on top of the planks to provide a more sturdy surface. Most of these roads were later paved (and repaved) and are used today at a much quicker pace. It's ironic how road repair is still something we contend with regularly, still today.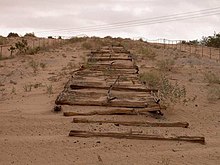 As a youngster I remember having a picnic at Plank Road Farm near Yankee Springs. However, I had no idea about the stories that were etched into the wooden slats. Thank you for joining us on our caper learning about plank roads and toll houses. Plank roads had been a short lived era, yet wove pathways into the future roads of today.
Chuck and Martha Hayden, aka The Viking and Poppins, enjoy going on adventures off the beaten path. They also like to share their explorations with others. The Viking is a retired expedition leader while Poppins is a retired teacher. The two offer independent views of their journeys showcasing places, people, and cultures as they explore the world. Visit and follow them on their website and social media accounts. Website | Facebook | Instagram |YouTube