The following animals are available for adoption.  If you find an animal you'd like to adopt please contact the organization directly.  Lowell's First Look does not assist with the adoption process. And if you're looking to add to your family and don't see an animal below, each organization has additional cats and dogs looking for new homes.   Pet profiles and photos are provided by each organization.
For additional information about each organization visit their websites or read our intro article to Furry Friday!  The following pet profiles are provided by each rescue.
Mackenzie's Animal Sanctuary
Those involved with Mackenzie's Animal Sanctuary take pride in finding the right home for dogs in their care. Here are their pets of the week. 
Hi!  I'm Chips!  Do you ever lay in bed late at night and juuust when you're falling asleep remember that super embarrassing time you called your teacher "Mom" in front of the whole class? Me too. Just last night I was almost asleep and remembered that one time I accidentally peed on my friend's head while we were playing….it was super awkward. If you live a life that has a lot of "oops" and awkward moments, I'll be there to help you through all of them! Some things you should know about me before we make this commitment: I enjoy playing with other dogs, I have a really cute tail and my ears are shaped like Doritos, and I'm looking for a forever friend who is allergic to cats so I don't have to worry about those coming into our house! Send in that application today and let's start working through all our awkward life moments together!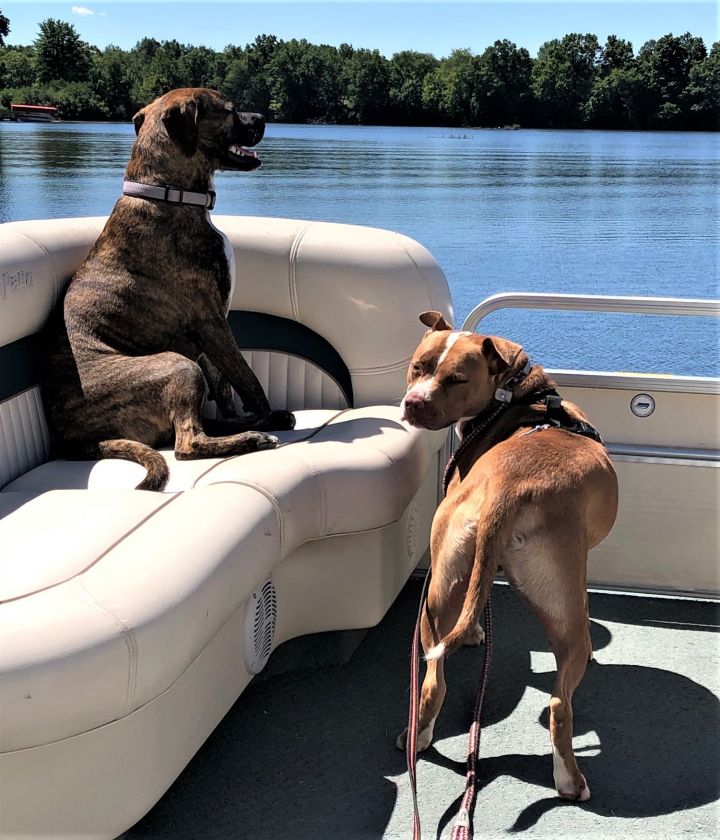 Are you looking for the opposite of a workout partner? Same! I consider myself a foodie and a lounger. I'm always counting down the hours to my next snack or meal, so if you're looking for an accountability partner who will convince you to not stop at Dunkin' Donuts on your way home from the grocery store, keep it movin' pal, I am not your guy! My favorite activity for every day that ends in "y" is taking a short walk from my dog bed to the couch and binging the latest series on Netflix, I can also be convinced to take a short stroll from the front door to your car to go for a car ride (to get a dog cookie, of course), or across the backyard to lay in that sunny spot. My favorite hobbies include snuggling, snacks, and being on the receiving end of belly rubs! I will thrive in a home without cats or dogs! Send in your application ASAP, I can't wait to meet you!
Vicky's Pet Connection
Vicky's Pet Connection works with the Kent County Animal Shelter to rescue cats and kittens.  They also take in dogs older in age and those needing special care. Here are their pets of the week.
This beautiful girl is named Lilly and she is the fluffiest of the fluffy! Lilly is a nice kitty of around 5 years of age. She will likely do fine with gentle, quiet dogs or other nice kitties She isn't such a fan of kids, though, so she will probably do best in a home with no young ones. She's a little shy at first but would love to find a human to adore!
Hearts of Hope Dog Rescue
Hearts of Hope Dog Rescue look to find dogs and sometimes cats in their care forever homes with the help of foster homes.  Here are their pets of the week. 
Ava is a loving, sweet blonde pit mix with golden eyes.    She loves to give big and enthusiastic hugs.    She interacts and plays very well with other dogs both big and small.  Ava loves long walks and enjoys greeting all the other dogs in the neighborhood with exuberance.    She's still working on her walking manners but learns quickly. She does better with a harness than on a leash.   She has lots of energy and can play all day with her foster siblings.  When her foster family is ready to settle in and watch some TV to chill, she's right there snuggling up.  Ava would do well with lots of walks and a large back yard to run.  She loves humans of all sizes.  She is spayed, chipped and up to date on vaccines. Her adoption fee is $200. To adopt this lovable munchkin apply at www.rescueofhope.com/adoption-application
Zeus is a 75 pound, 3 year old GSD Mix with beautiful markings and a great big smile. This beautiful boy is looking for an active forever home – he loves to run, and he thrives in an atmosphere with lots of walks and outdoor time. Zeus would prefer to be the only furry friend in the home. He would also prefer a home without small children due to his size, he's a big guy ! Zeus is house trained, crate trained and he knows many basic commands; he's very very smart ! He is neutered, microchipped, and up to date on shots. His adoption fee is $200. To adopt Zeus apply at www.rescueofhope.com/adoption-application