The following animals are available for adoption.  If you find an animal you'd like to adopt please contact the organization directly.  Lowell's First Look does not assist with the adoption process. And if you're looking to add to your family and don't see an animal below, each organization has additional cats and dogs looking for new homes.   Pet profiles and photos are provided by each organization.
For additional information about each organization visit their websites or read our intro article to Furry Friday!  The following pet profiles are provided by each rescue.
Mackenzie's Animal Sanctuary
Those involved with Mackenzie's Animal Sanctuary take pride in finding the right home for dogs in their care. Here are their pets of the week. 
Some people may say that you can't teach an old dog new tricks. For some that may be true, but in Dusty's case, he has all the basics down and is a professional in politeness that he's all good to go on that front! Dusty is a senior dachshund, and as such can be a typical old man – understands the value of quiet time and naps (you can never have enough), likes his independence, but is definitely not opposed to some head scratches while his human friends read or watch some movies. As he's a bit set in his ways and prefers a slower way of life, Dusty would be happiest in a quiet home with laid back pets and older kids.
Birthday: 11-20-2008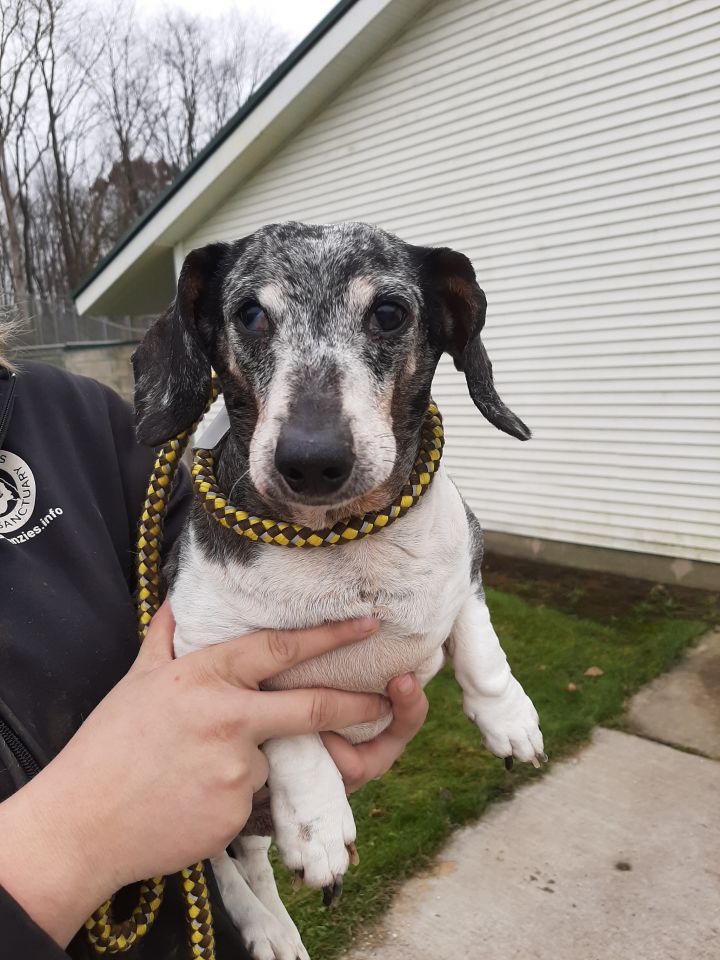 Chester Mackenzie, Ph.D. That's right! I have my "dog"-torate in "Dog"! I'm the smartest guy around here! I know all the commands (sit, shake, five, lay down), and I'm always ready to learn more! When I'm not studying new commands/tricks, I can be found going for long walks (my favorite thing! I'll go when it's sunny, raining, or snowing!) and spending time with the humans (adults and kids!) that volunteer here. I also enjoy meeting new dog friend and wouldn't mind sharing my forever home with them! If I sound like the perfect match for you, submit your application today!
Birthday: 01-01-2012
Vicky's Pet Connection
Vicky's Pet Connection works with the Kent County Animal Shelter to rescue cats and kittens.  They also take in dogs older in age and those needing special care. Here are their pets of the week.
Looks at this sweetie! This is Hilda and she is a brown torbi. She is buttery soft and feels like she's wearing a mink coat! She's really just a kitten at just 6 months of age and can be so silly and playful. She's going to make someone a great companion!
Carol's Ferals
Carol's Ferals specializes in trap, neuter, return (TNR), but they come across "friendlies" who are available for adoption. Here are their pets of the week. 
For the Month of January, Carol's Ferals and Friendlies will not have open adoption hours; adoptions will be by appointment only.  There is some remodeling and organizing being done.  To apply to adopt a cat, go to www.carolsferals.org.
Hi, I'm Kaba. I was rescued from a horrifying situation where I was padlocked in a basement with no light and kept in a tiny cage, with only the essentials given to me. Given my past situation, I am understandably a bit shy but I am slowly learning to adjust to my new life. I would love to find my forever home where I can lay on my own comfy bed and be treated like a princess! I like other cats and children.
Hi, I'm Mende. I am a bit on the shy side, but so very sweet. I am very playful and love to be pet and scratched on my back. Because of my shyness I will need some patience until I am comfortable and settle in. I would do best in a home without a lot of commotion. Due to a previous injury, I have a cloudy eye but it doesn't bother me, although I may have decreased vision. I like other cats and older children.
Hi, I'm Hugin. I am a very friendly, laid back guy who enjoys a good chin rub and back scritches. I sure would love a family to call my own. I like other cats and children.
Hearts of Hope Dog Rescue
Hearts of Hope Dog Rescue look to find dogs and sometimes cats in their care forever homes with the help of foster homes.  Here are their pets of the week. 
If you're thinking about adopting Bindi, the first thing you should know is you will need to make room in your life for more laughing at her silliness, set aside time each day to ponder what on earth is happening with her giant ears, and move a few pillows to make room in your bed for her big wiggly body!  (Okay, only the first two are real requirements.)  She is the sweetest, most loyal dog you will ever meet.  She is a 6 month old shepherd/boxer mix weighing in at 55 pounds who would do anything for her people.  Well, anything except walk through a puddle for them; she's a bit of a princess.  Bindi is looking for someone who will be just as dedicated to her and to continuing her training and socialization as she grows into the best possible version of herself.  Even if you're not easily impressed, you will be when Bindi shows you her tricks – sit, down, shake, crawl, and even more!  She would love to sleep in bed with you at night, but she is also learning the crate isn't too bad a place to sleep either.  Bindi loves playing with other dogs who don't mind her awkward antics.  She is doing great with house training and does really well with a consistent schedule.  Bindi will be spayed, microchipped, and up to date on shots prior to adoption.  Her adoption fee is $250.  To adopt Bindi, apply at www.rescueofhope.com/adoption-application/
Newt is very sweet and loving 1 year old dog who learns new things very quickly! He's even been showing off his new tricks at local stores so strangers will give him treats. He's potty trained so he doesn't need to be crated while you are gone …. in fact he would rather not be. While you are gone he will nap and pounce on toys instead of ripping them apart. He loves food and is happy to be in the kitchen cooking with you in hopes of getting some fallen scraps. He is respectful and asks to come up on furniture. He's a drama king when it comes to things he is unsure about and needs some reassurance from his trusted human. His favorite things are being lazy with his people and …. ready …. HOLDING HANDS! He loves to have his paw in your hand and give you little smooches. He is up to date on vaccines, chipped and neutered. His adoption fee is $200.